Retail: Merchants are following the march of people and money

The Mall of Louisiana, off Bluebonnet Boulevard, has captured the retail business from Cortana Mall, which is now up for sale.
---
When you went shopping in Baton Rouge in 1982, chances are you headed to Bon Marché Shopping Center or Cortana Mall, the two hottest retail centers in the Capital Region.
Bon Marché had been developed in 1960 as an open-air shopping center and was enclosed as a mall in the '70s, with some of the best-known regional department stores then in existence, including D.H. Holmes, Goudchaux's (which later became Maison Blanche) and Montgomery Ward.
Cortana, meanwhile, opened in 1976 as the largest mall in the state, with five anchor stores and a waiting list of smaller retailers wanting to lease space in the 1.4-million-square-foot development.
Today, Bon Marché, which closed in 1990, has been repurposed as the Bon Carré Technology Park, while Cortana has lost four of its five anchor tenants as well as the majority of its smaller retailers, and appears to be hanging on by a thread.
"Malls are a dying breed today, and Cortana is in a secondary location to begin with," says Wesley Moore, an appraiser with Cook, Moore and Associates, who has followed the Baton Rouge commercial real estate market since the '80s.
Retail follows rooftops, and the pattern that has characterized the development of shopping centers in Baton Rouge has mirrored the development of the area's residential neighborhoods. As those neighborhoods have sprung up over the past 35 years in previously rural areas in the southeast of East Baton Rouge Parish and in Livingston and Ascension parishes, newer retail centers have followed potential customers.
Older centers, meanwhile, have had to reinvent themselves. Bon Marché was able to do so successfully, thanks to an investment by the Baton Rouge Area Foundation and its real estate company, Commercial Properties Realty Trust. Cortana is still trying to figure out its next act.
In a sign of the times, though, retail is returning to some of Baton Rouge's oldest neighborhoods—its first retail corridors. Over the past decade, the redevelopment of downtown and Government Street in Mid City has attracted new shops, supermarkets and restaurants, which are breathing life into once sleepy or dying areas.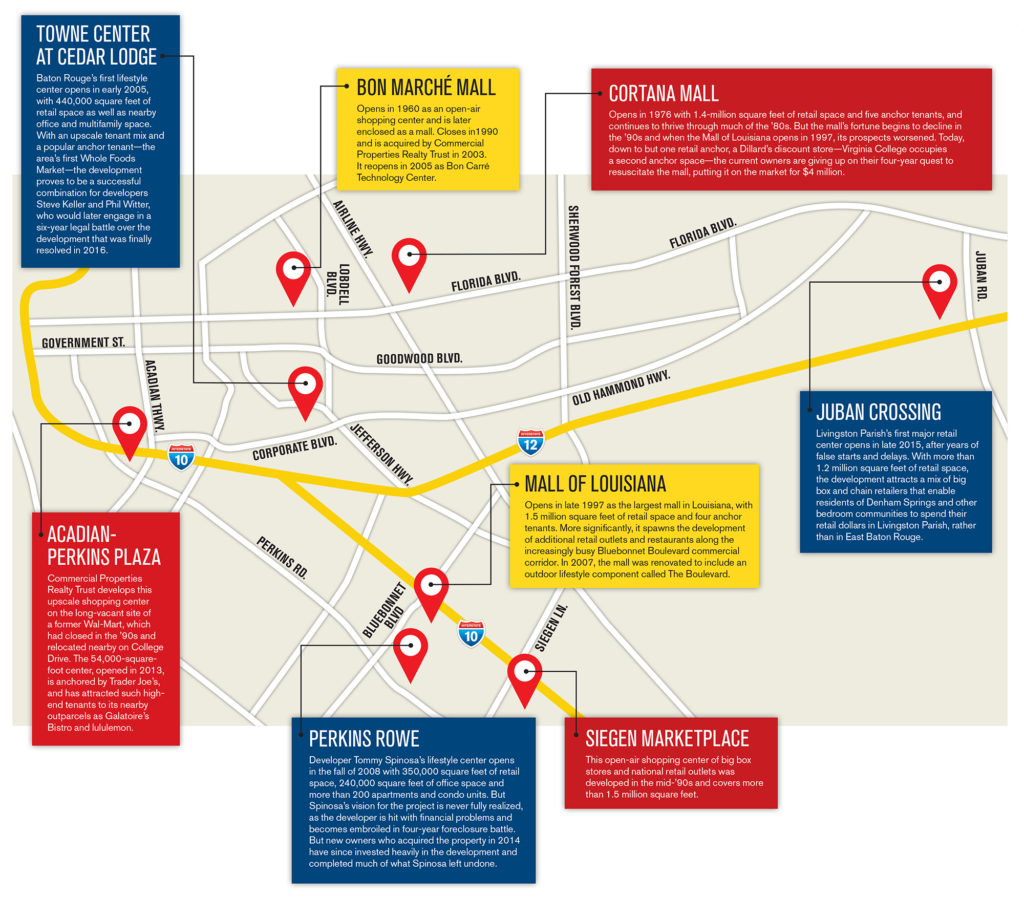 (Click image to enlarge.)