(Photography by Tim Mueller: The Louisiana Chemical Corridor extends from New Orleans to Lake Charles. PetroLogistics operates a seven-mile ethylene pipeline connecting the company's salt dome storage in Sulphur to Sasol's chemical complex in Westlake.)
As of July 8, the "Louisiana Chemical Corridor" from New Orleans to Lake Charles is now one of 24 places nationwide with the federal government's Investing in Manufacturing Communities Partnership designation. The first 12 communities were selected last year, while Louisiana's group was part of the second batch announced in July.
The designation comes with no guarantee of new federal dollars, although the U.S. Department of Commerce says it's "an important signal to potential investors that these communities are a good place to spend their money." But IMCP regions could have an edge when competing for funds from 11 federal agencies with more than $1 billion available in federal economic development assistance.
"By breaking down silos and encouraging communities to take a more thoughtful, comprehensive approach to their strategic plans, we are ensuring that precious federal dollars are used on the most high impact projects and in a way that maximizes return on investment," says U.S. Secretary of Commerce Penny Pritzker.
In other words, the feds have a mandate to grow the nation's manufacturing economy, and they want to spend their effort and taxpayers' money where it will do the most good. South Louisiana was picked because of its traditional strength in the chemical business, and because its application showed broad cooperation between the public, private and nonprofit sectors. That same cooperation will be needed to get the most out of this opportunity.
DOING WELL BY DOING GOOD
The Department of Commerce put out a call for proposals in February, says Charles Berryman, an LSU College of Engineering professor and the department chair for the Bert S. Turner Department of Construction Management.
"We sent it to our advisory board," he says. "We got a quick response back from Performance Contractors. … Once they said they would be interested, we moved on it." Berryman's colleague, LSU construction management professor Jonathan Shi, worked on the technical side of the proposal, while Berryman gathered industry support.
"This is a no-brainer to pursue this," says Lee Jenkins, vice president with Performance, recalling his initial thoughts about the proposal. "I basically asked, 'What can we do to help you?'"
While Shi and Berryman didn't know it at first, another Louisiana entity was applying to the same program. The Value Louisiana initiative, led by New Orleans-based LifeCity, was rejected last year but encouraged to apply again this year. The initiative already runs a program for manufacturers meant to help improve efficiency and productivity while reducing the impact on the environment. Days before applications were to be submitted, the two groups learned of one other's efforts and decided to combine forces.
In total, more than 80 organizations signed on, including colleges and universities, business chambers and associations, state government agencies, and a slew of big-name chemical makers, industrial builders and agriculture companies. According to LSU, those organizations already plan to spend a combined $1.5 billion on areas important to their operations, such as training, research and supply chain enhancement.
"We're going to strengthen the chemical corridor, but we're going to do so using innovative, collaborative methods that help demonstrate that environmental and social improvements are also good for business," says LifeCity CEO Liz Shephard.
For example, in the search for skilled workers, state and industry officials are recruiting from underrepresented groups–namely, women and minorities–an effort the federal government hopes will be good for people and profits. While the Obama administration backs the IMCP program, sources interviewed for this story say it seems to have bipartisan support, and appears to have been embraced by the federal bureaucrats, not just political appointees. So hopes are high that this effort will outlast the current administration.
The time to invest in innovation is now when times are good, Shephard suggests, in order to be ready for whatever comes next.
THE NEXT STEP
What those specific investments will be, beyond things the state already is doing, are still to be determined. However, an initial study estimates that an additional $80 million per year would be needed to implement plans in six key areas (see below), according to LSU, which says the leadership team is committed to raising $18.5 million of that total locally.
A "partners conference" will be held in the fall, Berryman says, and an official memorandum of understanding among the partners will be developed before a task force begins to explore federal funding opportunities. The IMCPs will be assigned a federal liaison at each of the 11 participating agencies.
"As with any project of this magnitude, the challenge will be to coordinate the interests of diverse partners so that the chemical corridor can coalesce around well-defined and mutually beneficial priorities," says Louisiana Chemical Association President Dan Borné. "That's the only way we'll be successful as we compete for major federal funding."
As Berryman says, the work has only just begun.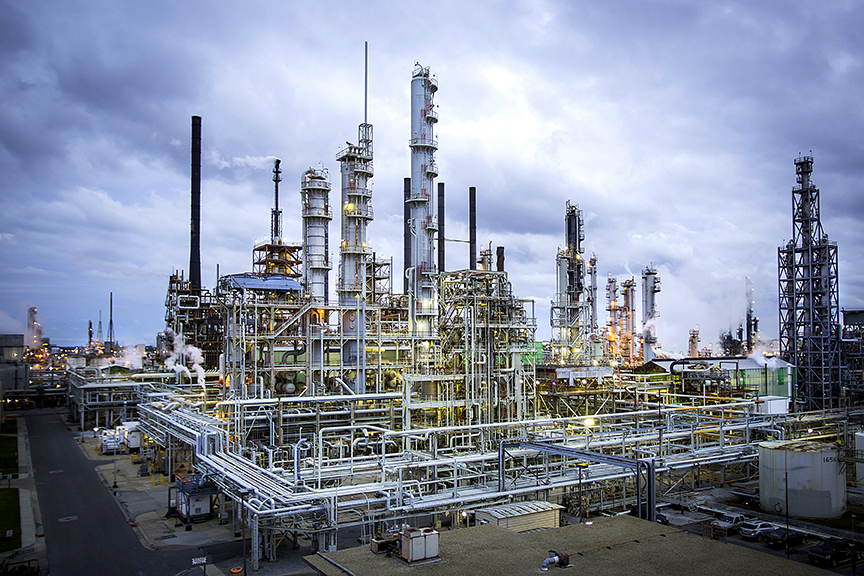 The Chemical Corridor's focus
The Louisiana Chemical Corridor consortium is working to make the region more competitive in six key areas, according to a strategy summary. These efforts and goals helped convince the federal government that the LCC was worthy of the Investing in Manufacturing Communities Partnership designation, which might give the state the inside track on federal economic development assistance.
Workforce and training: The plan aims to provide training to lower-skill and lower-income workers through projects like the Louisiana Workforce Commission's Incumbent Worker Training Program for small businesses. The state is working to better align K-12 and higher education with workforce needs.
Supplier networks: Building a stronger network of relationships within the chemical industry and across industries could lead to greater efficiency, faster adoption of best practices and waste reduction. For example, crustacean shells discarded by the seafood industry perhaps can be used to treat river water used by the chemical industry.
Research and innovation: The consortium is working to build research partnerships within the industry and with colleges and universities. Leaders also say that they want to seize the opportunity for Louisiana to be a leader in environmentally sustainable chemical manufacturing.
Infrastructure and site development: "By developing more efficient transportation infrastructure, improving water infrastructure, restoring the coastal infrastructure and developing brownfield sites, the consortium wants to not only enhance economic opportunities for the chemical manufacturing sector, but also build stronger, more resilient communities," the summary says.
Trade and investment: The state has a master plan that provides "a clear road map for the state to outperform the competition for international investment." Communication between prospective investors and state government can help Louisiana receive a disproportionate share of foreign direct investment.
Operational improvement and capital access: Consortium members will leverage the federal E3 program to integrate "business leadership, environmental and energy management, and community development goals into a one-stop-shop technical assistance program."