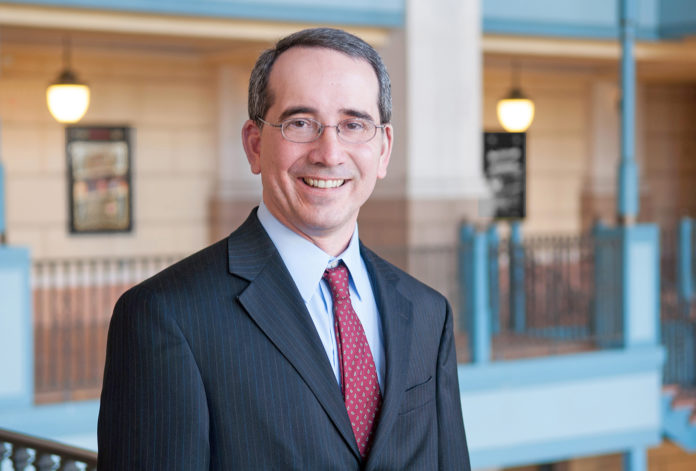 NON-TRADITIONAL MODEL: Chef Aimee Tortorich doesn't have a restaurant, instead her The Guest Chef business relies on private work, guest cheffing and putting her skills on display at pop-up events, like the Mid City Craft Wine and Brew. (Photo by Don Kadair)
---
On a recent evening at Mid City Craft Wine and Brew, Chef Aimee Tortorich served a new tasting menu to the gathering crowd. She handed over small plates of tomato and fennel-glazed meatballs over stone-ground grits, dates stuffed with homemade ricotta and fig pepper jelly, smoked shiitake mushroom risotto and artisan breads with fresh butter, cheeses and honey. Each dish was meant to pair with featured wines from popular Napa Valley winemaker Frank Family.
Tortorich doesn't work for Mid City Craft, a specialty wine, beer and spirits store launched in May by brothers Gabe and Jacob Daigle. Instead, she offers short-term culinary services under her new business, The Guest Chef.
"I want to focus on events like pop-ups, private chef work and guest cheffing for executive chefs who might want to partner or take a week off," says Tortorich, who formerly worked at Beausoleil and helped develop the menu for Gov't Taco. "Even in culinary school, I knew I didn't want to be a full-time restaurant chef. I like the idea of being able to color outside the lines."
Tortorich is banking on the growth of a new kind of local culinary energy—and entrepreneurship—where more food professionals are trying to succeed outside the traditional brick-and-mortar investment. They're pushing the growth of a mobile, event-based food economy where original pop-ups and food events, chef collaborations and different ways of doing business take place alongside a robust restaurant sector.
"I think there's a growing market for this in Baton Rouge," Tortorich says. "There are a lot of us who want to keep a progressive mindset about food here, and want to do things beyond working in restaurant kitchens."
There's been a palpable uptick in this subsector, says Jay Ducote, one of the first to introduce the pop-up concept to Baton Rouge diners.
"It's an interesting model," Ducote says. "You've got low overhead, you can go anywhere and your menu is limited only by your imagination."
In the past year, pop-ups and other temporary food events have soared in Baton Rouge. In many cases, they take place at bars or retailers that don't serve food, but whose audiences are a perfect target market. Catering company Bouillababes, the brainchild of Sydney Harkins and Jamie Brown, holds regular pop-ups at whiskey bar Hayride Scandal. Secret Lair Taqueria has held pop-ups at Baton Rouge-based Southern Craft Brewing Co., and Red Stick Spice Company has hosted semi-regular pop-ups, including one in June featuring several women chefs and food artisans. Chow Yum Phat duo Vu Le and Jordan Ramirez are now hosting pop-ups at blues bar Phil Brady's. Local barbeque caterer Alex Barbosa has built a following with his mobile barbeque cart, which he brings to large festivals and the Mid City Makers Market. He also takes over the Overpass Merchant kitchen on Sunday evenings.
"From the perspective of a consumer, I'd say that a couple of things have happened to help change things," says local attorney Franz Borghardt, who co-founded the culinary event planning business Geaux Rouge Productions with restaurateur Nick Hufft of Curbside Burgers and Overpass Merchant. "One is that the growth of Waitr and home delivery has caused people to say 'when I go out, I want an experience that I can't get delivered to my doorstep.' They want something fresh and exciting."
Borghardt also believes that the expectations of local consumers have broadened.
"The community is now supporting large-scale festivals and food events, like the Baton Rouge Oyster Festival and Baton Rouge Beer Fest, in ways that we haven't done before," Borghardt says. "All these factors have created the perfect storm of people wanting a different food experience."
Geaux Rouge Productions stepped into the new market last year with trendy culinary events that Borghardt says build community. Last June, the venture hosted the Capital City Mac and Cheese Fest in partnership with Curbside Burgers and Baton Rouge Brunch Fest at the Baton Rouge Gallery in October. In April, it hosted the Wingamania! chicken wing cookoff on the grounds of Tin Roof Brewing Company, raising more than $10,000 for Mary Bird Perkins Cancer Center.
Tin Roof, Baton Rouge's largest craft brewery, has been a kind of ground zero for culinary pop-ups, food trucks and events. Classified as a manufacturer, the brewery can't sell food for retail, which makes partnerships with nomadic food entrepreneurs a win-win, says Tin Roof CEO Jacob Talley. The brewery has hosted Ducote and Barbosa several times. In March, the food truck, Rock Paper Taco, set up permanently at Tin Roof, serving food every Tuesday through Sunday.
"It's great for us," says Talley, who reports a 30% increase in beer sales as a result of the permanent food truck. Big culinary events, he says, can bring in a 40% to 50% increase in beer sales. "Having pop-ups, food trucks and events brings us new markets and bigger crowds. It's definitely is a symbiotic relationship."
Part of the magic of pop-ups and kitchen takeovers, in which a culinary professional acts as a guest chef in a restaurant kitchen, is that they're short-lived, says Ducote. Consumers are drawn to them because they have an underground quality. Chefs like them because they spark creativity.
"The idea of a pop-up is that it's fleeting and special and something you'd want to buy a ticket to," says Ducote, who has hosted dozens of pop-up dinners in Baton Rouge and across the country. "It's not really a pop-up if it doesn't pop back down."
Ducote says that an undercurrent of the new food scene is the receptiveness among chefs to partner on these kinds of events. In the months leading up to Gov't Taco's opening in food hall White Star Market, Ducote served tacos every Tuesday through specialty meat market, Iverstine Butcher, to activate his brand.
"Things like this works when you're not in direct competition and when you can bring someone else new business," says Ducote. "Collaboration is a great word to use to describe the current food scene. A lot of us think we're better together than trying to do everything individually."