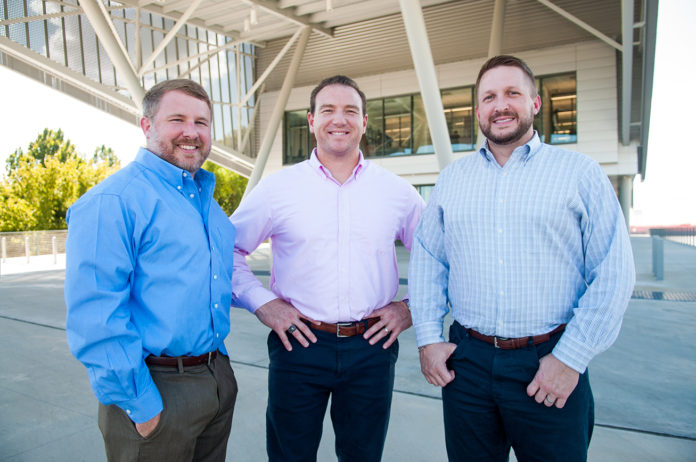 THERE'S AN APP FOR THAT: Frustrated by the months-long punch list phase of construction, Baker Brooks, Jeff LaRosa and Derek Fitch developed Pinbloop Punchlist, a mobile and tablet app that simplifies the process. (Photo by Don Kadair)
---
Back in 2006, Jeff LaRosa and Baker Brooks couldn't believe how long the $72 million renovation of the downtown Baton Rouge Hilton Hotel was taking.
LaRosa, representing the project's architect, and Brooks, there on behalf of the general contractor, took some two days walking through each floor of the 10-story hotel, logging deficiencies during the construction's punch list phase.
The punch list—which notes every item that doesn't conform to contract specifications—is a critical document, especially since the general contractor doesn't get final payment until each item has been corrected. For many contractors, architects, engineers and developers, it's a headache that normally lasts a couple weeks.
"We were like, 'Man, we just spent months of our lives doing this one thing; wouldn't it be cool if they made something that could do it for us?'" LaRosa says. "But the iPhone concept was so new, we didn't even think about how that would happen. We just had this dream."
Brooks and LaRosa realized they needed a developer's perspective; that came in 2009 when they met Derek Fitch working on the renovation of yet another hotel, Hotel Indigo. Once they pitched him the idea, Fitch was in.
Out of their decade's worth of discussions comes Pinbloop Punchlist, a U.S. trademarked web and tablet application that simplifies the punch list phase of a construction project for everyone involved. There's also a smartphone app, Pinbloop Sub-Viewer, and another product, Pinbloop Field Reports, in the works. Everything is available in the App Store and Google Play.
A group of Baton Rouge architects is investing in the initial development of the app. As LaRosa, Brooks and Fitch embark on the next funding search, they're also in the midst of a soft rollout, as Pinbloop has already been used for the $102 million Patrick F. Taylor Hall renovation, the $20 million Water Institute of the Gulf and the $200 million Nicholson Gateway project.
"That's where we are: We took it, we were funded, we built the app and now it's totally ready for a full-fledged market rollout," Brooks says. "And it's actually functioning in the market right now."
A LOCAL CONVENIENCE
Though similar apps have come out in recent years, Pinbloop's founders and early users say this app is different, completely restructuring the dynamics of trust amongst the parties working on a major project and allowing all parties to fulfill their contractual obligations without any confusion.
Here's how it works: Each project stakeholder pays a $100 fee to create their own Pinbloop account. Project managers upload a floor plan, and then the other stakeholders are invited to join the project.
If, for example, an architect notices a deficiency when walking through a site, he or she can drag and drop a pin icon to the specific location on the floor plan where the deficiency is, hit "Apply," take a picture of the deficiency and select from a premade list of 2,000 categories ("repair lock set," "touch up paint," etc.) before identifying which room the deficiency is in and pressing the "Finish" and "Save" buttons.
When a subcontractor pulls up the floor plan, he or she will see a marked pin. After clicking on it, they can pull up its history—which contains the architect's deficiency description and an image of the deficiency—and fix the problem, taking a picture of the repair as proof.
But the sub can't mark an item as complete; that permission lies with the project owner or lead architect. All the sub can do is mark the item "ready to verify." Once the owner/architect looks at the repair and is satisfied with it, they can mark it complete, and the pin disappears.
The app also comes with other built-in permissions. A cost feature, for example, allows only the owner or architect to assign a monetary value to each deficiency. The contractor can see the cost attached to each item, but can't change it, letting the contractor know how much money is going to be withheld on the next payout before the item is addressed while protecting the owner or architect.
Subs, meanwhile, can only see the pins containing tasks for which they are responsible. Their version of the app is free.
"We've created a level playing field for everybody," says LaRosa, "which protects their roles as they relate to the contract itself."
A built-in cover sheet generator lets users create a report, filled with pre-populated information, at the end of the punch list phase.
The app is already seeing traction locally.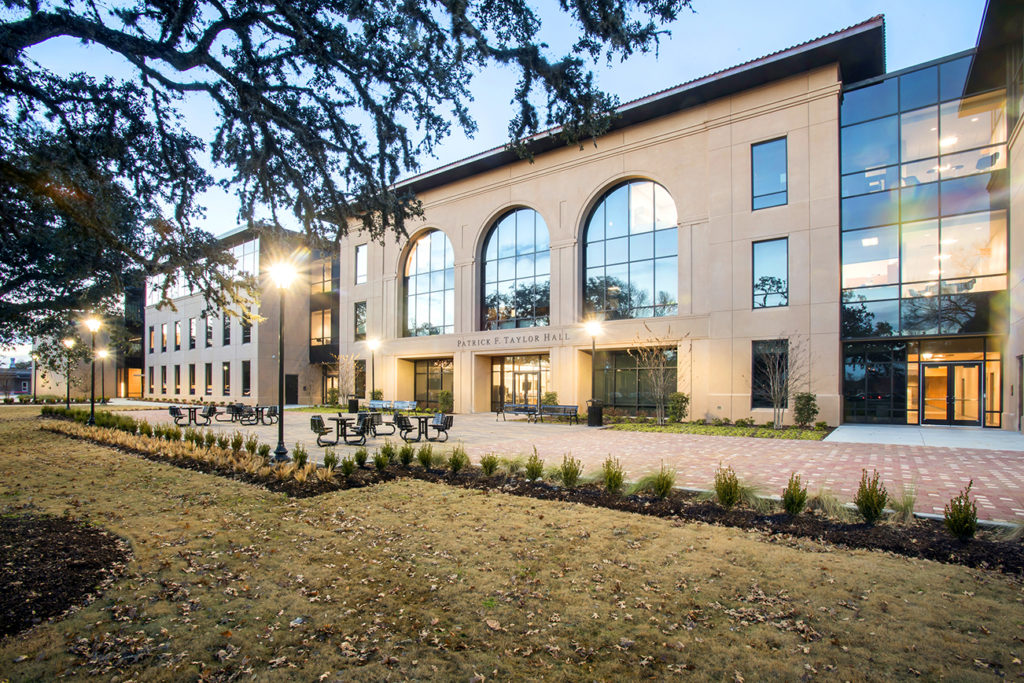 ---
During the second phase of the Patrick F. Taylor Hall renovation on the LSU campus, what normally would take LaRosa two weeks to accomplish as an architect was done in 18 hours. Stakeholders put in 2,700 deficient items over two-and-a-half days, he says, and the contractor was able to reduce his $1 million punch list to $150 within three weeks.
"It created a platform for communication among project stakeholders," says Andrew Brown, a senior project architect with Perkins + Will, who also worked on the project. The Houston-based construction company has since used Pinbloop for Abilene Christian University and the lab buildout of the Jan and Dan Duncan Neurological Research Institute at Texas Children's Hospital.
While Perkins + Will already subscribes to a large web-based platform used for the same task, Brown says Pinbloop's capabilities are more robust. The company now subscribes to Pinbloop, slowly integrating the app into its 60-person office.
Clint Maturin, a contractor with The Lemoine Company, is using Pinbloop on the $100 million Ochsner Medical Complex-High Grove, a five-story, 255,000-square-foot medical office building along Interstate 10 that includes a 10-bed micro-hospital and surgical center with four operating rooms.
"We started using it in the testing phase, so we got to work closely with Jeff [LaRosa] and mention some issues to him we had that they were able to fix," Maturin says. "We were using Procore at the beginning of the project, but Pinbloop was easier, especially because of the Subviewer app they developed later."
ROLLING OUT
Every investment dollar Pinbloop's founders have received—some $375,000 to $390,000 so far—as well as the profit earned from early subscriptions, has gone into product development.
Investors and advisors include eight local professionals: Marvin "Buddy" Ragland, Dale Songy, Joe Saffiotti and Bob Coleman Scott McKnight, Jonathan Bates, James Digby and Alex Tucker.
Other international startups are taking notice. Pinbloop was named a Top 400 Global Tech Startup at the Collision Conference, an international conference of tech startup companies that took place in New Orleans this year.
The next phase, say Brooks and LaRosa, will involve a major marketing push for user acquisition. Along with Fitch, they're seeking their next round of capital investment and anticipate launching a national rollout at the end of the year.
Despite the massive undertaking, local entrepreneurs are optimistic about the push, which has now been a dozen years in the making.
"We made this for ourselves," Brooks says. "We made it to solve a problem for people who are just like us."