The paradox of North Gates: Doing business in the shadows of LSU isn't as easy as you might think.

(Photo by Cheryl Gerber)
When Darryl Reginelli decided to open a Baton Rouge location of his popular New Orleans pizzeria seven years ago, the space he leased on West Chimes Street in the LSU North Gates neighborhood seemed like a no-brainer. Situated near popular eateries like Highland Coffees and The Chimes in the shadow of a busy Southeastern Conference university, Reginelli figured the spot would be a slam dunk for his growing pizza chain.
But making a go of it on West Chimes Street has been far more challenging than Reginelli ever would have imagined. Sales slow to a trickle for nearly one-third of the year, when LSU is on break. Employee turnover is high, given that the labor pool consists mainly of students. Then there's the issue of parking, which is in short supply for all but a fortunate few business owners who have private lots.
"I'm glad we're there, but seven years later we're still trying to learn the students' needs, LSU's needs and how to get the most out of the location," Reginelli says. "Would I go into that type of market again? I'm not sure. It's certainly different than I would have anticipated."
Reginelli is not alone. The historic North Gates neighborhood, bounded by Highland Road, West State Street, Lake Street and Chimes Street, is Baton Rouge's second-oldest commercial neighborhood, dating back to the 1920s when the university was developed. It's also one of the most iconic, known to generations of those who bleed purple and gold and love the area—formerly known as Tiger Town—for the establishments they frequented back in their day.
But for retailers and restaurateurs, the neighborhood is something of a double-edged sword: That which makes it so attractive—proximity to the campus and its thousands of students—also makes it problematic. Students are seasonal and have limited incomes. Being nestled near the campus makes parking impossible. Even factors one might think would work in a merchant's favor—game days, for instance—can be as much of a headache as a help.
"On game days we had so many people from New Orleans who are familiar with us and had been coming to us for years, and they were surprised we didn't offer as much," Reginelli says. "They didn't like our limited menu."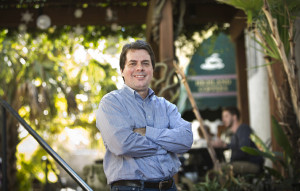 No one understands the frustrations better than Clarke Cadzow, the owner of Highland Coffees. He opened his coffee shop on West Chimes near the intersection of Highland more than 25 years ago and in the decades since has spent plenty of time pondering the dynamics of the neighborhood.
Last year, he nearly shut down after several months of unsuccessful lease renewal negotiations with his landlord, Hank Saurage. But when word of the planned Christmas Eve closure leaked out, devoted patrons of the coffee shop launched a social media protest that went viral. They even threatened to boycott any new establishment that moved into Cadzow's space. The negative publicity prompted Saurage to reopen talks with Cadzow, and the two reached an agreement several weeks later that promises to keep Highland Coffees open for years to come.
The experience underscored for Cadzow just how special the area is, and it made him more committed than ever to improving, promoting and advocating for the North Gates neighborhood. But, like Reginelli, he's confronted with a unique set of issues every day.
"Merchants who open here love this area and want to be close to LSU because they have a passion for the neighborhood," he says. "It's just a matter of overcoming the challenges."
Deceptive demographics

To understand the neighborhood you have to understand the numbers. LSU has some 28,000 students or so and an additional 9,000 employees, who comprise the bulk of the neighborhood's population. Additionally, about 17,000 residents live within a five-minute drive of the area. Those are good numbers that, when viewed in print on a pro forma, make the area appear potentially very lucrative.
Attracted by those demographics—as well as a new mixed-use development on the northwest corner of Highland and West State called College Row at North Gates—dozens of national retailers have moved into the area in recent years, including Five Guys and Chipotle on Highland Road; Pita Pit, Buffalo Wild Wings, Kaminari Sushi and Hibachi in College Row; and Newk's Eatery, which is planning to open later this year on Lake Street.
In fact 44 restaurants are located within a five-mile area of the campus, some paying as much as $40 per square foot to be in the heart of Tiger Town.
"The market really is attractive to do retail business for a couple of reasons," says real estate agent Snappy Jacobs, who has worked with tenants in the area. "One is TOPS. You have thousands of students and they're being subsidized, which gives them and their parents disposable income. Plus you have seven game days a year and special events."
But the numbers are somewhat deceiving. For one thing, all those students pack up and go home for 16 weeks of the year, including fall, Christmas and spring breaks. Many faculty, too, take off during summers and holidays. The intersection of Highland and Chimes, so bustling during a busy fall weekday, looks like a ghost town in late December.
Parking is another major problem. When the area was developed, LSU was a much smaller university and far fewer student vehicles roamed the roads. The streets are narrow and the available space is completely inadequate for the number of commercial establishments that now crowd the area.
Other challenges arise that many people don't think about. For starters, the area is effectively cut off from the rest of the city and isn't easily accessible from other busy commercial corridors like Essen or Bluebonnet. There's also more competition from the south side of campus, where many students have migrated in recent years. Thousands of new apartment units have been developed just outside LSU's south gates over the past decade, and commercial development has followed.
"The bulk of student housing is now south of campus—about 75%—which is a huge shift over the last 20 years," says longtime Louie's Café owner Jimmy Weatherford. "Besides, you don't have as many students living on campus anymore. When they did they shopped here and it was a lot busier. It's not that way anymore."
There are promising signs wholesale redevelopment in the North Gates area is coming, particularly as the nearby Nicholson Corridor is rejuvenated with projects like the Water Campus. In early February, for instance, the University Edge apartments—a two-year-old complex of 474 beds and 158 units located on West McKinley Street just blocks from the North Gates—sold for $32.5 million. The sale was one of the highest per-square-foot deals of university housing ever in Baton Rouge and signals a bright future for additional redevelopment. But much of the area is still run down, and the surrounding Old South Baton Rouge neighborhood has one of the lowest income populations in the parish.
The pressure weighs on national retailers as well as local merchants. Consider the list of big-name chain outlets that have unsuccessfully tried their hand at the North Gates in recent years: Footlocker. Verizon. The Gap. Sunglass Hut. Menchie's Frozen Yogurt. Serranos. They've all opened and closed within the past decade.
Secrets of success
So what's the trick to survival? Merchants say one of the keys is to figure out how to make it through the lean summer months. That calls for getting creative.
Reginelli's, for instance, closed last summer for eight weeks. It was a hard call for Reginelli to make, but he says shutting the doors saved the restaurant on costly operating expenses that sleepy summer crowds could never help cover. It helped, too, that the restaurant forwarded phone calls to its Mid City location, which delivered to customers normally served by the Chimes Street location.
Others merchants run specials and sales designed to attract permanent residents from other parts of the parish. Many of those shoppers and diners are dissuaded during the school year from making the trek to the North Gates—only to circle the blocks in frustration trying to park—so retailers reach out on social media and through other advertising to reel them in when students are away.
Another strategy involves tailoring the menu or product mix to appeal specifically to students. For retailers from outside the market, that has been particularly important. Massey's, for instance, which is located on Highland Road in a space also owned by Saurage, has switched up its inventory to offer more apparel and outerwear geared toward LSU students.
"They're doing great, now," Saurage says. "But they had to learn to offer things to the population they serve around LSU. So what you'll find in that store is different than at their New Orleans or Towne Center locations."
Similarly, Reginelli's recently removed from its menu costly items like shrimp that weren't big sellers and began, instead, offering pizza by the slice and other package deals that appeal to students. "Younger students are looking for value, so we've put together a different [menu]—slices and lunch specials to give them more of a perceived value," Reginelli says.
A brighter future?
While doing business in the North Gates is fraught with challenges, merchants and real estate experts believe the long-term outlook for the area is good. Still, they want to make it better. To that end, they are working on several initiatives, namely plans for more parking spaces.
Saurage confirms he is working with city-parish officials and LSU on a plan to develop a multistory parking garage on a parcel near the North Gates commercial corridor. He declines to discuss the location of the proposed spot, except to say it would be conveniently located to all the shops and restaurants and would have as many as 300 spots that could be used by the university for employee parking and game days.
"We're still working on it, and it will have to be a public-private partnership," he says. "But if we can get 300 parking spaces to that, that will help a lot."
The North Gates Merchant Association, of which Cadzow and Weatherford are both active members, is also working on beautification and cleanup efforts designed to make the neighborhood more pedestrian friendly. The association was successful a couple of years ago in convincing the city to lay sidewalks on West State Street. Now, they're working on East State Street, which links Dalrymple Drive to Highland and West State and is one of just two gateways to the North Gates area.
The Merchants Association also works to promote the area with events like the North Gates Fest, a 9-year-old street festival with free music and food, as well as art kiosks. The popular fest has been a way to brand the area, though Cadzow is uncertain whether the association will be able to raise the $13,000 it needs to put it on this year.
Though $13,000 is a relatively small amount of money, the importance of the event is huge for the North Gates, and it helps build solidarity among the different retailers and restaurants all vying for the same piece of the discretionary spending pie and all dealing with the same quirky dynamics of the neighborhood. They are united, in many respects—be they national outlets, franchisees or homegrown retailers—who see themselves as competing not against each other but against other commercial districts in Baton Rouge.
"We're cheerleaders, and we want to promote the neighborhood," Cadzow says. "We work very hard to try to make the neighborhood better. Once a business is here we want them to do well."