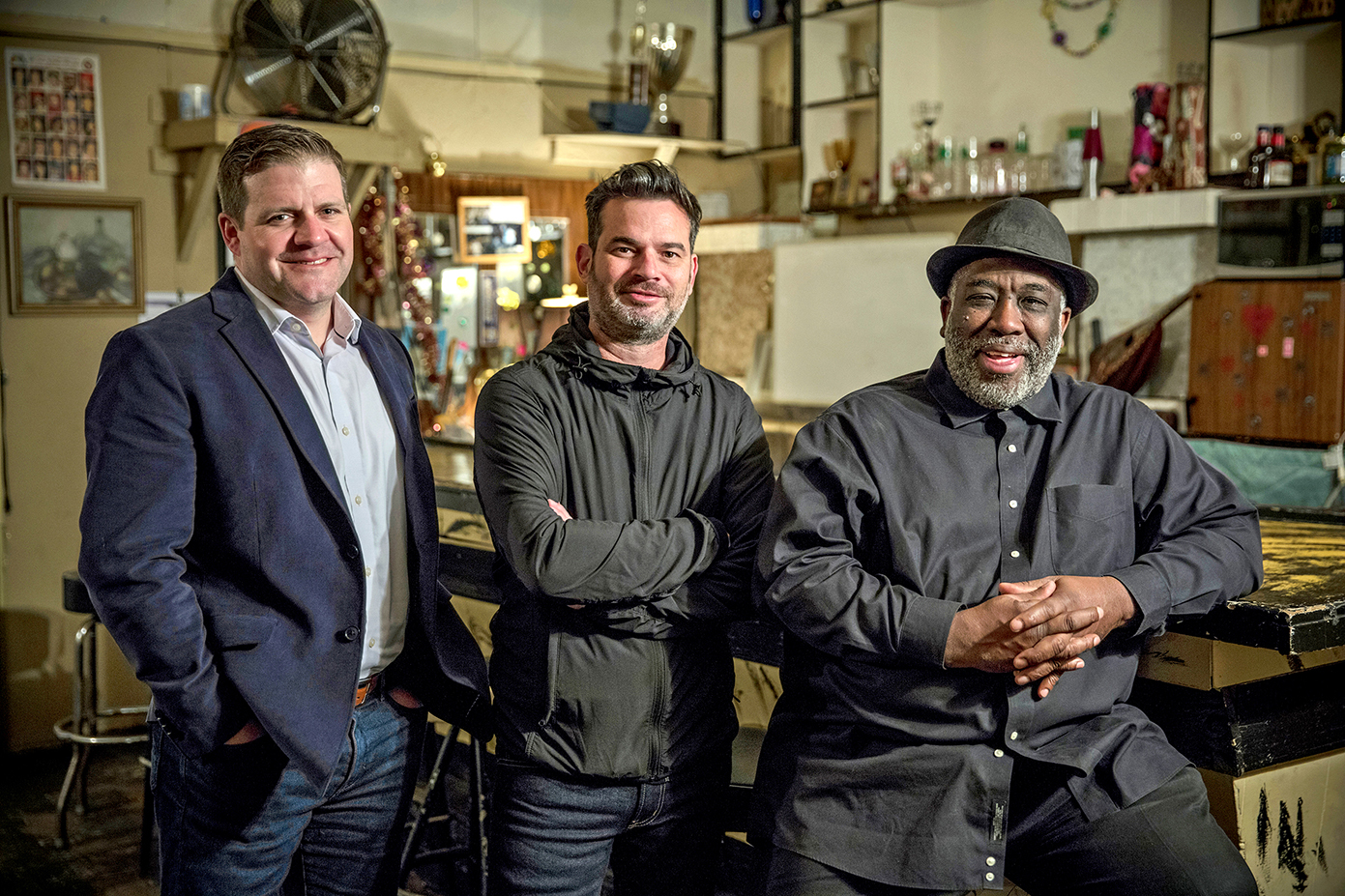 Roughly 90% of the performers each year at the Baton Rouge Blues Festival are musicians who have personal ties to the Capital Region and surrounding area, including Henry Turner Jr., who returns to the festival again this year. Here, chairman Chris Brooks, left, and booking chair John Kaufman, center, pose with Turner at his local music venue, Henry Turner Jr.'s Listening Room. Photo by Brian Baiamonte
---
Festival-goers have a pretty sweet deal in the Baton Rouge Blues Festival.
At what organizers boast is one of America's oldest blues festivals, more than 50 performers annually take to four stages over two spring days in downtown Baton Rouge. While the festival has always been focused on highlighting the city's rich swamp blues heritage and has a bevy of local talent, big name headliners like Dr. John and Buddy Guy have boosted the festival's profile in recent years.
Perhaps best of all, the festival is free. Organizers—all of whom are volunteers—view the event as a gift to the city. But it doesn't come cheap, and the return on the investment required to pull it off each year is measured more in terms of culture than currency.
"It takes a lot of money and business acumen to produce a festival of this size," says festival chairman Chris Brooks. "It's like running a small business."
Produced by the Baton Rouge Blues Foundation and a committee of 21 volunteers, the Baton Rouge Blues Festival has an estimated annual operating budget of about $250,000. As expected, the biggest expense is booking performers. Brooks says musicians consume at least 35% of the budget. The staging, audio and visual aspects of a music festival also cost big bucks, while smaller expenses include production, tents, security and marketing.
So where does the money come from? Corporate sponsorships, which start at $1,000, and beverage sales bring in the most revenue. Combined, they provide about 65% of the festival's budget, while a grant from the city supplies another 20%. Other sources of revenue include art and food vendor fees, VIP tickets and merchandise sales.
A major challenge for free music festivals is they can easily fall victim to their own success. As events like the Baton Rouge Blues Festival grow and gain additional attendees, expenses inevitably grow—and sometimes at a much faster pace than sponsorships and revenue. Gary Bongiovanni, editor of concert industry trade publication Pollstar, says all free festivals have limits that make sustaining growth a tricky endeavor.
"You have to be very creative to run a free festival," Bongiovanni says. "They operate every year by their fingertips. It's not an easy business."
Landing big name performers can prove a challenge for free festivals, he notes, because they usually mean a smaller paycheck for performers. That means the event must be in an ideal location with a receptive audience to attract some performers. But musicians may also have an interest in a free festival if they have personal ties to it, he adds.
That's the case for the large majority of performers at the Baton Rouge Blues Festival. Brooks says 90% of the performers each year live within a 90-mile radius of Baton Rouge or have some type of personal connection to the area. Bongiovanni says blues festivals also benefit from the fact that blues artists, relative to performers in most other musical genres, are on the lower end of the pay scale.
"Blues is not the most commercially successful genre," he says. "Those artists aren't used to big paydays."
Baton Rouge Blues Festival headliners typically cost between $15,000 and $25,000, says festival booking chair John Kaufman. He admits organizers have paid more than that for some performers, but declines to give specifics. All told, organizers spend between $75,000 and $125,000 each year for the talent on stage. Kaufman, who is also the marketing and programming director at Manship Theatre, says scheduling 50-plus performers over two days is tough, but finding artists has become easier in recent years.
"Since the festival has grown, it's gotten easier to book bands because the festival is now on the radar for a lot of performers," he says. "Some will work with us on price because it's a free festival. Some don't."
Last year, after several years of steady growth, organizers expanded the festival to two days for the first time since 1994 and landed perhaps their biggest performer yet: Seven-time Grammy winner, Rock and Roll Hall of Fame inductee and Lettsworth native Buddy Guy. Over three years, the festival had expanded to four stages, and grown from 10 performers in 2013 to more than 50. Aided by a weekend of absolutely gorgeous spring weather, last year's festival drew a record high 50,000 attendees.
"2016 was our 'we've arrived' year," Brooks says.
But the extra money and effort the expanded festival demanded left last year's balance sheet in the red. Brooks won't divulge specifics, but says it was a small shortfall and adds that any short-term financial hit is more than offset by the festival's long-term success.
"The impact the festival made in 2016 was an incredible success. It was worth it to book a high-profile headliner like Buddy Guy," he says. "Our day-of revenue generating programs, such as beverage and merchandise sales, were way up."
And it also appears the success of last year's festival is paying dividends in corporate sponsorships for this year's event. Corporate sponsorships are already ahead of 2016's, Brooks says. Festival organizers are also taking a more conservative approach to budgeting this year. Rather than putting a large pot of money toward one big name act like Buddy Guy or Dr. John—who also helped elevate the festival's status as the 2014 headliner—organizers aimed to put together more comprehensive lineup of performers, led by The Fabulous Thunderbirds.
"This year, as for performers, we looked for a more cohesive festival lineup, not so top heavy," Kaufman says, adding the focus is to keep people on the festival grounds for the entire weekend, rather than just for one or two performances.
Crafting a budget for a free, outdoors festival is complicated by unpredictable variables, Brooks says. The weather, of course, is perhaps the biggest factor. When the threat of heavy thunderstorms and lightning loomed before the 2015 Baton Rouge Blues Festival, organizers moved it indoors. The weather turned out to be mostly dry throughout the weekend, and moving the festival indoors resulted in lower attendance figures than expected. Steep competition from all of the other festivals that take place across south Louisiana on April weekends also poses a challenge.
That's why dedicated corporate sponsorships are the lifeblood of free festivals. Sponsors are a more dependable source of revenue than day-of sales and can keep festivals alive despite the occasional off year. Some of the Baton Rouge Blues Festival's largest sponsors this year include Absolut Vodka, Eagle 98.1, The Louisiana Campaign for Tobacco-Free Living, Lamar Advertising and Launch Media, all of whom have donated at least $10,000 to become "Platinum Partners." Raising Cane's and Dow Chemical are "Gold Partners" as donors of $5,000 or more. Ten other "Bronze" and "Silver Partners" have ponied up at least $1,000 and $2,500 each, respectively.
Blues Festival organizers are also pitching top-level corporate sponsorship packages at the $30,000 and $50,000 levels, but have yet to land any takers.
In return for corporate support, the festival offers branding on festival advertising, promotions and guides. Sponsors' logos are splashed on stageside video screens in between performers, and they get acknowledged during stage announcements and on social media.
The exposure offers businesses a chance to get their messages across to people of all ages and demographics in one place at one time. Festival organizers have made a concerted effort in recent years to attract a more diverse crowd, including people young and old, a wide-ranging audience ideal for large companies.
"Trends show businesses have been allocating dollars to events like this rather than traditional media," Brooks notes.
But festival organizers stress there's also a more meaningful, long-term benefit for corporate sponsors. They remind prospective sponsors that they're contributing to something bigger than themselves. Since 1981, the Baton Rouge Blues Festival has celebrated and preserved the swamp blues artists native to the Baton Rouge area, and has cultivated a sense of culture and identity in a city that often seems lacking in this area compared to some of our south Louisiana neighbors.
"Lafayette has zydeco, New Orleans has jazz, and Baton Rouge has the blues," Brooks says. "This is a true Baton Rouge festival. It's produced by Baton Rougeans, with performers who have ties to the city. The goal is to celebrate what Baton Rouge has to offer."
Not only does it give locals a reason to celebrate and enjoy their city, but it gives out-of-towners a reason to visit. The free festival is already an economic driver by bringing in visitors who pay to stay, shop, eat and drink in Baton Rouge for a weekend. But it can always be bigger, and that's what Brooks has his eye on.
He looks to other free festivals like Festival International in Lafayette, which is held over five days each year with a much larger budget—about $1.1 million—and a paid year-round staff. Brooks believes the Baton Rouge Blues Festival can one day rival Festival International in size and impact, but to get to that point bigger corporate sponsorship commitments are needed.
"The business community is starting to realize what we have in this festival," he says. "But we have to have more support and do more to be considered a true economic driver."
---
2017 BATON ROUGE BLUES FESTIVAL
PERFORMERS: The Fabulous Thunderbirds; Kenny Neal & The Neal Family Band; Marc Broussard; Larry Garner; Mr. Sipp; Kenny Neal & The Legendary Blues Band featuring Henry Gray, Sam Hogan and others; Ana Popovic; Alvin Youngblood; Hart; Lohn Lisi; Ms. Silky Sol; Lil' Jimmy Reed; Lazy Lester; James "Chicken Scratch" Johnson; Mz. Pat; Josh Garrett; Henry Turner Jr. & Flavor; Jimmy "Duck" Holmes; Jonathon "Boogie" Long and more.
WHEN: Noon to 10 p.m. on Saturday and Sunday, April 9-10

WHERE: Downtown Baton Rouge (main stages at Repentance Park and Galvez Plaza)
COST: Free. VIP tickets are available for $200, which includes exclusive entry to private viewing areas adjacent to the two main stages with re-entry privileges all weekend; gourmet food and snacks; unlimited cocktails, beer, sodas and bottled water; and private restrooms, among other perks.
COMPLETE DETAILS AND VIP TICKETS: BatonRougeBluesFestival.org