---
Gov. John Bel Edwards has vetoed Senate Bill 229, which would have created a transition structure in the event voters approve the incorporation of the City of St. George on Oct. 12.
The bill was initially uncontroversial when introduced by Sen. Dan Claitor early in the session. However, it was heavily amended on the Senate floor to exempt St. George from paying certain legacy costs associated with the city-parish and was therefore opposed by St. George opponents.
In a statement issued late this afternoon, Edwards cites the amendments made to the bill as the reason for his veto. Mayor Sharon Weston Broome released a statement following the veto applauding Edwards' move and also raising concerns about the amendments.
"The amendments made on the Senate floor would have allowed the proposed City of St. George to simply walk away from debt and pension obligations for services that benefit all citizens," Broome said in a statement.
"The bill would have forced (East Baton Rouge) and (St. George) into unnecessary and expensive litigation to interpret the floor amendment provisions that were added without any notice or consultation."
Claitor says he was informed of the governor's decision in a phone call by Edwards' executive counsel.
"I don't want to speak for them, but they didn't seem to think it created an equitable transition," Claitor says, adding that he is disappointed by the veto. "They got caught up in the politics of a local matter and would have been better off to leave it be."
Lionel Rainey, a member of the St. George incorporation effort, said, "This is a historically stupid and shortsighted move by the governor, the mayor-president, BRAC and anyone else who played a role in (the veto). They do not care about the people of this area. They care about politics.
"Every ounce of goodwill is gone. They may think we are a small, insignificant group, but on Oct. 12 they will find out exactly who we are."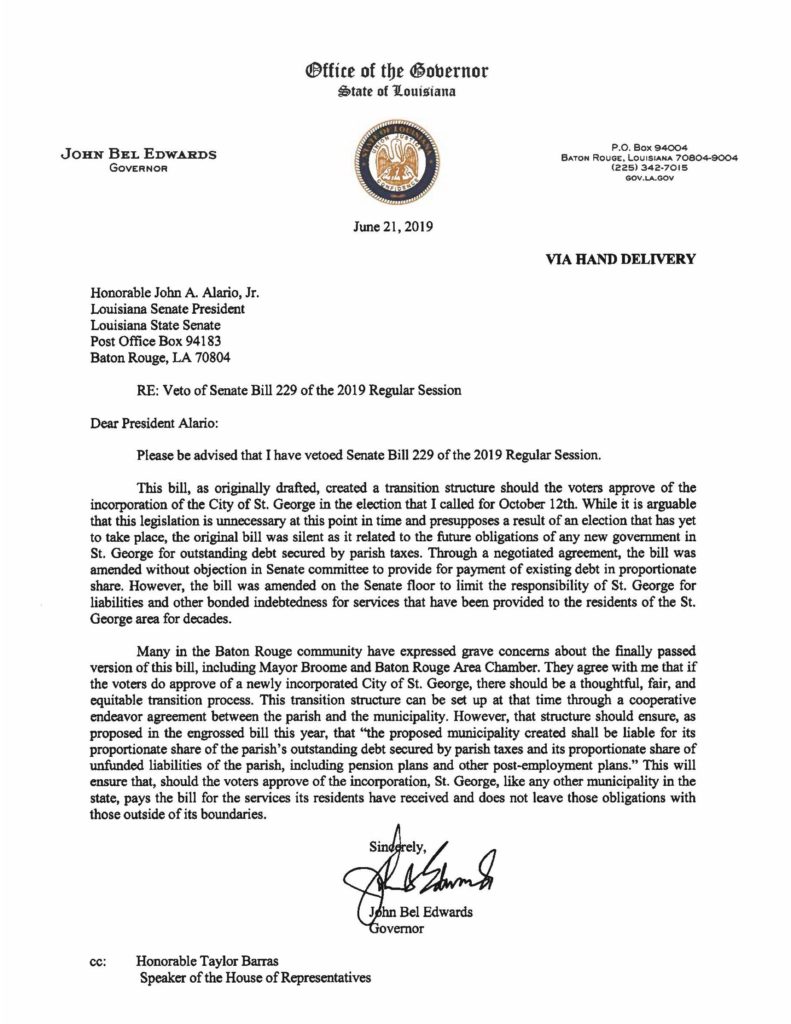 (Note: This story has been updated since its original publication to include additional comments and information.)