New federal overtime rules have human resources departments putting in extra hours to figure out how to best comply, inform employees about changes

President Barack Obama, surrounded by supporters, signs a presidential memorandum directing Labor Secretary Tom Perez to modernize overtime protections on March 13, 2014, in the East Room of the White House in Washington. Obama has bypassed Congress to order changes in overtime rules that go into effect in December and will require businesses to pay millions more for extra time that workers put in on the job. Photography by The Associated Press
---
Under current law, a salaried worker making as little as $23,660 a year can legally be asked to work more than 40 hours a week with no additional pay. The Obama administration says this violates the intent of the Fair Labor Standards Act, so the Department of Labor is raising the so-called white collar exemption to $47,476, making an additional 4.2 million workers eligible for overtime.
The new standard is equal to the 40th percentile of all salaries in the South, where wages are the lowest in the U.S., and is to be updated every three years. On the high end, the threshold above which most workers are exempt from overtime requirements has been raised from $100,000 per year to $134,004.
Some business groups and members of Congress hope to delay the department's decision, or block it in court. Bill Spann, associate director with Postlethwaite & Netterville's human resources consulting division, is sympathetic to their concerns.
The threshold is "extremely low right now," Spann says, and raising it to $35,000 would be appropriate. But he fears more than doubling it will harm all sorts of businesses, especially those that rely on white collar labor.
But when speaking to employers, he stresses that they should assume the change will happen on Dec. 1 as scheduled.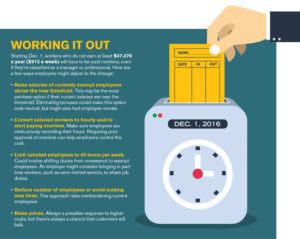 "You can't risk not being in compliance," he says. "The fines are huge." Employers that break the law might also have to pay back wages, he notes.
Say Jane Employee is an accountant making $40,000 a year. She's on salary, so she doesn't keep track of her hours, but she definitely works more than 40 hours a week.
On Dec. 1, Jane would be eligible for overtime pay. Under her current salary, her wage rate based on a 40-hour work week is $19.23 an hour, which means her time-and-a-half overtime rate would be $28.85.
Now, Jane's employers have a decision to make. Should they start paying Jane overtime? Raise her salary to $47,476? Or simply instruct her not to work more than 40 hours a week? For many employers, the decision will be dictated by their compensation budget.
"In some cases it's more advantageous to pay the salary than to pay overtime, or vice versa," says human resources consultant Theresa Jones. If an employee passes the "duties test" for the white collar exemption, meaning they primarily perform professional, administrative or executive duties or work in outside sales, Jones says employers should consider bumping those workers up to the new salary threshold.
The DOL is giving employers some leeway by changing its regulations to allow nondiscretionary bonuses, commissions and incentive payments to satisfy up to 10% of the salary threshold. For employers to credit such payments toward a portion of the salary level test, they must be paid on a quarterly or more frequent basis.
Formerly exempt employees now eligible for overtime will need to be trained to meticulously track their hours. If they answer phone calls or emails during their off hours, they ought to record that time. Requiring prior approval for overtime can help employers manage the expense, Jones says.
"Make sure you make it clear to your nonexempt employees that they are not to work during lunch, and it's the supervisor's responsibility to make sure that's not happening," says Michelle Boullion, interim director of LSU's Executive Education program and adjunct faculty member with LSU's Rucks Department of Management. "Make sure that nonexempt employees are truly relieved of their duties during break times, lunch, or outside of work hours." Such policies need to be clearly communicated in the employee handbook, she adds.
Employers that can afford it might give raises to employees who are within a couple thousand dollars of the new threshold, Boullion says. But she expects the most common approach will be to redirect duties to avoid paying overtime.
Spann says some employers might shift work onto the exempt employees while the newly nonexempt workers adhere to the 40-hour limit. Companies with flexible work schedules might become more rigid in an effort to track everyone's hours. Managers who are moved to hourly pay and kept under 40 hours per week will lose perks such as flexible hours, comp time and the ability to work from home, says Dawn Starns, Louisiana state director for the National Federation of Independent Business, which opposes the threshold change.
Now is a good time for employers to review the job classifications of all employees, making sure each is properly classified as exempt or nonexempt. Businesses should be mindful of whether their employees perceive the classification and compensation changes made to comply with the law are fair, warns human resource management consultant Courtland Chaney.
"Each state may enact regulations different than the federal government," Chaney adds. "When in doubt, contact your employment attorney."
The adjustment for employers will be difficult, Spann says, but they can handle it.
"American industry is going to adjust," he says. "We find a way to make things work."
RELATED