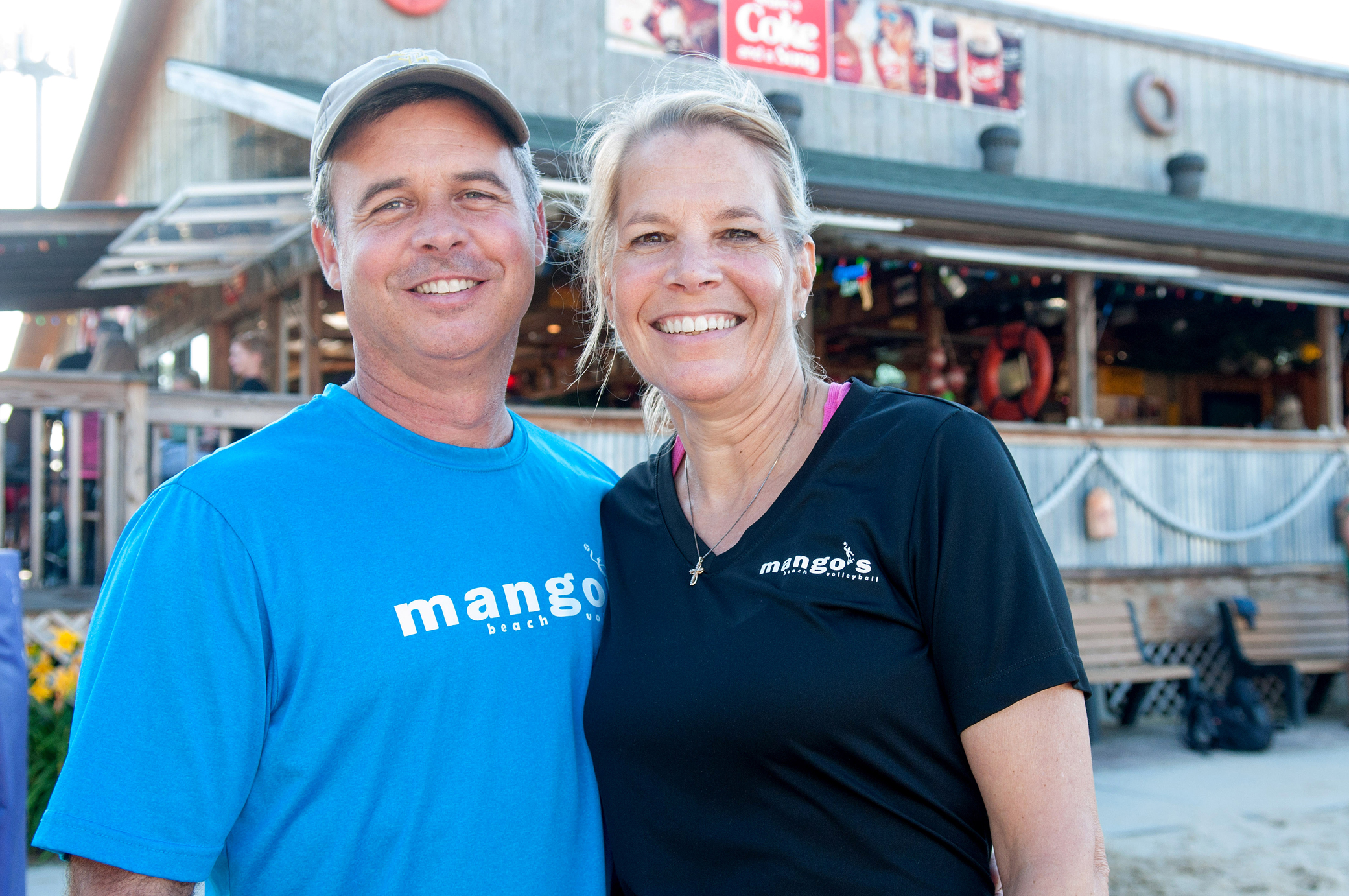 Tim and Tina Bourgeois are passionate about the business they're in. The couple, which has owned and operated Mango's for 21 years, still plays volleyball four nights a week and regularly participates in tournaments. Photography by Don Kadair
---
Blood, sweat and tears gave Tim Bourgeois the foundation he needed to get a dream off the ground. A mix of sand and volleyball allowed the dream take shape and inflate over the past 21 years.
Bourgeois is the owner and operator of Mango's Beach Volleyball, a perpetually growing Baton Rouge beach volleyball club, bar and restaurant tucked away off South Sherwood Forest Boulevard behind the corporate offices of Piccadilly.
"We started off when it was sort of like a wilderness back here," recalls Bourgeois, who operates Mango's with his wife, Tina, on West Bricksome Avenue.
From humble beginnings, Mango's has blossomed into a volleyball oasis of sorts, with nearly a dozen courts, a packed schedule of league matches every weekday evening and about 20 tournaments that take place on weekends between February and a seasonal shutdown each November.
More than that, though, Mango's has become a gathering place for beginner and advanced players from across the metro area, ranging in age from 12-year-olds to senior citizens. Think Cheers with volleyball as the backdrop—a place where everybody knows your name.
"I've made so many lifelong friends through my involvement with this place," says Tim Parrott, a Baton Rouge electrical contractor. "I started playing there the year they opened, so this is my 21st year out there. I've watched people meet here, get married and now they're raising families. I know when Tim and Tina opened the place, they never in their wildest dreams could've foreseen what it has turned into."
Indeed, none of this was really in the original game plan for Bourgeois, who conceived the idea for a business built around beach volleyball as an avenue to get back home to Louisiana and break free from an unfulfilling career as an IT programmer. He first served the idea up to Tina, then his girlfriend, when the two were living in Raleigh, North Carolina. Mostly, he just wanted to try something new and get closer to Lockport, his hometown.
"She thought I was crazy," Bourgeois says with a laugh.
She wasn't the only one. Bourgeois' father, Danny, a longtime barber and business owner in the Lockport area, had about the same reaction. Still, Bourgeois, who was 28 at the time, forged ahead. He moved to Baton Rouge to take an IT job, scouted out a spot he liked and hatched the initial plan for Mango's.
"We used every credit card we had and scrounged up whatever money we could to get it started," Bourgeois says. "That first year was pretty quiet. We had a handful of people playing, but it took a lot of time for people to hear about us."
When the business opened, it was in a much smaller building, next to which Bourgeois and his father constructed three sand courts. The kitchen "was a closet," he says, while the bar only had room for a few seats and there was a small studio apartment that the Bourgeoises called home for the first several years.
Time was precious for Bourgeois in the opening stages. His days usually consisted of checking into his full-time job at 7:30 a.m., spending lunch breaks at Mango's cutting the grass or accepting deliveries, finishing the day at his IT gig and then opening for business at 5:30 p.m. Most work days lasted 17 to 18 hours. Tim and Tina married in 2000, moved out of the studio apartment and renovated it into an expanded kitchen.
"I had big dreams, so it took a lot of blood, sweat and tears," Bourgeois says.
To say there really is no place like Mango's in the Capital Region isn't much of a stretch, and the lack of competition has helped Mango's flourish through the years. You have to drive to New Orleans or Lafayette to find beach volleyball businesses as booming as Mango's.
Laguna Beach popped up in Denham Springs a few years ago, but it only has about half the number of courts as Mango's as well as lighter league and tournament schedules. And unlike Mango's, Laguna Beach was dealt a significant blow during the recent flood, and has halted fall league registration as its owners, employees and patrons work to rebuild their homes and lives. It recently held its first post-flood tournament and anticipates reopening for the winter league.
Two milestone events also helped facilitate growth at Mango's. In 1996, the Olympics added beach volleyball for both men and women, and in 2010 the NCAA adopted the sport. The LSU women's beach volleyball team just wrapped up its third season of hosting its home matches at Mango's. The popularity of beach volleyball, a one-time niche sport, has exploded among recreational players as well. Today, you can now find some of the most competitive beach volleyball in the state taking place at Mango's.
"It's a fun sport," Bourgeois, who still plays four nights a week, says of the game's growing appeal. "You don't have to be superstar, and it's good stress relief."
For regulars like Parrott, it's the perfect mix of light exercise and community, a place where he can blow off some steam after work and get a pretty good workout at the same time.
"It's really become a temporary escape from reality for a lot of us," he says. "It's a fun sport that's easier on the body than a lot of others. As I've aged, I've noticed that it's very easy on the old body—doesn't make the bones and knees ache. Everybody I've introduced to that sport or invited to come out and play and check it out has fallen in love with it and with Mango's. I see people in public all the time now who I've met out there."
Parrott is among those at Mango's who have permanent bar stools with their names scrawled on them, a tip of the cap from Bourgeois for both their loyal patronage and help in spreading the word about his business through the years. Bourgeois estimates about 40 couples have met and eventually gotten married due to common threads that originated at Mango's. That number pales in comparison to the number of friendships the business has yielded.
"We have some phenomenal customers. We've really gotten to know a lot of our customers and have seen them go through their lives," he says. "That's pretty special to me."
As he walks around Mango's, Bourgeois points to the plethora of photos and memorabilia hanging on the walls and seemingly knows every story behind them. Recalling seasons and tournaments gone by, he appears as proud of the fact that he has built a family of sorts at Mango's as he has a successful business.
"It took a lot longer to take off than I thought," he says, "but what we have now is very special to me."