LSU's law school reaches a new milestone for women—but still lags
This story has been updated since its original publication to correct the percentage of women enrolled in the Paul M. Hebert Law Center in 2011 from 43.7 to 43.2. The Network regrets the error.
The number of women attending the LSU Paul M. Hebert Law Center is the highest it has  ever been, although for the past decade, the school has lagged behind Louisiana's other law schools and the national average for percentage enrollment. 
Of the 571 law students enrolled in LSU law school last year, 50% were women, up from the 45.5% recorded in 2018 and a significant increase from the 43.2% recorded in 2011.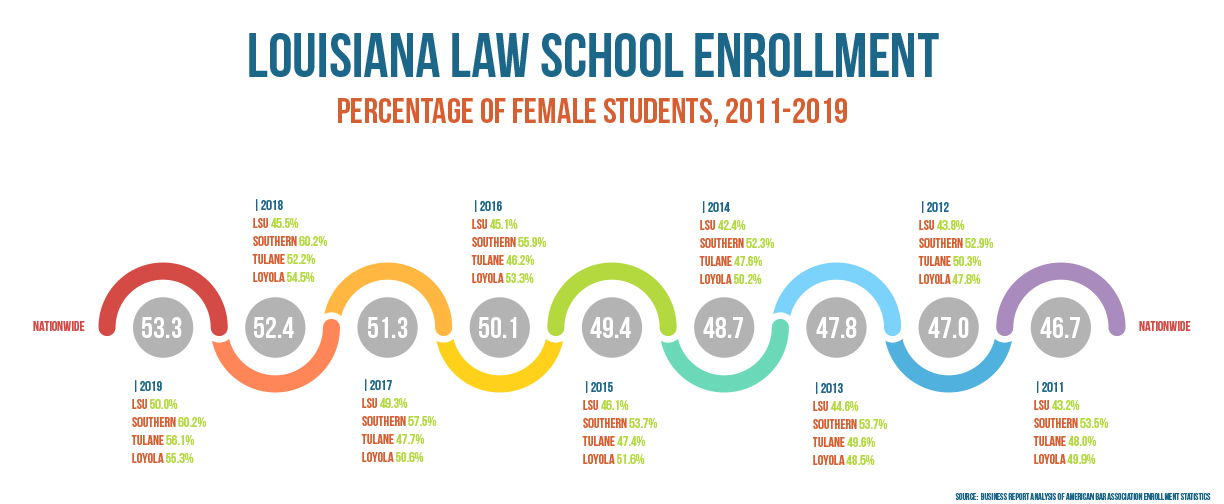 Compared to the state's other four law schools, however, LSU still maintains the smallest percentage of female students for every year but one dating back to 2011—the last year for which The Network was able to access enrollment figures. Meanwhile, Southern University in north Baton Rouge consistently has enrolled the largest percentage of female students in its law program of any institution during that same period, with women comprising more than 60% of its attendees, though LSU officials warn against comparing the two schools. 
LSU also lags behind the national average for female enrollment. Nationwide, more women are learning the law than ever before, with women outnumbering men in enrollment across the country every year since 2016. While national figures were unavailable for 2019, 52.4% of law students in 2018 were women, and females constituted a majority in nine of the nation's top 20 law schools, including Georgetown, Northwestern and Vanderbilt universities.
Female representation in the student body, however, has steadily increased at LSU over the past decade. In 2011, there were nearly 100 more men than women enrolled, with women comprising 43.2% of the program. Compare that to last year, when women outnumbered men by four. 
Assistant Dean for Student Affairs Jake Henry, who previously served as the director of admission for eight years, says he noticed diversity was an issue when he arrived at LSU in 2011, and became concerned it would eventually become an issue with the American Bar Association. 
Henry explains that the school does track who is committing to the program, but doesn't focus on one specific diversity metric—and instead considering the overall makeup of the admitting class, including geographic and racial diversity. 
Ultimately, he says, none of those individual metrics determines whether someone is offered admission into the program. That decision, he insists, is purely based on academic merits. 
"I've never been part of a conversation saying this is a particular goal the school has when it comes to a particular metric of diversity," he says. "Our ultimate goal is to bring in as much of a diverse class as possible … (but) we view the admissions decision as an academic decision." 
So what steps has the school taken to ensure the program is inclusive? Henry credits the increase of female representation in the program and recruitment efforts, and says the center has launched a number of different campaigns encouraging faculty members reach out to students after they're offered admission, including matching female students with female professors. 
"We've been strategic with our recruiting," Henry says, "but that doesn't necessarily lead to enrollment." 
For the class admitted in fall of 2019, Henry says, LSU received a total of 978 applications—476 of them from men; 502 from women. Of those, some 260 men and 281 women were offered admission. From that, 108 women and 98 men would go on to enroll in the program as first-year students, a sharp increase from the 90 women and 117 men who did so the previous year. 
The Network requested comparable gender-based applicant and admission offer statistics for applicants since 2011, but after initially agreeing to provide the figures, LSU denied the request citing concerns that the data was "competitive." The Network has filed a public records request for the information. 
Nationwide, though more women are in law school than ever before, statistics show that they are less likely to be admitted into a prestigious program, and are instead mostly enrolling in lower-ranked institutions. 
One possible reason experts consider as holding women back from being offered seats in prestigious institutions is the importance schools are placing on LSAT scores when considering admission. Women on average score two points less on the LSAT than their male test-taking counterparts.
US News & World Report's 2020 Best Law Schools rankings put Tulane at No. 52, LSU at No. 100, Loyola at No. 138 and Southern University at No. 146-192.