LSU paired degree program creating the next generation of Louisiana entrepreneurs

PAIRING: Ed Watson runs the LSU entrepreneurship paired degree program, designed to boost the success rate of students wanting to launch their own start-up business. (Photo by Don Kadair)
---
May 11, 2018, marked a new chapter for Baton Rouge's business scene. On that day, Mary Catherine Emory and Patrick Gremillion became the first students in LSU history to graduate with paired degrees in entrepreneurship, signaling the arrival of a new generation of entrepreneurs in Baton Rouge and across Louisiana.
Since the Stephenson Department of Entrepreneurship & Information Systems, housed within LSU's E.J. Ourso College of Business, officially launched the paired degree program last August, it has become a viable option for students who dream of kickstarting their own business ventures. The degree must be earned in conjunction with another bachelor's degree from any college on campus.
Ed Watson, the program's director, says the paired degree generally attracts two kinds of students: Those who already came in with enough college credits to squeeze in an extra degree in four years, and those who simply want to start their own businesses.
Now, as the first two recognized majors enter the workforce—Emory as Bra Genie's assistant marketing and merchandise manager, Gremillion as an accountant for the Baton Rouge firm Daigrepont & Brian—a few dozen others are pursuing entrepreneurship as one of two or three majors.
Some things Baton Rougeans can expect from this new crop of innovators: lifestyle-based outdoor apparel, more bra options for women throughout the South and "food that changes with the seasons."
Filling the need
Fostering an entrepreneurial mindset in Louisiana—particularly at the state's flagship university—is imperative, says Richard White, dean of the E.J. Ourso College of Business.
"Small businesses employ over half of the state's private workforce," he says. "Despite this achievement, many small business startups fail in the first five years. We believe entrepreneurship education can combat this trend and see it as a means to improve the economy."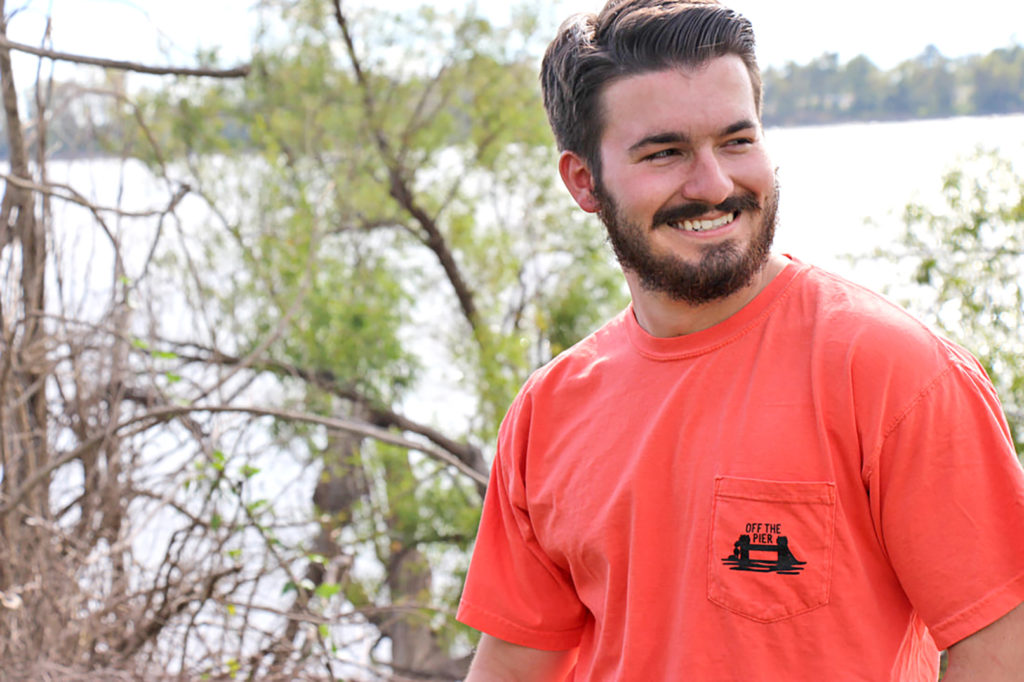 ---
Degrees in entrepreneurship began gaining popularity across the higher education landscape in 2013, though no campus in Louisiana offered a specific degree in the subject. That prompted White and other university officials to evaluate the the needs of the students, the business community, and the state and regional economies to determine if it adding a program would be worth the investment.
After speaking with institutions with respected entrepreneurship programs—the University of Georgia, Miami University of Ohio, Babson College and the Harvard Business School—White says the decision was made to move forward. University officials then dove into a two-year feasibility study to come up with the degree's structure, eventually deciding a paired major was the best way to unite passion with business-savvy.
The LSU Board of Supervisors approved the degree in December 2016, the Louisiana Board of Regents did the same three months later and the first students enrolled in the program in the fall of 2017.
The students
For Gremillion, the paired degree was an alternative to obtaining a master's in accountancy, which would have required the same number of hours—150. Though originally hesitant about the trade-off, he believes it will help his business, Off the Pier, which has already generated $8,000 in profits since early 2017.
Heeding the advice of mentors from the business college, Gremillion, who coupled his entrepreneurship major with another in accounting, launched the outdoor lifestyle brand with his fiancé last November.
"We really wanted to capture the stories that are created while on the water," Gremillion says. "Some of the best memories my fiancé and I have are with family and friends out on the water."
Off the Pier sells branded clothing—a specialized dry-fit shirt in the works—decor and decals all while using a community-based marketing strategy that promotes a sportsman's paradise lifestyle.
Gremillion plans to initially spread brand awareness and merchandise across the Gulf South and eventually use social media marketing to highlight different areas across the country where people like to fish, sharing their stories and their reasons for living "Off the Pier."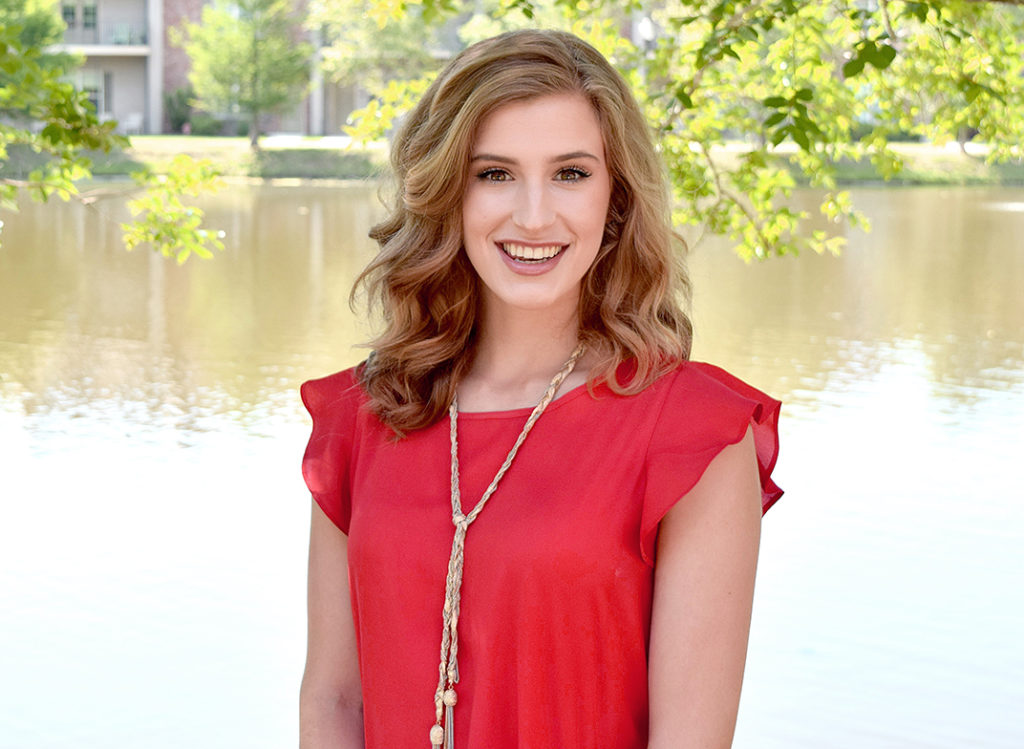 ---
Emory, who opted for a double-major in marketing and a minor in sociology, was working an event for her business fraternity when she started talking to representatives at the Stephenson Department table next to her.
After learning the department had recently merged with the ISDS department, Emory, then an entrepreneurship minor, became more and more swayed to pursue it as a paired major.
"We made an appointment with the head of the department that day," she says, "and I jumped on it that day."
Since then, she's been jotting down key takeaways from class speakers and emailing them to her mom, who owns and operates Bra Genie. The last speaker, she says, inspired her to create and follow a strategic plan, only executing daily tasks that contribute to the company's overall mission.
Emory is already working toward that: She plans to someday expand the company to various markets dotting the Southern region. The retailer already has locations in Baton Rouge, New Orleans and Covington.
But not all budding entrepreneurs walked across the Pete Maravich Assembly Center stage at the recent graduation ceremonies. In fact, most of them—about 20 or 30 students taking classes to obtain the paired degree—are underclassmen, says Watson, who adds another 15 students are officially enrolled in the program.
Sophie Spring, a rising junior triple-majoring in Spanish, math and entrepreneurship, wants to be a chef. If she could open her own restaurant, she knows exactly what it would be like.
"Something fun, upbeat, probably in a city, with a big bar, food that changes with the seasons and local ingredients," she says.
Spring works with local chef Jay Ducote and will serve as sous chef at his Gov't Taco restaurant in the White Star Market gourmet food hall on Government Street. She pursued the entrepreneurship major as a way to better understand the culinary industry.
Maybe she'll open up her own restaurant one day, she says. Maybe she won't. Either way, Spring says she knows she'll have the skills necessary to do so in the restaurant business' rapidly changing environment.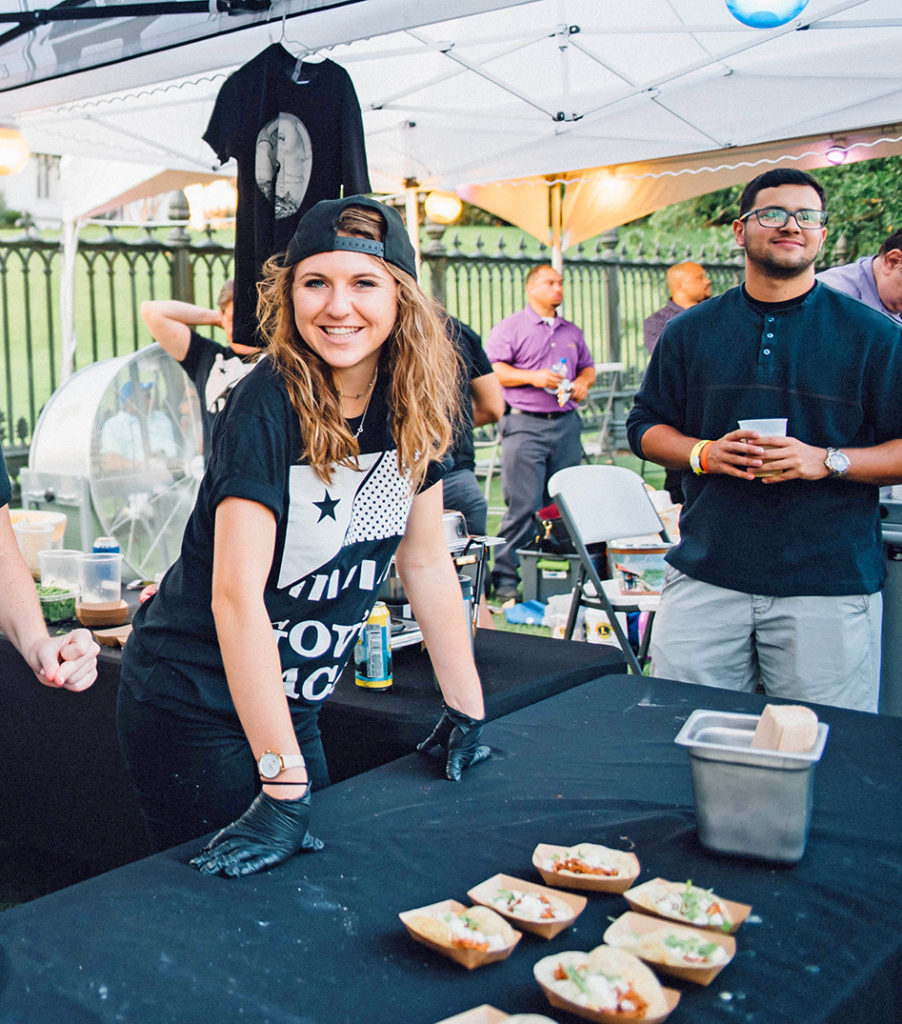 ---
Others participating in the paired degree program include a freshman music major who wants to market his talents, a fashion merchandising student who wants to develop her own clothing line, and an international studies Stamps Scholar who hopes to change the world through innovation.
While their paths jut out in different directions, all the students have one thing in common: a mentor. In most cases, it's Watson.
The pipeline
Watson notes most of the current enrollees are business majors because the courses pair nicely. He says the paired degree is more intensive than the entrepreneurship minor, preparing students for the real world of starting a business.
"They're developing confidence because they're put in situations where there's a lot of ambiguity, where they really have to stick their necks out and make a decision when they don't have all the data, where they have to pitch and sell an idea of their own to people they've never met before who might have different opinions about how the world works," Watson says.
In short, the program is for the entrepreneurs of the future. What exactly does the entrepreneur of tomorrow look like?
White says most of the jobs of tomorrow—which will be affected by artificial intelligence, offshoring, automation and changes in consumer habits—don't even exist yet.
"Instead of feeling panic or dread, the entrepreneur of tomorrow will see opportunity," White says. "Those individuals will accept the reality of change and uncertainty and look for ways to create value."