Alabama trouncing LSU in football … and enrollment growth

FLAGSHIP FLIES AT HOME: While most flagship universities across the country are actively recruiting out-of-state students, LSU has chosen to keep its focus inside Louisiana.
---
LSU's battles with Alabama on the football field are high-profile affairs; sports pundits hem and haw for days before and after the game, and fans rest a season's worth of hopes on the rivalry. Lately, the Tigers haven't been up to the task.
Quietly, off the football field, Alabama has been trouncing LSU—and other flagship universities in the U.S.—in another arena: Growth in enrollment, as well as applications from
potential students.
Alabama has been one of the fastest-growing schools in the U.S. for more than a decade, and, as of 2016, the nation's fastest growing flagship. Applications at the school exploded by 205% from 2006 to 2016, far outpacing both LSU's growth (67%) and the rest of the country's flagship schools (79%). The result? A 58% spike in enrollment at Alabama over that decade, according to data from the National Center for Education Statistics. By comparison, LSU has seen just 5% growth.
How did Alabama do it? In part, by looking increasingly outside its state lines and throwing itself head first into a national competition for students.
Those trends get at deeper issues about how universities operate in a world with declining state aid, and about the role of state universities and flagship institutions. How should schools find the money lost by decreasing state appropriations? Should in-state students comprise a majority of the student body at public institutions? Is it a good thing that Alabama has turned so sharply toward recruiting nonresidents?
Amid declining state appropriations, some schools in recent years have turned to spending millions of dollars on advertising and marketing efforts, especially in other states, LSU spokesman Jason Droddy says in an email. Louisiana's universities, with tight budgets to begin with, didn't have the money to spend on advertising, he says, and instead cut costs.
In 2014, Alabama had nearly double the number of out-of-state students as in-state students in its freshman class. That year marked the first that Alabama's total enrollment included more out-of-state students (18,325) than residents (17,830). That trend has only accelerated since.
"The schools with the largest percentage increases in applications … seem to correspond closely with higher proportions of non-residents," Droddy says. "In other words, public universities are required to compete in a marketplace, and some colleges have gone from having a healthy mix of non-residents which serves a state's public purpose to subverting that public mission by have majority of non-residents."
LSU is committed to its "public mission" of serving Louisiana's best and brightest, Droddy says, citing the school's Pelican Promise scholarship, a need-based award for Louisiana residents.
But that doesn't mean LSU isn't interested in stepping on the proverbial recruitment field and attracting more out-of-state students. LSU is being "a little more aggressive" on recruiting those students, Droddy says, though he declined to discuss the specifics on LSU's strategy.
"LSU is on the lower side of non-resident enrollment and some small increases would benefit the students and support the infusion of talent to Louisiana," he says.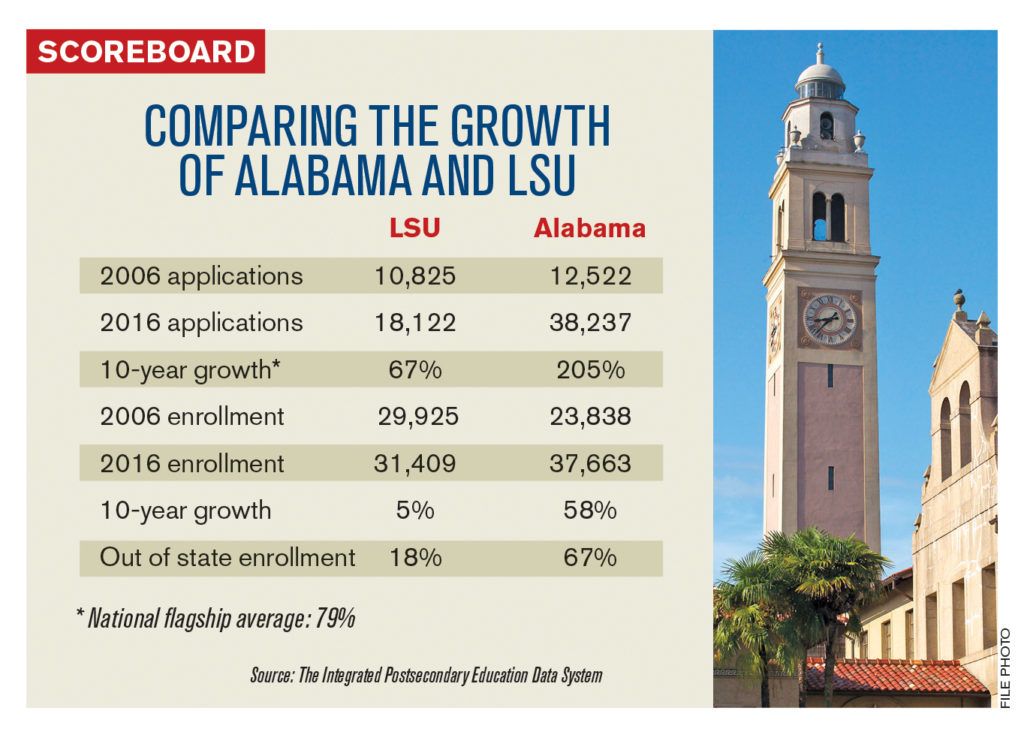 One reason these students are prized to many university recruiters across the country is the fact that out-of-state tuition can often run at least double the in-state cost, which is ever-important in a world of decreasing funding dollars. This spring semester, students from Louisiana taking 15 hours paid $5,686 for their tuition. Out-of-state students paid more than $14,000.
But to make strides in recruiting those students, LSU has actually looked to decrease that cost after a bill signed by Gov. John Bel Edwards in 2016 allowed the school to lower out-of-state tuition and fees. Previously, the Legislature had control over those rates and Droddy says they would set them above what the market would bear.
One of LSU's biggest challenges in recruiting has been the perennial battle over funding for higher education and programs like TOPS. Out-of-state students can easily be turned off by reading about Louisiana's looming $1 billion-plus budget shortfall and the threats to college budgets, not to mention how talks of cuts to TOPS can impact in-state recruitment.
Edwards recently highlighted the benefits of fully funding higher education and TOPS last year. He attributes much of the recent spikes in interest from in-state and out-of-state students to that budget.
Still, if lawmakers wait until this summer to fill the budget gap, students and parents will be left in limbo waiting to see what happens.
"Parents and students won't know what their tuition is going to be, how much TOPS will pay towards tuition, what the Go Grant situation is going to be for needy higher education students," Edwards says. "Higher education institutions won't know what their budget is going to be."
That issue is at the forefront as lawmakers begin 2018 with that fiscal cliff looming. A special session in February is possible, though certainly no guarantee that the Legislature can agree on how to bridge the gap.
"If the Legislature could resolve the fiscal cliff sooner, preferably February, Louisiana universities would be in a better position to keep our best talent and 'steal' the talent from other states," Droddy says.