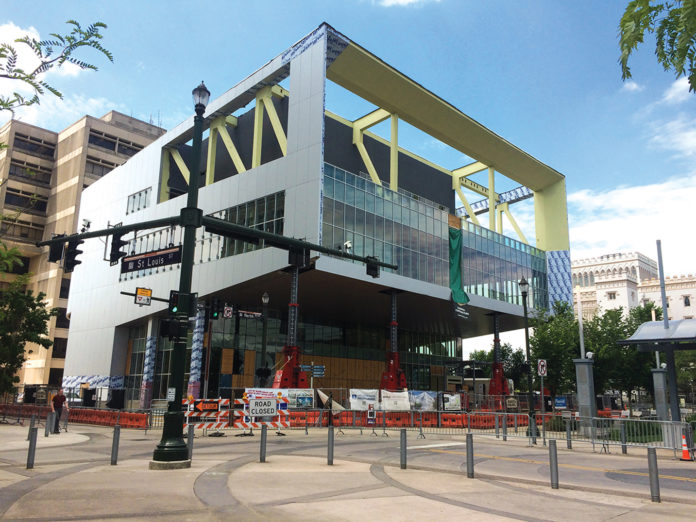 A lawsuit filed late Friday by the city-parish over a structural failure that halted construction eight months ago on the Baton Rouge downtown library does not mean the project will necessarily remain on hold while the issue is litigated.
If work on the $19 million structure is to resume, however, the city-parish or library board will have to front the money—estimated at some $2 million—to general contractor Buquet & Leblanc, then, hopefully, recoup it once the legal battle is over.
Parish Attorney LeAnne Batson confirms that fronting the money to get the project, already more than 270 days behind schedule, back on track is "one of the options we are considering." She declines to elaborate.
The estimated $2 million needed to resume construction on the project likely would come from the library board's capital budget, according to Library Director Spencer Watts, who suggests that will likely be the outcome.
"One option would be to go ahead and complete the project while the suit is outstanding," he says. "The other option is to wait but I think we'll look at trying to go ahead and complete it."
Watts says he and the board will meet with the city-parish legal team and the mayor's office to decide how best to proceed.
Chief Administrative Officer Darryl Gissel says it's too soon to say what the city-parish will do but that the Mayor's Office is relying on counsel from the Parish Attorney's Office.
"We will do what the parish attorney feels is the best strategy relative to the legal effort," Gissel says. "We don't want to compromise the taxpayers or the library system."
The lawsuit is the latest setback to the project, which was supposed to be completed in September. Attorneys, insurers and representatives from Buquet & Leblanc and the city-parish's architect/program manager—a joint venture of WHLC Architecture and Schwartz/Silver—spent much of November in mediation, unsuccessfully attempting to resolve their differences over who should shoulder the blame and, therefore, the repair costs for the problems.
According to court documents, those problems occurred April 18, when "two of the four large trusses supporting the cantilever failed by apparent simultaneous rupture and severing of the top chords of each truss," which caused the building's signature cantilever overlooking North Boulevard to "fall from its supported position" … causing cracks and damage to the building.
The lawsuit alleges breach of contract and negligence against WHLC Architecture and Schwartz/Silver, and Buquet & LeBlanc, and seeks unspecified damages. It also gives insight into why the mediation hearings ultimately failed, alleging that "WHLC/SS and its insurers wrongfully withheld payment for the remedial work to be performed, failed to accept the remedial work proposal and estimations submitted by Buquet & LeBlanc and … acted in bad faith to the city-parish."