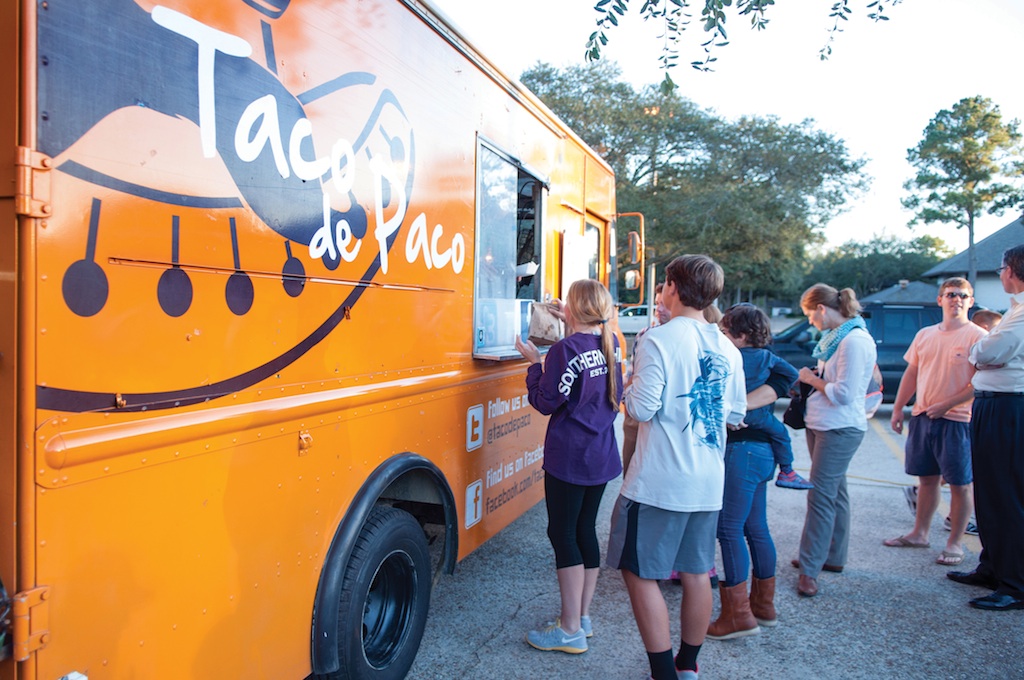 Four years after mobile eateries took the Capital Region by storm, the industry is in flux.
By 2012, food trucks were arguably the hottest culinary trend in Baton Rouge, with a robust fleet of about 16 serving portable street food.
Enthusiastic patrons in the Capital City monitored their favorite trucks' whereabouts on Facebook and Twitter, often standing in long lines in the heat, and sometimes rain. Three of the first operators—Taco de Paco, Curbside Burgers and Go Ya Ya's—earned spots on the Cooking Channel program Eat Street, and 225 magazine introduced a food truck category in its annual "Best of 225" issue.
Local food trucks were robust enough to trigger a debate about where mobile eateries should be allowed to set up, and a proposed ordinance limiting proximity to permanent restaurants was floated before the East Baton Rouge Metro Council. It was defeated with help from public pressure in April 2012—more evidence that Baton Rouge's food truck culture seemed to be on the fast track.
Today, however, the number of trucks hasn't grown appreciably in Baton Rouge, and many of the original operators have gotten out of the business altogether. There are fewer participants in the weekly Wednesday Wround-Up, a roving gathering established during the trucks' heyday. Several owners have transitioned to permanent brick-and-mortar locations. Some current operators believe this subsector of the food industry is simply getting calibrated. Others are convinced impediments in Baton Rouge make it difficult to draw a new crop of food truck entrepreneurs.
There's little question it's a challenging way to make a living, fraught with inconsistent sales, low volume and weather threats.
Three Bones Catering founder Chris Meyers recently made the decision to sell his food truck and focus instead on a permanent location. Meyers opened his mobile eatery in 2010 and built a loyal following for its barbecue and Cajun fare. Three Bones' popularity led Meyers to open a permanent location inside Uncle Earl's Bar in late 2013, and he shuttered his truck because of time constraints. Three Bones fans protested, and Meyers brought the truck back in August. It remained open three weeks, but Meyers closed it permanently when his employees walked off the job complaining of heat. Now he's working on opening a second permanent location downtown.
"Keeping the thing running is extremely difficult," Meyers says. "Now that I've gone into brick-and-mortar, it's so much easier. In a truck, you have to move an entire kitchen, and it's really, really hot. It was sometimes 130 degrees inside that thing."
A temporary venture
Some original food truck operators have exited the culinary business altogether, finding the struggles of scouting locations and hiring reliable staff too much to overcome. Like Meyers, others used their trucks' popularity to jumpstart new businesses. Kevin Black says his Go Ya Ya's crepe cart was always intended to be a temporary venture. It helped propel Black into a permanent location at the Main Street Market.
"It was never something I was going to do forever." Black says. "It's a way to get your foot in the door for working a concept."
It was difficult, he notes, to earn enough revenue solely from the lunch business.
"The numbers at lunch didn't work, but I was able to cater several films," says Black, who spent $25,000 on his mobile cart. "Day in and day out lunch sales—there's no way, in my opinion. We just don't have that much foot traffic."
Restaurateur Pat Fellows agrees. The Fresh Junkie founder launched a food truck about a year ago to build awareness for his downtown eatery, but found it less profitable than he and other operators expected and halted it.
"It didn't turn out to be a lucrative deal. Some events were successful, but a lot were not," Fellows says. "My overall takeaway is that we don't have the volume of people needed to make it work."
One challenge, Fellows says, is that locations with high concentrations of fitting patrons tend to be more restrictive. LSU, for example, now has its own food truck, Taco Churro's, opened this fall by food contractor Chartwells. It's set up in student-filled locations within the campus interior, which private food trucks can't access without being a licensed subcontractor of Chartwells. Ellen Sturgill, marketing manager for LSU Dining by Chartwells, says her office is in the process of setting up a second food truck in partnership with Zatarain's.
BREC has been friendlier to food trucks, but to a limited degree. The recreation district's special facilities manager, Diane Ruggiero, says that trucks must pay either one-time event fees or seasonal roving vendor fees. Food trucks selling at BREC facilities also must carry a $1 million general liability and automobile insurance certificate. If operators jump through those hoops, they still can't necessarily access the parks. BREC asks trucks to maintain a gentleman's agreement and vacate if a vendor selling similar food items is already there.
"We want the trucks to be profitable, and sometimes it is difficult when the same types of vendors are attempting to serve at the same location," Ruggiero says.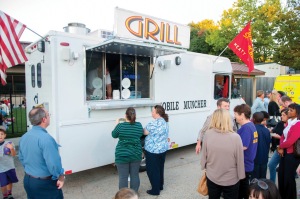 Comparing cities
University of Michigan researcher Todd Schifeling, a doctoral degree candidate in sociology, recently examined the trend in cities with a population of more than 100,000 and found that certain characteristics foster the growth of the food truck industry.
"The sort of food culture of a place and also the economic incentives and the regulatory situation make a difference," he says. "One of the big advantages for chefs in bigger cities like Los Angeles and Houston, where rents can be prohibitively expensive, is that food trucks are so much cheaper to start."
Schifeling adds that food trucks thrive in cities with a strong creative class, or large numbers of knowledge-based and arts professions. A college campus helps, too.
"They're distinct and local and often described in opposition to things like chains and fast food," he says. "We found that cities that have larger propensity of chain restaurants have fewer concentrations of food trucks."
Despite the challenges of turning a profit in an unpredictable industry, some food trucks report success and believe the sector just needs time to sort itself out in Baton Rouge. John Snow, who launched the city's first food truck, Taco de Paco, in 2010 with business partner Jared Loftus, believes there is local support for food trucks and that the business is viable. Their venture has been financially stable, he says, and recently entered into a relationship with the workforce development program Triumph Kitchen. But he adds that there's no one-size-fits-all formula.
"There is so much variation in our industry that it's hard to say what makes it work," Snow says. "It's contingent on so many factors."
Allison Offner, owner of Cupcake Allie, says her food truck sales currently represent about 50% of her overall profits. She also operates out of a strip mall where she prepares her products, but it lacks the kind of visibility the truck affords. The truck also allows Offner to service special events.
"It's been great for me," Offner says. "Retail spaces and real estate are ridiculously expensive. This is a way I can be in 10 different locations in a week's time, introducing my product to 10 different demographics."
Curbside Burgers and Fries founder Nick Hufft closed his popular truck temporarily while he opened the restaurant Barcadia in New Orleans. But he's planning to reopen the truck this fall in Baton Rouge, about the same time a Capital City location of Barcadia opens on Highland Road. He says he's hopeful about the continued growth of the food truck movement in Baton Rouge, but adds that it might benefit from a permanent location for the mobile eateries to park.
Says Hufft: "We need better infrastructure."
---
What's the biggest challenge of running a food truck?