Industrial Waste: How a St. James community is struggling to live among an expanding oil and gas industry

CLOSE ENCOUNTERS: Largely poor residents in St. James Parish are struggling with the downside of living next door to an expanding oil and gas industry. All sides agree there's a problem, but finding a solution hasn't been easy. (Photo by Collin Richie)
---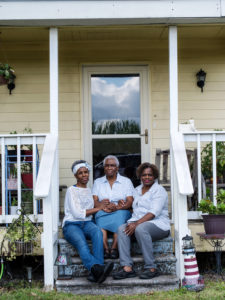 As you drive along River Road on the west side of St. James Parish, you pass charming, iconic sites from a bygone era—Oak Alley Plantation, Victorian-era farmhouses, simple country churches set on wide, deep lots overlooking the levee.
But increasingly along this stretch between La. 20 and the Sunshine Bridge, what catches your eye is the far more modern sight of industrial infrastructure. Refineries. Massive oil storage tanks. Pipelines that rise 30 feet into the air from behind the batture that protects this land from the Mississippi River before crossing the road and connecting to a sprawling network of more pipelines and tanks.
The contrast is jarring, but very much by design. This once quiet rural community is now industrial land. It's been this way since 2014 when St. James Parish adopted a new land use plan that designated this portion of the parish, officially known as St. James District 5—a vast swath of land running from the Sunshine Bridge to Vacherie—as industrial. Though the zoning code itself was not technically changed, it might as well have been. Not only did the new plan make it easier for the existing industry to expand but it has also paved the way for new industry to locate in the area.
In the years since, NuStar Energy and Plains Marketing LP, which operate long-standing oil storage tank facilities along River Road, have added more tanks to their sites. More significantly, Chinese chemical giant Yuhuang Chemical Inc., or YCI, has begun development of a $1.85 billion methanol facility near the campus of the former St. James High School on River Road. The company broke ground on the plant in April and will begin operations there by late 2019.
For the dwindling number of mostly low-income, African-American residents who still live in St. James' 5th District, the industrialization of land that has been in many of their families for generations is—not surprisingly—a problem. Not only do they object to the noise and inconvenience of heavy trucks and machinery along their narrow roads, they have health concerns.
Their vegetables don't grow. Their kids have asthma. Their friends have alarmingly high rates of cancer. Their skin breaks out in strange rashes. The evidence is anecdotal, but compelling nonetheless.
These problems and concerns are not new. Industry has been in western St. James for a long time, long before the 2014 land use plan. What has changed is that the industry has increased and most of the wealthier residents of the area, who owned large tracts of property along River Road, have sold out to the chemical plants and relocated. Only the poor and elderly remain, roughly fewer than 6,000 residents in all, and their small properties—individually at least—aren't worth very much to industry. In a word, they're stuck.
Now, the Baton Rouge-based Louisiana Environmental Action Network, or LEAN, is spearheading an effort to negotiate a buyout for about 60 homes in a neighborhood located in the heart of the 5th District called Burton Lane. If successful, they're hoping the deal can serve as a framework for other communities being hemmed in by industry—a process where industry comes out not as the bad guy, but, rather, as the good guy.
"The idea is to build a community that is responsible for everybody—for the people who are there, the government and the economic interests—and to have everyone on the same page," says LEAN Communications Director Michael Orr, who works with his mother Marylee Orr at the environmental advocacy organization she founded in the 1980s. "This can be a solution to communities, like St. James, where there is a lack of comprehensive zoning and comprehensive planning."
But several challenges remain before any kind of buyout can take place in St. James. Among them: Area residents are divided over whether they actually want to leave; political leadership is focused on other environmental controversies in the area, namely the Bayou Bridge Pipeline (See story on page 34); industry has expressed only a very preliminary interest in engaging in the process; and individual landowners have little leverage.
Marylee Orr, who describes herself as a perennial optimist, believes it can happen. But it could take years and the willingness of several disparate interest groups to come together, something that hasn't shown any signs yet of happening.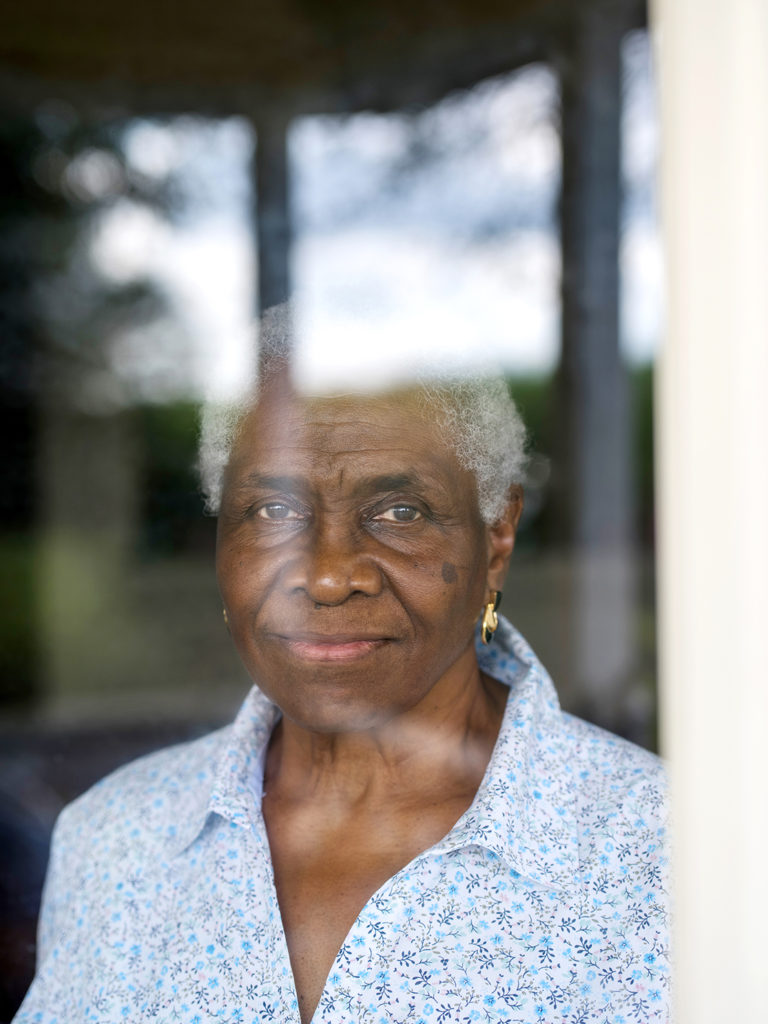 (Photo by Collin Richie)

"

Everything has changed.

We had 11 fruit trees. They all died. The pecan trees died. Vegetables don't grow right anymore. Frogs, butterflies, grasshoppers, birds—we don't see them anymore."

—ROSE MILLER, who has lived in the 5th District of St. James Parish for most of her 80 years.
'Everything has changed'
Rose Miller has lived in St. James' 5th District for most of her 80 years. Two of her 10 grown children, Eve Butler and Laverne Miller, now live with her on the property that has been in the family for generations. For decades, life in their Burton Lane neighborhood—a handful of narrow lanes that run perpendicular to River Road—was good, offering a slower pace of life, a close-knit community and bountiful harvests of homegrown fruits and vegetables.
In recent years, that's all changed.
"Everything has changed," she says. "We had 11 fruit trees. They all died. The pecan trees died. Vegetables don't grow right anymore. Frogs, butterflies, grasshoppers, birds—we don't see them anymore."
The problem, Miller and her daughters believe, is the result of industrial emissions from the chemical plants and oil storage tanks that are expanding into the area. And it's not just the fruits and vegetables that are affected. People they know have health problems. Butler's face has broken out in a puffy, painful rash twice in the past year after she has been caught in a hard rain.
"That kind of thing never used to happen when we were growing up," says Butler, who graduated from St. James High in 1975 and fondly recalls their home as the favorite, neighborhood gathering spot. "Our friends didn't have asthma. Their parents didn't have cancer. Now, everybody does."
No one has linked these problems to any particular chemical company or storage tank facility operator in the area, though LEAN chemist Wilma Subra twice detected what appeared to be unlawful emissions in the area over the past year. The bigger issue, says LEAN, is that people should not be forced, through no fault of their own, to live so close to big industry.
Butler agrees. That is why she has taken up the cause. She left St. James after high school to attend college and spent 15 years in the military. She did stints around the world, returned in 2008 after Hurricane Gustav destroyed her mother's home and decided to stay to help rebuild. In 2014, when she found out the Parish Council had made her community an industrial zone, she became an activist.
Butler's comrade in arms is Rev. Harry Joseph, a charismatic and engaging minister who leads a tiny congregation at Mt. Triumph Baptist Church. The Donaldsonville native and former Ascension Parish public works employee had a conversion experience in his 40s after a miraculous cure from what he believes was Lou Gehrig's disease. He and Butler now lead the local environmental movement from Joseph's humble, whitewashed church.
They're fighting several issues at the moment. One is the Bayou Bridge Pipeline, which would connect to an existing terminus just down the road from Mt. Triumph at the end of Burton Lane. Though the pipeline would join an existing network of pipelines that run beneath the ground in St. James, several local and out-of-state environmental groups have decided this pipeline is one too many and must be stopped.
Joseph and Butler are also campaigning for an evacuation route that 5th District residents can use in the event of a chemical spill or explosion. Flooding has also become a bigger problem in the area than it used to be, as industry has acquired much of the farmland that once helped facilitate drainage. Residents of the area increasingly find themselves stuck and if River Road is shut down or they can't access it due to flooding, there's no escape to the only other main artery, La. 3127.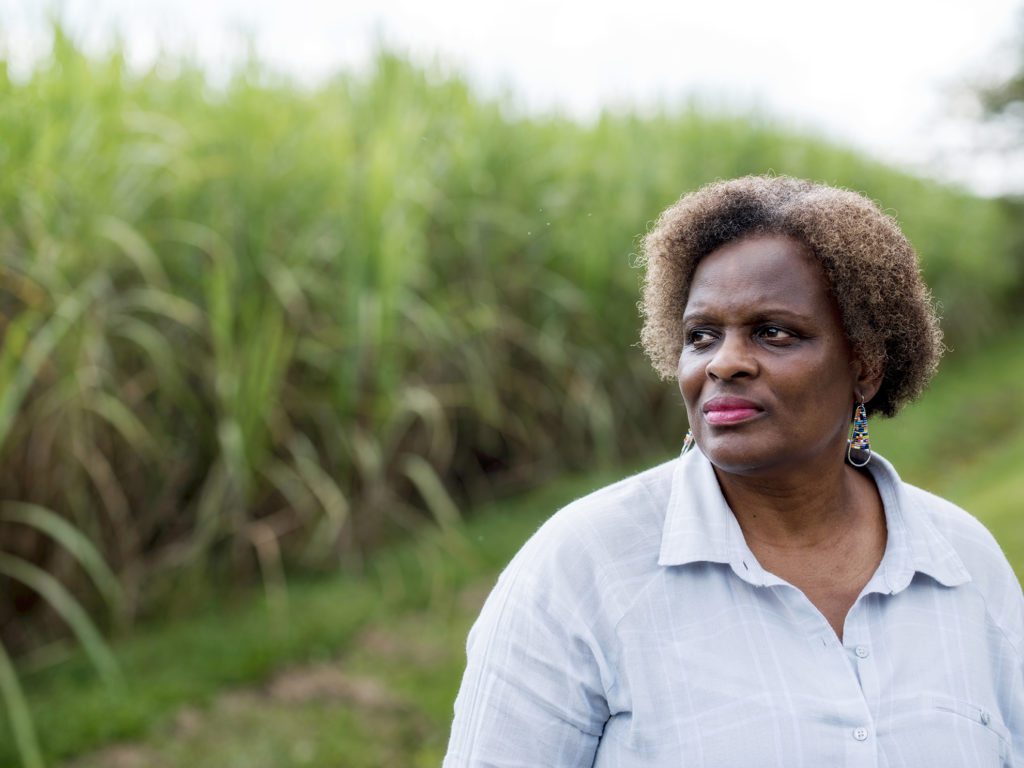 (Photo by Collin Richie)

"That kind of thing

never used to happen when we were growing up

. Our friends didn't have asthma. Their parents didn't have cancer. Now, everybody does."

—EVE BUTLER
While the pipeline and access road issues have captured the headlines, both in national and local media, the bigger issue confronting the community is what they say is the need for environmental justice. That's where the idea of the buyout comes in. The future of the 5th District is industrial. How long can you expect people to live next to oil storage tanks and a methanol plant? At what point do you help them leave?
When YCI announced its plans for the parish in 2014, Marylee Orr approached its CEO with the idea of a buyout. The reception was lukewarm, a good solid maybe. Three years later, nothing has happened yet. The company says it's interested in being a good neighbor and doing what it can to help find a solution to what everyone agrees is a problem. But YCI doesn't want to get stuck holding the bag for a mess it didn't create.
"We've expressed we'd like to be part of the solution," YCI spokesman Jerry Jones says. "But of all the industries in the area, we've not contributed to the problem, so when they come to us wanting us to solve the problem I say, shouldn't you be talking to the companies who have been here for years?"
That's a valid point, says Michael Orr. "But we're not saying these are problems YCI needs to fix. There needs to be a bigger, cooperative landscape where everybody works together to address the issues."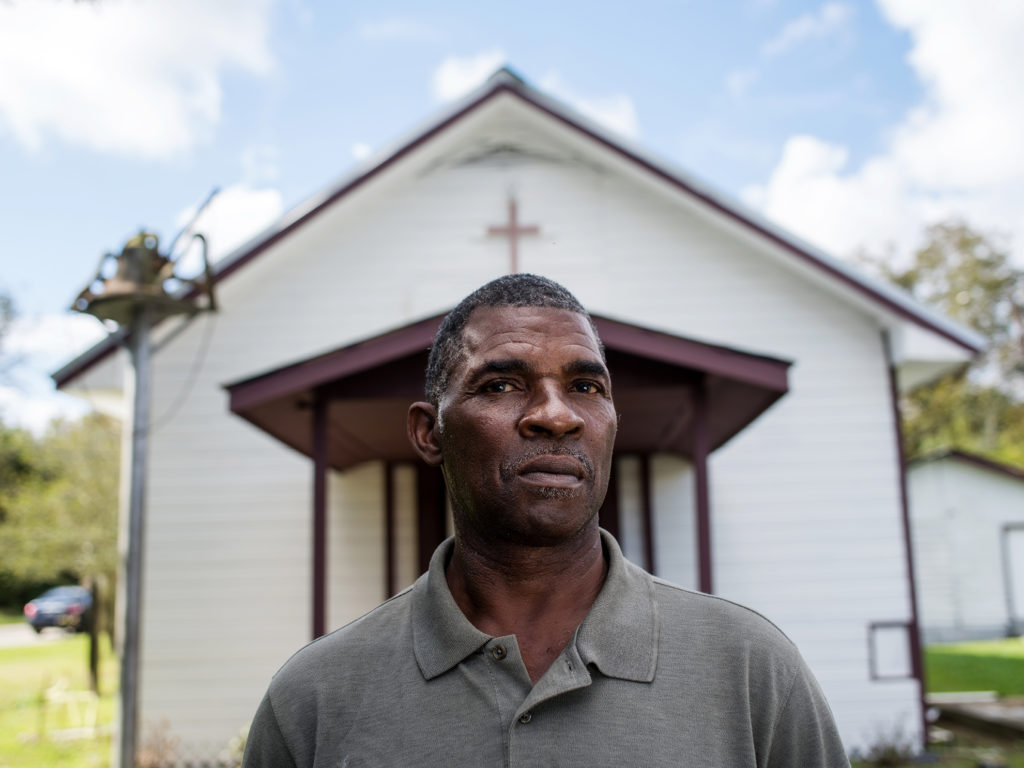 (Photo by Collin Richie)

"

We have to do something.

We're fighting so many issues here. It's just not fair to the people. They didn't ask for this and they need help."

—REV. HARRY JOSEPH, who helping to lead the activist charge from his Mt. Triumph Baptist Church
Seeking a solution
More than a dozen communities have been bought out or "relocated" in south Louisiana over the past two decades. The deals have not been widely publicized and most people outside of the affected areas are likely not even aware of them. The companies and governments that have done the buying out don't do much to toot their own horn, either, preferring instead to describe the buyouts as "investments in buffer zones."
Still, industry is increasingly recognizing that buyouts can be the proverbial win-win, both for the communities that live in the shadow of the chemical plants and for the companies that operate them.
"In theory, it's easier for a company to buyout a community and create a buffer zone than to have to worry about problems that may arise from residents whose homes abut their facilities," says Louisiana Chemical Association President Greg Bowser, though he adds his organization has not really gotten involved in helping facilitate buyout deals. "Most companies have their own internal procedures for how to handle buyouts."
But making the deals happen is complicated and can take years. In St. James' 5th District it's particularly tricky. A big part of the problem is that most of the properties in the affected area are small and aren't worth very much. As a result, residents, individually, don't have much leverage to negotiate with potential buyers. Adding to that dynamic, of the 60 or so homesteads in the Burton Lane area that have been identified as potential buyout sites, at least a dozen, maybe more, do not have clear title to their property.
"Some of these properties have been in the same family for generations and they're just handed down from generation to generation," Marylee Orr says. "Nothing is ever written down."
"In theory,

it's easier for a company to buyout a community

and

create a buffer zone

than to have to worry about problems that may arise from residents whose homes abut their facilities."

—GREG BOWSER, president, Louisiana Chemical Association
Parish President Timmy Roussel says the parish tried to address the title issue with residents of the area in 2014, suggesting in a series of public meetings that they seek legal aid from pro bono attorneys or law clinics to help clear the titles to their properties so they would be in a legal position to sell, should an offer come. Residents were not interested, he says.
"We tried to facilitate it and some of the industries were interested in working with us, so we had community meetings with them and we brought up that there are pro bono attorneys out there and we begged the people to let us help y'all get in touch with one of these attorneys," he says. "I don't know if they think we're lying to them or what but it's like talking to a brick wall."
Butler suspects that some people were skeptical because they didn't believe a buyout could really happen, though she says the neighbors she's talked to are starting to come around. There are real trust issues between parts of the community and their parish leadership, issues that have been building for decades. She and Joseph also say the title issue has been blown out of proportion and that more residents of the area have clear title than has been suggested, though they haven't gone door to door to assess the situation so they don't really know for sure.
Complicating matters is the fact that some residents don't want to leave because they're elderly or afraid or don't know where else they would go. Stories even circulate in the parish about some of Joseph's fellow ministers encouraging their congregations not to sell out, but to seek solutions instead in prayer. It's a story Marylee Orr has heard up and down the river.
"It's hard to convince everyone in a community to sell and relocate because it destroys the social fabric of the community," she says. "They can't all move together and you can't ever reproduce what you had."
Whatever the reasons, without a unified voice individual landowners don't have nearly as much leverage with industry. Clay Garside is an environmental attorney who is working with LEAN and the community and has helped negotiate successful buyouts in other communities. The more property owners that are able to unite, the more valuable their property becomes, he says.
"If everybody gets together, they can gain leverage by making a lot of noise," he says. "Also, the pieces of land in aggregate are far more valuable than an individual with a rundown trailer on it, so this is the best way for them to get bought out."
Cautious optimism
In mid 2013, Sasol announced a voluntary buyout program for residential properties in designated areas northwest and west of its massive petrochemical complex in Westlake in anticipation of a planned expansion. In the four years since, most residents have taken advantage of the offer, which Marylee Orr says was exceedingly fair because it compensated residents above and beyond the appraised value of their properties.
Closer to home, a successfully executed program was the 2013 buyout by the City of Baton Rouge of 44 homes in Scotlandville near the North Baton Rouge Waste Water Treatment Plant. Today, the area that once was a neighborhood is a buffer zone around the facility, and thanks to a generous mechanism in the program, some of the of the residents who were renters in the old neighborhood are now homeowners.
"The key in both of these deals was the incentives provided above and beyond the appraised value," such as generous premiums to cover things like moving expenses, closing and title costs and miscellaneous expenses, Marylee Orr says. "There is no fair price for someone's 'home' but efforts can be made to address that."
Industry representatives say it all sounds very easy, but once you get into the weeds it's far more complicated. Who determines the boundaries for a buyout area? Who gets bought out first? Who gets to decide the answers to those kinds of questions?
"If you have a pot of money, it is a limited fund, not open ended," Jones says. "How do you prioritize? Everybody believes they are in the worst situation. How do you determine who really is?"
Jones also cautions that residents have to be realistic about what a buyout can accomplish. Under the Sasol program in Westlake, for instance, residents were paid a minimum of $100,000 plus 25% of the value of their property.
"So let's say someone ended up with $120,000 or $130,000. What can you realistically do with that?" he says. "Can you afford to buy another piece of property with a house on it?"
Maybe not. But what is the alternative when you're surrounded by chemical plants that appear to be making your children ill? There's no perfect solution but if people are fairly compensated at least they're free to leave and search for a safer, healthier place to live—even if it's on a smaller lot or in a rental complex, or so the argument goes.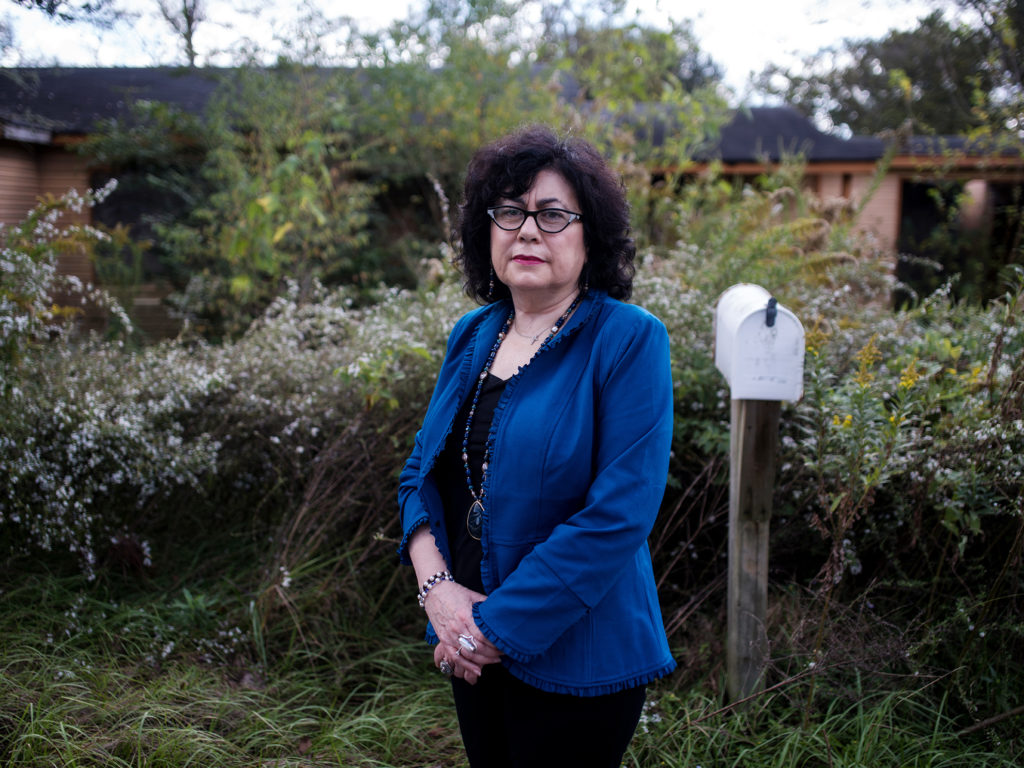 (Photo by Collin Richie)

"There is

no fair price

for someone's 'home' but efforts can be made to address that."

—MARYLEE ORR, founder, Louisiana Environmental Action Network
LEAN is currently pushing the idea of an industry sponsored fund that could be used to cover the buyout costs for a neighborhood like Burton Lane. No single company would have to shoulder the entire burden of any single buyout deal, and industry representatives could work with local governments and residents on a template or program that could be used in other, similar communities.
Garside believes such an idea could work, and Bowser at the LCA says his group is potentially interested in discussing such a concept in the future. Jones at YCI says he is not convinced that a buyout is the best solution for residents of the 5th District but his company is willing to talk.
"I don't know what the alternatives are at this point but we've expressed we want to be part of the solution," he says. "Keep us at the table but in fairness let's make sure we're not the only ones at the table."
Marylee Orr is encouraged the company is still open to the idea and she considers it a first step. In the months to come, she intends to try to bring those proverbial stakeholders to the table for talks, what she hopes will be the first of many. In the meantime, Joseph and Butler plan to canvas their neighborhood to get a better idea of who, specifically, might be willing to sell, should the opportunity arise, and whether they're legally in a position to do so.
They recognize it's not going to happen anytime soon, but what choice, they wonder, do they have?
"We have to do something," Joseph says. "We're fighting so many issues here. It's just not fair to the people. They didn't ask for this and they need help."