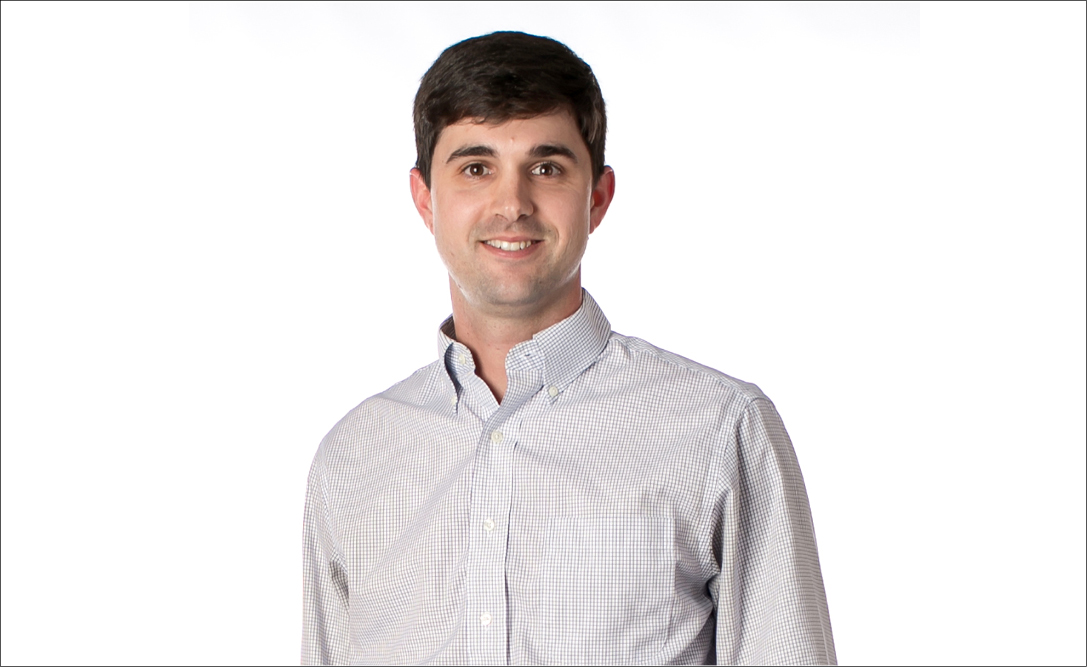 (Photos by Amy Martin)
Randolph "Rudy" Comeaux,

31
Vice President of Organizational Development and People, The Lemoine Company
PROFESSIONAL ACHIEVEMENTS:
Implemented Wellness Program with 87% participation that has reduced health care claim costs by 42%.
Project manager over the construction of a $92.4 million prison facility in Plaquemines Parish.
Named Great Futures honoree by Boys and Girls Club in 2017, honoring philanthropic young professionals who are "rising stars."
COMMUNITY:
Guest lecturer at LSU (construction management) and Southeastern Louisiana (sports management), and volunteers at more than a dozen local nonprofits, including American Cancer Society, Baton Rouge Youth Coalition, City Year and Red Cross Louisiana.
NAME ONE BOOK THAT HAS INSPIRED YOU PROFESSIONALLY
The World's Most Powerful Leadership Principle: How to Be a Servant Leader.
WHEN YOU WERE A CHILD, WHAT DID YOU WANT TO BE WHEN YOU GREW UP?
I don't recall thinking much about a real-world job when I was younger. I am sure I wanted to be a professional athlete because I loved all sports especially basketball and golf.
WHAT WAS YOUR FIRST JOB, HOW OLD WERE YOU AND WHAT DID YOU LEARN FROM IT?
My first job was working summers with my Dad's construction company—Comeaux Brother's Construction when I was 14 years old. I remember very long, hot days working with the crew. My Dad is probably one of the hardest working men that I know and he taught me the importance of having a strong work ethic.
WHAT IS THE STRANGEST JOB YOU'VE EVER HAD?
I worked as a busboy for TJ Ribs in college. Although I wouldn't tag it as strange, it was an interesting experience for sure. I diced up lots of mojos and bused tons of tables during my tenure! I also met really great people and had some fun along the way.
WHAT IS YOUR FAVORITE PLACE FOR A BUSINESS LUNCH IN BATON ROUGE, AND WHAT IS YOUR FAVORITE DISH THERE?
I enjoy the Bistro Byronz in Willow Grove. It's close to my office, the atmosphere is great and the turkey burger is always delicious!
WHAT DO YOU CONSIDER YOUR GREATEST ACHIEVEMENT?
My greatest achievement is a joint one with my wife. We have a 15-month-old and while we are still pretty new at this parenting thing, we have a happy life and a happy baby, so that feels like a pretty great achievement!
HOW DO YOU GET PUMPED UP BEFORE A BIG MEETING, PRESENTATION OR PITCH?
Good question! Preparation is huge for me. If I'm not prepared, it's hard to get fired up. However, once I'm prepped, I try to take some deep breathes and stay positive.
WHAT HAS BEEN THE MOST FULFILLING MOMENT IN YOUR CAREER SO FAR?
It's hard to identify one real moment that has been more fulfilling than the rest. I would say any time I have the opportunity to help others in their careers at Lemoine. It helps me remember why I do what I do every day.
WHAT WAS YOUR PROFESSIONAL "AHA MOMENT?"
Having a conversation with our CEO, Lenny Lemoine, about stepping into my current role nearly four years ago. It's not what I studied for in college nor was it a path I ever envisioned for my career. However, it's been a fantastic ride. The People side of any business is critical to our success and it's been fun being a part of it!
WHAT IS YOUR BEST PRODUCTIVITY HACK?
Prioritizing work every day into a Top 6 Most Important Things to Do Today listing. I have also turned off all notifications on my cell phone and computer to eliminate most distractions—this has been a game changer! The only notifications that comes through are my wife's!
Another hack I learned is from Albert Einstein. Einstein wrote down random thoughts he had throughout the day on his paper cuffs. He'd then review all notes at the end of the day and decide if anything was worth addressing. I write down random thoughts during the day, and especially during meetings, at the top of my notes and circle them. At the end of the day I review the circled items and either address them or rid myself of the thought.
WHAT HAVE YOU LEARNED THE HARD WAY?
Work-life balance. It only takes missing a few important moments to realize that a healthy work-life balance can have an immediate impact on your life and happiness. I won't say I do no work at home, however, I am now much more conscious of work impacting my family life and free time. Not having phone notifications allows me to be more present at home.
HOW DO YOU TYPICALLY DRESS FOR WORK: CASUAL? PROFESSIONAL? BUSINESS CASUAL? OTHER?
Business casual on most days for sure. We typically wear jeans on Fridays and always LSU colors before Game Day!
WHAT PART OF YOUR JOB DO YOU LOVE? WHAT PART DO YOU HATE?
I love the interaction with our people and helping them in any way possible. Sometimes working in organizational development can mean I am juggling a lot; however, I choose to look at this as a challenge to stay focused and organized.
WHAT IS THE BEST COMPLIMENT YOU'VE EVER GOTTEN FROM A COLLEAGUE OR BOSS?
A peer recently told me that I have an ability to connect with people and that I take complex issues and see them through to completion. These are two things that I work hard at so it felt good to hear I get it right some of the time!
MAC OR PC?
PC, but I'll use whatever you give me access to!
ARE YOU ACTIVE ON SOCIAL MEDIA? IF SO, ON WHICH PLATFORMS ARE YOU MOST ACTIVE?
Yes. I'm most active on Facebook and LinkedIn. I also have an Instagram account, which I believe I've posted 3 times on.
HOW MANY TEXTS DO YOU SEND ON AN AVERAGE DAY? HOW MANY EMAILS?
Texts, maybe 30 or so per day; emails, I'm working on this to get this down, average about 60.
HOW LOW WILL YOU ALLOW YOUR REMAINING PHONE OR COMPUTER BATTERY LIFE GET (IN %) BEFORE YOU HAVE AN ANXIETY ATTACK?
I don't really care enough about it to allow this to create an anxiety attack. I charge it when it's needed!
HOW MANY UNREAD MESSAGES ARE IN YOUR INBOX RIGHT NOW?
25.
WHAT'S YOUR FAVORITE APP AT THE MOMENT?
Wunderlist & Gipis (running app).
WHAT IS YOUR FAVORITE TECHNOLOGICAL ADVANCEMENT OF THE PAST DECADE?
Easily the iPhone. The iPhone has changed EVERYTHING we do in so many ways.
WHAT TECHNOLOGY DO YOU WISH WAS NEVER INVENTED?
Probably the iPhone. It has created as many negative changes in life as positive.
WHAT TIME DO YOU GET UP ON WORKDAY MORNINGS?
4:45 a.m. to 5 a.m.
BREAKFAST AT HOME? BREAKFAST ON THE GO? BREAKFAST AT YOUR DESK? NO BREAKFAST AT ALL?
Usually oatmeal at my desk during the week. My wife and I schedule one breakfast together per month after we drop the baby off at school. On weekends, it's definitely breakfast with the family.
THE SAYING GOES: 'BE THE CHANGE YOU WANT TO SEE IN THE WORLD.' SPECIFICALLY, WHAT ARE YOU 'BEING' TO MAKE BATON ROUGE BETTER?
I work to treat others the way I want to be treated and to always serve others through Servant Leadership.
WHEN DID YOU REALIZE YOU WERE "GROWN UP?"
When I first arrived at LSU, living away from home for the first time and going to college.
WHAT WAS THE BEST VACATION YOU HAVE EVER TAKEN?
We went on a backpacking trip to Europe in 2006 that was amazing. We began in Paris, then traveled south to Spain where we spent time in Barcelona, Madrid, and many other small cities in central and northern Spain. We finished the trip out in Italy spending time in Rome and Sperlonga.
FAVORITE GIFT YOU WERE GIVEN AS A CHILD?
I loved Hot Wheels when I was a child. Anytime I got a new Hot Wheels was a wonderful day!
WHICH TALENT OR SUPERPOWER WOULD YOU MOST LIKE TO HAVE AND WHY?
The power of healing would be an amazing thing. Who wouldn't want to be able to end other people's needless suffering?
WHAT'S A NICKNAME YOUR FRIENDS OR FAMILY MEMBERS HAVE FOR YOU?
Most people call me Rudy.
WHAT ARE YOU SUPERSTITIOUS ABOUT?
Predicting outcomes before they actually happen. Any time someone talks about an outcome that hasn't happened yet, I'm knocking on some wood!
WHO FASCINATES YOU?
Pope Francis is an amazing person who continues to fascinate me.
FAVORITE DRINK?
Non-Alcoholic: Arnold Palmer; alcoholic: Crown and Sprite, with two limes.
WHAT IS YOUR FAVORITE BAND OR SONG?
I love local groups especially the Benjy Davis Project.
WHAT IS YOUR FAVORITE MOVIE?
The Greatest Game Ever Played.
PETS?
We have two dogs: Coco, a German Short-Hair Pointer, and Harry Winston, a Yorkie. You haven't lived until you've had a puppy!
HOBBIES?
Spending time with family, working in the back yard/around the house, golf, running, reading, traveling and relaxing.
TELL US ABOUT A MOMENT THAT CHANGED YOUR LIFE.
The moment I met my wife, Francisca. I know she changed the trajectory of my life and it has certainly been an adventure! We will have been married 10 years this Christmas!
WHAT'S THE NEXT BIG PERSONAL OR CAREER CHALLENGE YOU PLAN TO TAKE ON?
We are expecting a second child in February. While extremely excited, I know that two kids under two will definitely be a challenge! Career wise, ensuring that I love what I do every day.
WHAT CONCERNS YOU MOST ABOUT THE FUTURE?
Hateful discourse—whether it causes tensions here or abroad. It's confusing to me that we can't seem to understand that we are all members of humanity first and foremost.
WHAT GIVES YOU THE MOST HOPE ABOUT THE FUTURE?
Despite my prior answer I see examples of good and amazing people every day. I am hopeful that people's desire to effect positive change is more powerful than the alternative.
WHAT WOULD BE YOUR ADVICE FOR FUTURE FORTY UNDER 40 HONOREES?
Reflect on your accomplishments and be proud of your work to date. Strive to see the positives in life.
DO YOU PLAN TO BE IN THE CAPITAL REGION FIVE YEARS FROM NOW? WHY OR WHY NOT?
Yes, Baton Rouge today is a great place to be a young professional with a young family. This may not have been the case 10 years ago; however, when I look around now I see fun new restaurants, business opportunities, a state-of-the-art children's museum and so many other things to love about our home.  Not to mention the warm nature of Baton Rougeans and of course LSU football!
IF NAMED KING FOR A DAY, WHAT IS ONE CHANGE YOU WOULD MAKE IN BATON ROUGE?
Could I build a new bridge in a day? Traffic over the Mississippi River is the worst!
DO YOU HAVE A BUCKET LIST? IF SO, WHAT ARE THE TOP 3 THINGS ON IT?
Not really. I can't wait to travel abroad with our children and would love to play at August National.