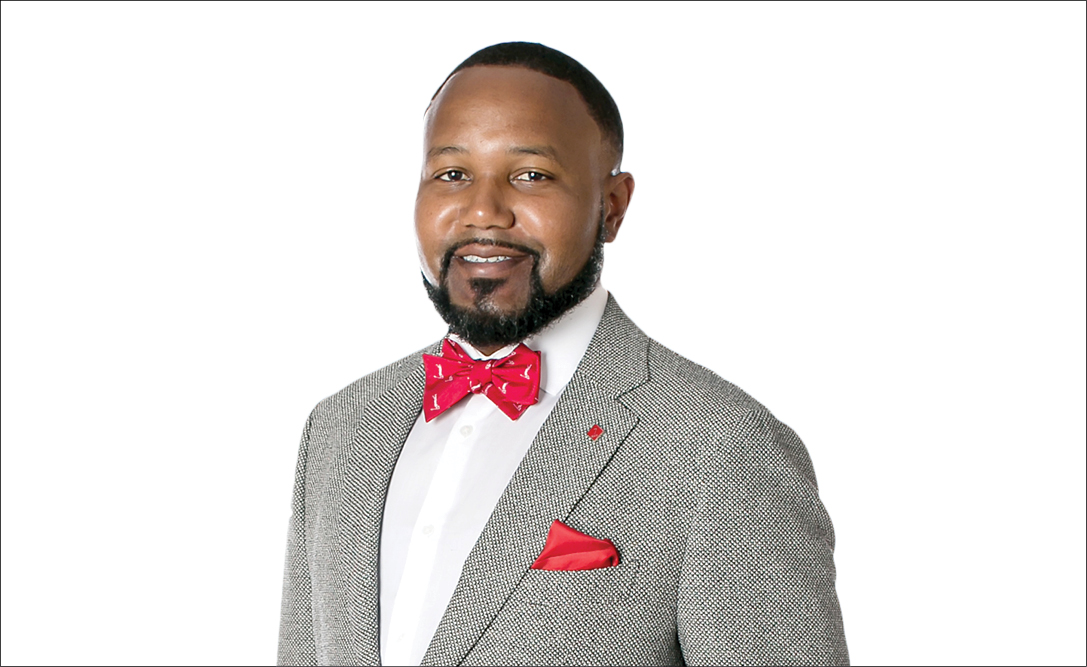 (Photos by Amy Martin)
Nathan B. Haymer,

39
Director of Bands, Southern University
PROFESSIONAL ACHIEVEMENTS:
Becoming director of one of the nation's most popular marching bands at the age of 36.
Increased band budget and funding by raising "Human Jukebox" profile, creating social media platforms, branding the band's logo and developing an app.
Developed marketing and branding strategy resulting in several band corporate sponsorship deals.
COMMUNITY:
Volunteers time reading to elementary school students and works with middle and high school band students in a non-paid position at the Fine Arts at Louisiana Leadership Institute.
NAME ONE BOOK THAT HAS INSPIRED YOU PROFESSIONALLY.
The Audacity of Hope by Barack Obama.
WHEN YOU WERE A CHILD, WHAT DID YOU WANT TO BE WHEN YOU GREW UP?
I've wanted to be the Southern Univeristy Band Director since the age of seven.
WHAT WAS YOUR FIRST JOB, HOW OLD WERE YOU AND WHAT DID YOU LEARN FROM IT?
At the age of 16, I worked at Wendy's. What I learned is that I am not cut out to be in food-service, but I did learn patience and team work.
WHAT IS THE STRANGEST JOB YOU'VE EVER HAD?
The strangest job I've ever had is when I worked in construction during the summer of 2000 pushing wheelbarrows of trash and things.
WHAT IS YOUR FAVORITE PLACE FOR A BUSINESS LUNCH IN BATON ROUGE, AND WHAT IS YOUR FAVORITE DISH THERE?
Stroube's in downtown Baton Rouge is my favorite place for business lunch. My favorite dish is the Grilled Redfish topped with crawfish risotto, grilled asparagus, crab meat and sherry cream—delicious!
WHAT DO YOU CONSIDER YOUR GREATEST ACHIEVEMENT?
Becoming the Director of Bands at Southern University. This is my dream job and it has opened many doors for me in the community, state and nation.
HOW DO YOU GET PUMPED UP BEFORE A BIG MEETING, PRESENTATION OR PITCH?
Well I have a great sense of humor so I usually study the material for the meeting then find a way to deliver it so that's humorous. This gets me excited. I love being in front of people.
WHAT HAS BEEN THE MOST FULFILLING MOMENT IN YOUR CAREER SO FAR?
The most fulfilling moment thus far in my career is when a student approached me and told me that I am his idol. He looks up to me.
WHAT WAS YOUR PROFESSIONAL "AHA MOMENT?"
The SU Band is known for its distinct sound and its precision drills on the field. "My AHA Moment" was when I was studying the works of my predecessors and realizing that all I had to do was the math to adapt it to today's band. We are larger than the bands of the past so our field routines didn't work with what was done in the past until I figured it out.
WHAT IS YOUR BEST PRODUCTIVITY HACK?
Turning my phone off and shutting down social media! Taking breaks as much as needed.
WHAT HAVE YOU LEARNED THE HARD WAY?
That everyone does not have your best interest in mind. Be careful of what you say and to who you say it.
HOW DO YOU TYPICALLY DRESS FOR WORK: CASUAL? PROFESSIONAL? BUSINESS CASUAL? OTHER?
All the above. The job requires different things at different times. I'm business casual for the classes I teach and meetings, but I usually dress like a football coach when we're outside learning our routines.
WHY PART OF YOUR JOB DO YOU LOVE? WHAT PART DO YOU HATE?
I love the music and students. I hate the politics!
WHAT IS THE BEST COMPLIMENT YOU'VE EVER GOTTEN FROM A COLLEAGUE OR BOSS?
The band is better than it's ever been. That is a huge compliment considering the history of our great organization.
MAC OR PC?
Mac.
ARE YOU ACTIVE ON SOCIAL MEDIA? IF SO, ON WHICH PLATFORMS ARE YOU MOST ACTIVE?
Very active of Facebook and Instagram.
HOW MANY TEXTS DO YOU SEND ON AN AVERAGE DAY? HOW MANY EMAILS?
Usually 50 texts and 25 emails.
HOW LOW WILL YOU ALLOW YOUR REMAINING PHONE OR COMPUTER BATTERY LIFE GET (IN %) BEFORE YOU HAVE AN ANXIETY ATTACK?
20 %.
HOW MANY UNREAD MESSAGES ARE IN YOUR INBOX RIGHT NOW?
Too many to count
WHAT'S YOUR FAVORITE APP AT THE MOMENT?
My Marriott App. I love that hotel brand
WHAT IS YOUR FAVORITE TECHNOLOGICAL ADVANCEMENT OF THE PAST DECADE?
Netflix and Hulu.
WHAT TECHNOLOGY DO YOU WISH WAS NEVER INVENTED?
Cell phones: very much needed, but they're so addictive.
WHAT TIME DO YOU GET UP ON WORKDAY MORNINGS?
5:30 a.m.
BREAKFAST AT HOME? BREAKFAST ON THE GO? BREAKFAST AT YOUR DESK? NO BREAKFAST AT ALL?
Most of the time, no breakfast at all. When I'm organized, breakfast at home.
THE SAYING GOES: 'BE THE CHANGE YOU WANT TO SEE IN THE WORLD.' SPECIFICALLY, WHAT ARE YOU 'BEING' TO MAKE BATON ROUGE BETTER?
I consider myself the ambassador of SU, Baton Rouge, the state of Louisiana and the nation through something that's apolitical. Everyone loves music!
WHEN DID YOU REALIZE YOU WERE "GROWN UP?"
At the age of 23 when I had great responsibilities and people that depended on me to get the job done.
WHAT WAS THE BEST VACATION YOU HAVE EVER TAKEN?
I went to Italy during the summer of 2017, Rome is beautiful.
FAVORITE GIFT YOU WERE GIVEN AS A CHILD?
A Mickey Mouse stuffed animal.
WHICH TALENT OR SUPERPOWER WOULD YOU MOST LIKE TO HAVE AND WHY?
HE-MAN, he was my idol as a child. He had a sword that was the best!
WHAT'S A NICKNAME YOUR FRIENDS OR FAMILY MEMBERS HAVE FOR YOU?
Gripp.
WHAT ARE YOU SUPERSTITIOUS ABOUT?
Splitting the pole when walking with someone and there's a pole in the middle—we have to go on the same side.
WHO FASCINATES YOU?
Lawrence Jackson, Director of Bands-retired, SU.
WHICH FICTIONAL CHARACTER DO YOU MOST IDENTIFY WITH?
Zeus.
FAVORITE DRINK?
Topo-Chico mineral water.
WHAT IS YOUR FAVORITE BAND OR SONG?
Earth, Wind, and Fire.
WHAT IS YOUR FAVORITE MOVIE?
Remember the Titans.
WHO WOULD PLAY YOU IN A MOVIE?
Avant; people tell me that we look alike although I don't see it.
IF YOU COULD GO BACK IN TIME, WHAT ADVICE WOULD YOU GIVE YOUR 18-YEAR-OLD SELF?
Never fear change.
HOBBIES?
Traveling.
 TELL US ABOUT A MOMENT THAT CHANGED YOUR LIFE.
When my grandfather died in 2003. He was the rock and pillar of the family. I thought he was a superhero and would live forever.
WHAT'S THE NEXT BIG PERSONAL OR CAREER CHALLENGE YOU PLAN TO TAKE ON?
Next big career challenge is to get a new band hall built on the SU campus and turn the current band hall in the SU Band Museum.
WHAT CONCERNS YOU MOST ABOUT THE FUTURE?
The most concerning thing about the future for me is funding for higher education in the state of Louisiana.
WHAT GIVES YOU THE MOST HOPE ABOUT THE FUTURE?
I am hopeful about the future always thinking that the best is yet to come.
WHAT WOULD BE YOUR ADVICE FOR FUTURE FORTY UNDER 40 HONOREES?
To just be yourself and be the change that you want to see in our society. The best way to lead is by example.
DO YOU PLAN TO BE IN THE CAPITAL REGION FIVE YEARS FROM NOW? WHY OR WHY NOT?
Yes. I was born here and want to die here—of course 100 years from now!
IF NAMED KING FOR A DAY, WHAT IS ONE CHANGE YOU WOULD MAKE IN BATON ROUGE?
A much-needed city loop to solve traffic problems.
HOW WOULD YOU DESCRIBE THE QUALITY OF LIFE IN BATON ROUGE; WHAT WORKS AND WHAT NEEDS IMPROVEMENT?
What works are the food and the people. What needs improvement is traffic, crime, and job opportunities.
DO YOU HAVE A BUCKET LIST? IF SO, WHAT ARE THE TOP 3 THINGS ON IT?
Bungee jumping.
Going to Tokyo.
Sky Diving.