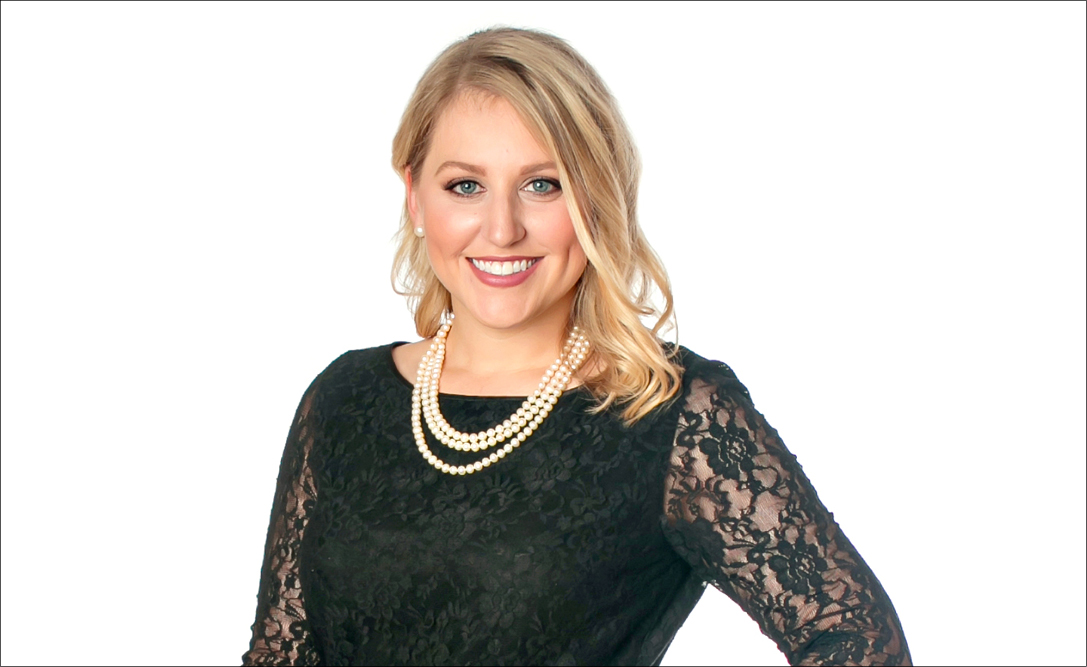 (Photos by Amy Martin)
Melissa Thompson,

33
Director of Talent Development, Baton Rouge Area Chamber
PROFESSIONAL ACHIEVEMENTS:
Being awarded a grant to expand BRAC's talent recruitment and retention strategies, specifically InternBR, a professional development program designed to provide area interns with training centered around leadership and communication.
Helping bring the first TEDx to the Baton Rouge area and seeing it evolve heading into the program's sixth year.
Creating a talent development strategy for the nine-parish region and selling Baton Rouge as a great place to live, work and play.
COMMUNITY:
Was named Outstanding Alumnae Advisor by National Delta Gamma, and also works with Junior League and is on the board of Forum 35 and Baton Rouge Bridge Academy.
NAME ONE BOOK THAT HAS INSPIRED YOU PROFESSIONALLY.
Professionally: anything by Malcolm Gladwell or Jerome Groopman's How Doctors Think.
Personally: anything by Robert K. Massie or Kristin Hannah's The Nightingale.
WHEN YOU WERE A CHILD, WHAT DID YOU WANT TO BE WHEN YOU GREW UP?
Most of my family members sought careers in either medicine or education, and both fields are ones I'm still passionate about. I thought I'd be a physician like my dad, but I instead pursued a PhD in communication theory where I focused my research on the verbal and nonverbal communication between patients and providers.
WHAT WAS YOUR FIRST JOB, HOW OLD WERE YOU AND WHAT DID YOU LEARN FROM IT?
I worked at a flower shop in my hometown of Searcy, Arkansas, throughout high school. The owners, Lisa and Bige, taught me how special it can be to make someone else's day. Flower shop owners help celebrate customer's happiest moments and cope with their saddest.
WHAT IS YOUR FAVORITE PLACE FOR A BUSINESS LUNCH IN BATON ROUGE, AND WHAT IS YOUR FAVORITE DISH THERE?
Magpie downtown for the daily special and a tea.
WHAT DO YOU CONSIDER YOUR GREATEST ACHIEVEMENT?
Going from kindergarten all the way to PhD without taking a semester off school.
HOW DO YOU GET PUMPED UP BEFORE A BIG MEETING, PRESENTATION OR PITCH?
Good music helps, but I usually try to find a quiet space to take a breath and focus.
WHAT HAS BEEN THE MOST FULFILLING MOMENT IN YOUR CAREER SO FAR?
I teach a professional communication course each semester at LSU in the College of Business. I had a student send me an email after they graduated and found a job in Baton Rouge. The email was to tell me thank you for pushing them to become a better communicator and to give Baton Rouge a try post-graduation.
WHAT WAS YOUR PROFESSIONAL "AHA MOMENT?"
Right before I walked into the room to defend my dissertation, my faculty advisor was trying to calm my nerves about the Q&A period.  She told me that I was the expert of my dissertation and that if I don't know the answer to the question, I could say just that–I don't know. The confirmation that I didn't have to know everything was liberating in a way.
WHAT IS YOUR BEST PRODUCTIVITY HACK?
Turning off email and turning on good tunes.
WHAT HAVE YOU LEARNED THE HARD WAY?
How to say no.
HOW DO YOU TYPICALLY DRESS FOR WORK: CASUAL? PROFESSIONAL? BUSINESS CASUAL? OTHER?
Depends on the day and what's on the calendar.
WHY PART OF YOUR JOB DO YOU LOVE? WHAT PART DO YOU HATE?
I absolutely love promoting Baton Rouge as a great place to live and work. I hate paperwork.
MAC OR PC?
Mac at home; PC at work.
ARE YOU ACTIVE ON SOCIAL MEDIA? IF SO, ON WHICH PLATFORMS ARE YOU MOST ACTIVE?
Yes, I use Facebook mainly for work stuff, Twitter to keep up with the news, and Instagram for the pretty photos.
HOW MANY TEXTS DO YOU SEND ON AN AVERAGE DAY? HOW MANY EMAILS?
Too many of each.
HOW LOW WILL YOU ALLOW YOUR REMAINING PHONE OR COMPUTER BATTERY LIFE GET (IN %) BEFORE YOU HAVE AN ANXIETY ATTACK?
I almost always have access to a charger, but start to panic when it is less than 20% and the little icon turns red.
HOW MANY UNREAD MESSAGES ARE IN YOUR INBOX RIGHT NOW?
Zero.
WHAT'S YOUR FAVORITE APP AT THE MOMENT?
Peloton so I can still take spin classes when I'm on the road and Overdrive so I can access books from the EBR Public Library (for free!).
WHAT IS YOUR FAVORITE TECHNOLOGICAL ADVANCEMENT OF THE PAST DECADE?
Cell phones, especially the FaceTime feature so I can "see" family.
WHAT TECHNOLOGY DO YOU WISH WAS NEVER INVENTED?
Cell phones, specifically the camera…too. many. selfies.
WHAT TIME DO YOU GET UP ON WORKDAY MORNINGS?
5 a.m. I like some quiet time for coffee, reading, and working out before the day gets hectic.
BREAKFAST AT HOME? BREAKFAST ON THE GO? BREAKFAST AT YOUR DESK? NO BREAKFAST AT ALL?
Banana and coffee on the way out the door.
THE SAYING GOES: 'BE THE CHANGE YOU WANT TO SEE IN THE WORLD.' SPECIFICALLY, WHAT ARE YOU 'BEING' TO MAKE BATON ROUGE BETTER?
Curator who provides a platform (or sometimes quite literally a stage in the case of TEDxLSU) for all the good ideas and amazing people in our community.
WHEN DID YOU REALIZE YOU WERE "GROWN UP?"
The first time I got called "ma'am" hurt a little.
WHAT WAS THE BEST VACATION YOU HAVE EVER TAKEN?
Italy with my family.
FAVORITE GIFT YOU WERE GIVEN AS A CHILD?
I lived for the American Girl Doll collection, but I really wish I wouldn't have given away my complete set of Nancy Drew books (I can already hear my mother telling me "I told you so…").
WHAT'S A NICKNAME YOUR FRIENDS OR FAMILY MEMBERS HAVE FOR YOU?
M, Sissy, Arkansas (college friends), Leslie Knope, breezy
WHAT ARE YOU SUPERSTITIOUS ABOUT?
I've been known to follow LSU baseball rituals and superstitions.
WHO FASCINATES YOU?
I'm fascinated by people who can use verbal and nonverbal communication to manipulate people.
WHICH FICTIONAL CHARACTER DO YOU MOST IDENTIFY WITH?
Leslie Knope.
FAVORITE DRINK?
Coffee, coconut La Croix, and red wine.
WHAT IS YOUR FAVORITE BAND OR SONG?
I listen to a wide range of music, but my favorites for sentimental reasons include September by Earth, Wind & Fire, Mysterious Ways by U2, and You Send Me by Sam Cooke.
WHAT IS YOUR FAVORITE MOVIE?
Midnight in the Garden of Good and Evil.
WHO WOULD PLAY YOU IN A MOVIE?
Amy Poehler or Reese Witherspoon.
IF YOU COULD GO BACK IN TIME, WHAT ADVICE WOULD YOU GIVE YOUR 18-YEAR-OLD SELF?
I wouldn't necessarily want to change anything, but I'd probably tell myself to study abroad for a semester.
PETS?
Duke, 13-year-old terrier who is basically my shadow.
HOBBIES?
Cycling, photography, reading, trying new recipes
TELL US ABOUT A MOMENT THAT CHANGED YOUR LIFE.
Moving to a new city alone, once for undergrad and once for grad school, taught me that I can do just about anything on my own.
WHAT'S THE NEXT BIG PERSONAL OR CAREER CHALLENGE YOU PLAN TO TAKE ON?
Making Baton Rouge a hub for internships to attract and retain college students and young professionals.
WHAT CONCERNS YOU MOST ABOUT THE FUTURE?
How recent political events have divided us and made it harder for us to listen to each other.
WHAT GIVES YOU THE MOST HOPE ABOUT THE FUTURE?
As much as people roll their eyes when millennials are mentioned (for the record, I am one), the 35 and under crowd is one of the most philanthropic generations yet. I look forward to seeing how they will give back to their communities.
WHAT WOULD BE YOUR ADVICE FOR FUTURE FORTY UNDER 40 HONOREES?
Stay here and commit to making Baton Rouge better.
DO YOU PLAN TO BE IN THE CAPITAL REGION FIVE YEARS FROM NOW? WHY OR WHY NOT?
Absolutely! After grad school, I could have gone anywhere but I chose to come back to Baton Rouge. I love it here and will continue to dedicate myself to making it even better.
IF NAMED KING FOR A DAY, WHAT IS ONE CHANGE YOU WOULD MAKE IN BATON ROUGE?
All the litter to be picked up and bike lanes on every street.
HOW WOULD YOU DESCRIBE THE QUALITY OF LIFE IN BATON ROUGE; WHAT WORKS AND WHAT NEEDS IMPROVEMENT?
I work at BRAC. It is literally my job to promote Baton Rouge and I genuinely love it here. However, we have a long list of things that need our attention—infrastructure, blight, and litter to name a few.
DO YOU HAVE A BUCKET LIST? IF SO, WHAT ARE THE TOP 3 THINGS ON IT?
See the Tour de France live and in person.
Travel the world.
Possibly get a degree in history just for fun.