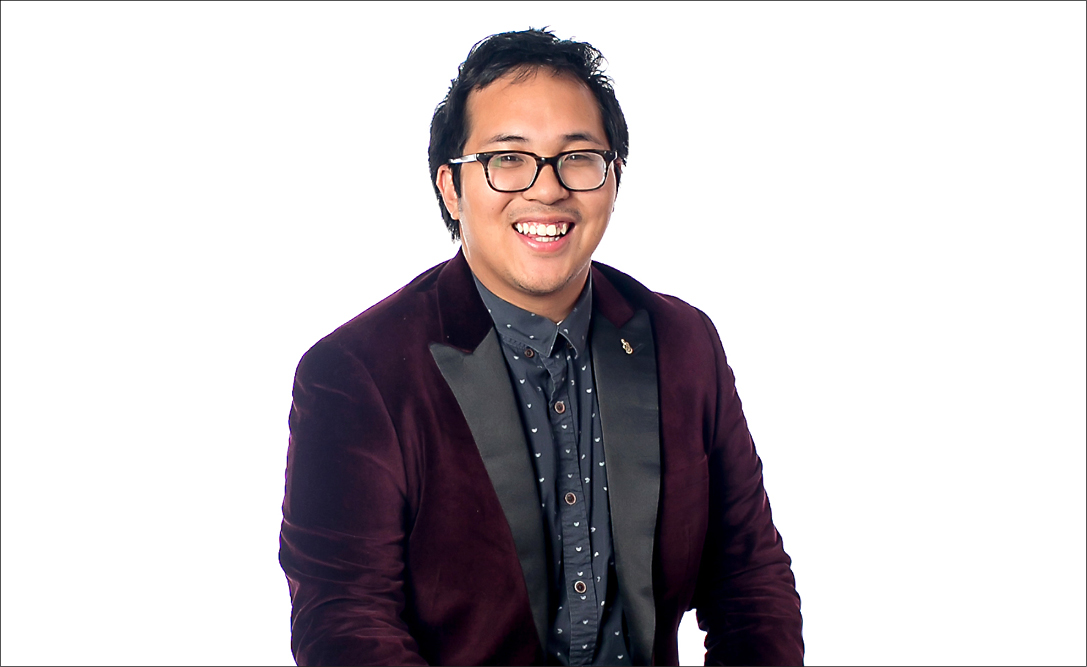 (Photos by Amy Martin)
Kenny Nguyen,

27
CEO/Co-Founder, ThreeSixtyEight
PROFESSIONAL ACHIEVEMENTS:
His Big Fish Presentations was one of Inc. magazine's "coolest college startups of 2012," was nominated as one of top 50 college startups in the world by Kairos Society and earned him Student Entrepreneur of the Year 2012 by the Collegiate Entrepreneur Organization.
Co-author of McGraw-Hill published book, The Big Fish Experience.
Assisted with merger of two fast-growing digital companies—Big Fish Presentations and Hatchit—to become ThreeSixtyEight.
Helped create community conference series Assembly Required that brings together diverse communities while featuring national speakers.
COMMUNITY:
Co-organizer of 2016 fundraiser "Under the Overpass," raising $50,000 to assist with flood relief, helped create whyiloveBR.com to help bring the community together following police officer shootings in 2016.
NAME ONE BOOK THAT HAS INSPIRED YOU PROFESSIONALLY.
Never Split the Difference by Chris Voss.
WHEN YOU WERE A CHILD, WHAT DID YOU WANT TO BE WHEN YOU GREW UP?
I've always wanted to be a chef and still love cooking at home.
WHAT WAS YOUR FIRST JOB, HOW OLD WERE YOU AND WHAT DID YOU LEARN FROM IT?
Sad, but I was a dancing mascot for Quiznos at 15 years old in the hot Louisiana summer sun. This literally hot experience taught me that if I don't work hard, I'd probably end up doing this the rest of my life. Thank God things worked out.
WHAT IS THE STRANGEST JOB YOU'VE EVER HAD?
The Quiznos mascot for sure.
WHAT IS YOUR FAVORITE PLACE FOR A BUSINESS LUNCH IN BATON ROUGE, AND WHAT IS YOUR FAVORITE DISH THERE?
The Overpass Merchant has my heart and I'll always go for the Tuscan Chicken Panini. If I feel like a bad boy, I'll go for that Merchant Burger.
WHAT DO YOU CONSIDER YOUR GREATEST ACHIEVEMENT?
Besides marrying my wife, being able to help raise $50,000 for Baton Rouge flood victims with local community organizers through last year's Fundraiser Under The Overpass.
HOW DO YOU GET PUMPED UP BEFORE A BIG MEETING, PRESENTATION OR PITCH?
I listen to stand up comedy. Always gets me in the mood and you can spread the joy!
WHAT HAS BEEN THE MOST FULFILLING MOMENT IN YOUR CAREER SO FAR?
Seeing our book, The Big Fish Experience, in bookstores Denver and New York City were two distinct moments I'll never forget. We created something that people nationwide can enjoy and read.
WHAT WAS YOUR PROFESSIONAL "AHA MOMENT?"
When I saw the most boring presentation of my life at a student org meeting at LSU, I had the "AHA Moment" of "man, someone should really create a company to help boring presenters." That's when the idea of Big Fish Presentations was born.
WHAT IS YOUR BEST PRODUCTIVITY HACK?
I follow the OPA principle with Tony Robbins, where every day I identify the overall outcome (O) I seek to make my day successful, tie it a purpose (P) to make it meaningful, and identify my actions (A) to accomplish this outcome in form of tasks. By doing this, it helps me focus on what I need to do and make my tasks tied to a higher purpose.
WHAT HAVE YOU LEARNED THE HARD WAY?
Surrounding yourself with people around life can make or break you. You are truly the sum of the five people closest to you so choose your circle wisely!
HOW DO YOU TYPICALLY DRESS FOR WORK: CASUAL? PROFESSIONAL? BUSINESS CASUAL? OTHER?
I switch it. If no meeting, casual floral shirt and shorts. Professional days I wear the whole suit.
WHY PART OF YOUR JOB DO YOU LOVE? WHAT PART DO YOU HATE?
I love watching our people create meaningful change in organizations.
WHAT IS THE BEST COMPLIMENT YOU'VE EVER GOTTEN FROM A COLLEAGUE OR BOSS?
My former boss Beau Box at Beau Box Commercial Real Estate told me he was proud of me after I started Big Fish Presentations. That moment meant a lot to me as he was my first professional office job boss. I learned a lot of leadership traits from him and him taking a bet on me for an internship really gave me the confidence to succeed.
MAC OR PC?
Mac!
ARE YOU ACTIVE ON SOCIAL MEDIA? IF SO, ON WHICH PLATFORMS ARE YOU MOST ACTIVE?
I am active on Facebook, Instagram, Linkedin, and Quora.
HOW MANY TEXTS DO YOU SEND ON AN AVERAGE DAY? HOW MANY EMAILS?
I can't even fathom thinking about this or risk bumming myself out.
HOW LOW WILL YOU ALLOW YOUR REMAINING PHONE OR COMPUTER BATTERY LIFE GET (IN %) BEFORE YOU HAVE AN ANXIETY ATTACK?
1%, I'm a risk taker.
HOW MANY UNREAD MESSAGES ARE IN YOUR INBOX RIGHT NOW?
Zero, I'm OCD about this.
WHAT'S YOUR FAVORITE APP AT THE MOMENT?
I really love the Apple podcast app. I gotta get my podcast fix on!
WHAT IS YOUR FAVORITE TECHNOLOGICAL ADVANCEMENT OF THE PAST DECADE?
The concept of the sharing economy—creating platforms that can hail you a driver so quickly like Uber or staying in a stranger's house like Airbnb has changed the way I work, travel, and enjoy life.
WHAT TECHNOLOGY DO YOU WISH WAS NEVER INVENTED?
Good question. I believe in progress so I am grateful for all technological inventions as long as they're used in the right way.
WHAT TIME DO YOU GET UP ON WORKDAY MORNINGS?
Between 5:30 a.m. and 6 a.m.
BREAKFAST AT HOME? BREAKFAST ON THE GO? BREAKFAST AT YOUR DESK? NO BREAKFAST AT ALL?
Breakfast at home or no breakfast at all!
THE SAYING GOES: 'BE THE CHANGE YOU WANT TO SEE IN THE WORLD.' SPECIFICALLY, WHAT ARE YOU 'BEING' TO MAKE BATON ROUGE BETTER?
I want to help highlight and retain the creative class of Baton Rouge by helping give them platforms like Assembly Required, to connect and inspire others in making this city a better place to live.
WHEN DID YOU REALIZE YOU WERE "GROWN UP?"
When I lived on my own for the first time, saw my bills, and thought, "Oh god, I better make this company work."
WHAT WAS THE BEST VACATION YOU HAVE EVER TAKEN?
The first time I went to Charleston with my wife Laura.
FAVORITE GIFT YOU WERE GIVEN AS A CHILD?
Remote control car by my grandfather.
WHICH TALENT OR SUPERPOWER WOULD YOU MOST LIKE TO HAVE AND WHY?
If I could speak all languages, that would be an amazing ability as it'll open new ways to immerse myself in cultures all over the world.
WHAT'S A NICKNAME YOUR FRIENDS OR FAMILY MEMBERS HAVE FOR YOU?
Those closest to me call me by my Vietnamese name, Khiem.
WHAT ARE YOU SUPERSTITIOUS ABOUT?
Astrology. I'm a big believer of the stars and the way our birthdays connect with one another.
WHO FASCINATES YOU?
My father is a very fascinating person who's been able to conquer every obstacle in his life.
WHICH FICTIONAL CHARACTER DO YOU MOST IDENTIFY WITH?
Tom Haverford from "Parks and Rec."
FAVORITE DRINK?
Banana Berry Treat with pineapple and yogurt at Smoothie King—I swear I'm a cool person.
WHAT IS YOUR FAVORITE BAND OR SONG?
Right now, I'm listening to The Script.
WHAT IS YOUR FAVORITE MOVIE?
Right now, I am really digging the documentary The Defiant Ones with Dr. Dre and Jimmy iovine.
WHO WOULD PLAY YOU IN A MOVIE?
I would love to have played Leonardo DiCaprio's Jordan Belfort in Wolf of Wall Street.
IF YOU COULD GO BACK IN TIME, WHAT ADVICE WOULD YOU GIVE YOUR 18-YEAR-OLD SELF?
Always ask why, surround yourself with the best people, and to focus on your eulogy and not your resume.
PETS?
No pets yet. Dreaming of getting a corgi though.
HOBBIES?
I love traveling to new places and learning how to cook the local dishes from there. By learning how to cook food from different places, I'm able to share even deeper stories and connections to the people I cook for.
TELL US ABOUT A MOMENT THAT CHANGED YOUR LIFE.
Missing my chance to attend the Best Teen Chef competition for the Arts Institute for a full-ride scholarship to one of their schools really changed my life. If I would have attended, and won, I think I'll be in a different city.
WHAT'S THE NEXT BIG PERSONAL OR CAREER CHALLENGE YOU PLAN TO TAKE ON?
Alongside growing ThreeSixtyEight to a national strategic marketing firm, I plan to learn from my father the ropes about residential and commercial real estate.
WHAT CONCERNS YOU MOST ABOUT THE FUTURE?
Will we have the right people in Louisiana to staff how we want our agency to grow?
WHAT GIVES YOU THE MOST HOPE ABOUT THE FUTURE?
More push on education of late has given me a lot of hope that tomorrow's youth will get a better education than I did.
WHAT WOULD BE YOUR ADVICE FOR FUTURE FORTY UNDER 40 HONOREES?
The award is a by-product of doing great things. Focus on what you're doing, execute, and the awards will come.
DO YOU PLAN TO BE IN THE CAPITAL REGION FIVE YEARS FROM NOW? WHY OR WHY NOT?
Yes, I do. It's easier to stand out in a city and make a difference if you love the people there.
IF NAMED KING FOR A DAY, WHAT IS ONE CHANGE YOU WOULD MAKE IN BATON ROUGE?
I would immediately improve transportation through building rails throughout Baton Rouge.
HOW WOULD YOU DESCRIBE THE QUALITY OF LIFE IN BATON ROUGE; WHAT WORKS AND WHAT NEEDS IMPROVEMENT?
The quality of life in Baton Rouge is enjoyable as a lot of people in Baton Rouge are friendly, willing to help, and actively wants positive change. Some people aren't comfortable here and that can be a good thing as growth and comfort aren't always two things that should coexist together. What needs to improve is that we need to keep the quality of talent inside this city. The brain drain is real and unless we as employers and community leaders find new ways to retain local talent, we will always be one step behind of the
DO YOU HAVE A BUCKET LIST? IF SO, WHAT ARE THE TOP 3 THINGS ON IT?
Finally go enjoy my honeymoon in Italy.
Have a family with my wife, Laura.
Launch a VC fund based in Louisiana.