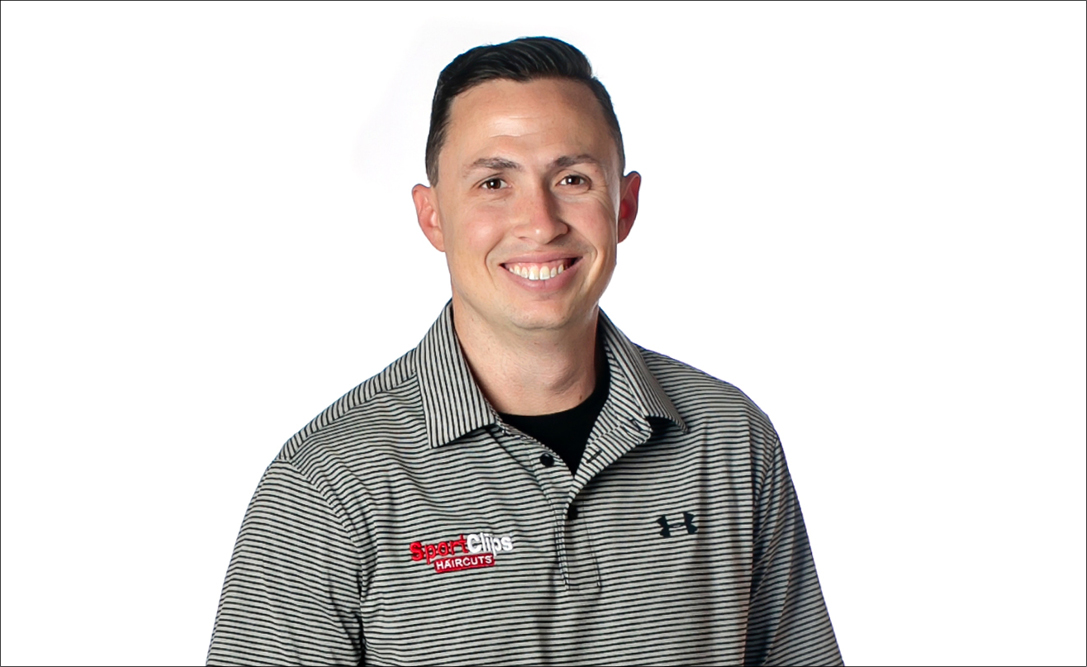 (Photos by Amy Martin)
Jeremy Aydell, 36
Owner, Aydell Investments, Sports Clips franchisee
PROFESSIONAL ACHIEVEMENTS:
Owner of 10 Sports Clips franchises in Louisiana and Mississippi, with three more planned openings.
2016 Sports Clips Team Leader (franchisee) of the Year, representing more than 1,700 locations.
Named LSU 100 Fastest Growing Tiger Business in 2016 and '17.
COMMUNITY:
Active in the Ageless Aviation-Dream Flights for Veterans program and a member of Forum 35.
NAME ONE BOOK THAT HAS INSPIRED YOU PROFESSIONALLY.
The One Thing, by Gary Keller.
WHEN YOU WERE A CHILD, WHAT DID YOU WANT TO BE WHEN YOU GREW UP?
A professional athlete.
WHAT WAS YOUR FIRST JOB, HOW OLD WERE YOU AND WHAT DID YOU LEARN FROM IT?
Worked as a laborer at Deep South Crane and Rigging during my high school summers working for barely minimum wage. Learned that summers are extremely hot in Louisiana and that college was a better route for me!
WHAT IS THE STRANGEST JOB YOU'VE EVER HAD?
During my college years, I worked summers as a laborer at AtoFina Petrochemical in Carville. My main job was to fill the cracks in concrete in each unit with a tar substance. The guys at the plant nicknamed me "Crack Man."
WHAT IS YOUR FAVORITE PLACE FOR A BUSINESS LUNCH IN BATON ROUGE, AND WHAT IS YOUR FAVORITE DISH THERE?
Albasha. Combination plate, gyro and chicken shawarma.
WHAT DO YOU CONSIDER YOUR GREATEST ACHIEVEMENT?
Achieving my goal of leaving the corporate world to be 100% self employed and comfortably supporting my family by age 35.
HOW DO YOU GET PUMPED UP BEFORE A BIG MEETING, PRESENTATION OR PITCH?
I live for the big meeting or moment, so I don't have any trouble getting pumped up. Only one cup of coffee instead of two, so that I won't be too animated.
WHAT HAS BEEN THE MOST FULFILLING MOMENT IN YOUR CAREER SO FAR?
Being recognized as Team Leader of the Year out of all Sport Clips Franchisees in 2016 was the most fulfilling moment because of the effort it took working multiple jobs to get there. My first six years I worked my daily job as an executive accountant at Rubicon LLC in Geismar, while working evenings and weekends with the Sport Clips Franchises. This confirmed I made the correct decision in 2016 to focus 100% on the 10 locations we currently operate.
WHAT WAS YOUR PROFESSIONAL "AHA MOMENT?"
As an auditor at Hannis T. Bourgeois in Baton Rouge, I was able to see many different businesses and how they operated. I loved working there, but really didn't think I was cut out for preparing financial statements for a living. Seeing different people be successful in business really pushed my entrepreneurial spirit and made me take the leap to work towards owning my own business.
WHAT IS YOUR BEST PRODUCTIVITY HACK?
Working out around a busy schedule is a great way to provide stress relief and clear your mind.
WHAT HAVE YOU LEARNED THE HARD WAY?
Some people will not appreciate you no matter how much you help them.
HOW DO YOU TYPICALLY DRESS FOR WORK: CASUAL? PROFESSIONAL? BUSINESS CASUAL? OTHER?
We have a home office, so if I do not leave home I dress in the most comfortable attire possible, so very casual. If out visiting stores or business meetings, I'm more business casual.
WHY PART OF YOUR JOB DO YOU LOVE? WHAT PART DO YOU HATE?
I love seeing employees grow personally and professionally. Their having the ability to buy homes for themselves and provide a better life for their families is an awesome thing to see. I hate that sometimes the travel involved takes away time from my family. But having a four-month-old at home the travel hasn't been all that bad lately!
WHAT IS THE BEST COMPLIMENT YOU'VE EVER GOTTEN FROM A COLLEAGUE OR BOSS?
That I was the hardest worker that he's ever worked with.
MAC OR PC?
PC.
ARE YOU ACTIVE ON SOCIAL MEDIA? IF SO, ON WHICH PLATFORMS ARE YOU MOST ACTIVE?
I am somewhat active on social media, but only to the extent of promoting business and staying in communication with friends and family. Facebook is still the platform I use the most.
HOW MANY TEXTS DO YOU SEND ON AN AVERAGE DAY? HOW MANY EMAILS?
At least 50 texts, 20-30 emails.
HOW LOW WILL YOU ALLOW YOUR REMAINING PHONE OR COMPUTER BATTERY LIFE GET (IN %) BEFORE YOU HAVE AN ANXIETY ATTACK?
At 40% it starts bothering me, at 20% the anxiety attack kicks in.
WHAT'S YOUR FAVORITE APP AT THE MOMENT?
Weather Underground; fresh off the extremely busy hurricane season.
WHAT IS YOUR FAVORITE TECHNOLOGICAL ADVANCEMENT OF THE PAST DECADE?
Surface Tablet.
WHAT TECHNOLOGY DO YOU WISH WAS NEVER INVENTED?
It's not that I wish it was never invented, but with all the good that social media can be used for, it also comes with drawbacks. It's sometimes used as a platform where false and misleading information can spread quickly, which can cause a major distortion of reality.
WHAT TIME DO YOU GET UP ON WORKDAY MORNINGS?
Between 6 a.m. and 7 a.m. usually.
BREAKFAST AT HOME? BREAKFAST ON THE GO? BREAKFAST AT YOUR DESK? NO BREAKFAST AT ALL?
I never go without breakfast. It's usually at my desk while checking emails.
THE SAYING GOES: 'BE THE CHANGE YOU WANT TO SEE IN THE WORLD.' SPECIFICALLY, WHAT ARE YOU 'BEING' TO MAKE BATON ROUGE BETTER?
The lives you are likely to have the most influence on are those of your children. Instilling strong values such as a good work ethic and commitment to family can go a long way in setting kids up to become productive adults in society. I try to set a good example to my kids in this regard. Our kids are the future of improving our society, and it's important to give them the tools to make that happen.
WHEN DID YOU REALIZE YOU WERE "GROWN UP?"
Everyone said I'd grow up upon getting married, but my wife may say otherwise. It would have to be when we had our first child, Taylor. Still today, it seems that every decision or move that I make is in the interest of providing a good life for my children.
WHAT WAS THE BEST VACATION YOU HAVE EVER TAKEN?
Sandals in Ohco Rios, Jamaica.
FAVORITE GIFT YOU WERE GIVEN AS A CHILD?
Nintendo.
WHAT ARE YOU SUPERSTITIOUS ABOUT?
Opening an umbrella inside.
WHO FASCINATES YOU?
Drew Brees. The guy is an incredibly humble, hard-working family man. He's a great leader and probably one of the most competitive guys in the NFL. He's also becoming quite the businessman with his investments in Walk-Ons and Jimmy Johns, which is fascinating to me. I hope to meet him one of these days and talk business. Of course, if he wanted to talk Saints football instead, I'm all about that. Who Dat!
WHICH FICTIONAL CHARACTER DO YOU MOST IDENTIFY WITH?
Jim Halpert from The Office. I have been known to pull a few office pranks in my day.
FAVORITE DRINK?
Red Wine, Malbec or Syrah.
WHAT IS YOUR FAVORITE BAND OR SONG?
Breaking Benjamin.
WHAT IS YOUR FAVORITE MOVIE?
Rocky.
WHO WOULD PLAY YOU IN A MOVIE?
Vince Vaughn.
IF YOU COULD GO BACK IN TIME, WHAT ADVICE WOULD YOU GIVE YOUR 18-YEAR-OLD SELF?
Probably to focus a little more on college and less on the ladies.
HOBBIES?
Love to play golf.
TELL US ABOUT A MOMENT THAT CHANGED YOUR LIFE.
Not a specific moment but I feel the love my mother has always shown for me, the work ethic my father instilled in me and the competitive nature that I developed playing sports growing up have been instrumental in my drive to grow my business and treat my employees with respect and motivate them to better themselves.
WHAT'S THE NEXT BIG PERSONAL OR CAREER CHALLENGE YOU PLAN TO TAKE ON?
Spending more time focusing on raising my children with a good work/life balance.
WHAT CONCERNS YOU MOST ABOUT THE FUTURE?
Social media, technology and the fast-paced society that we live in has come at the expense of family time.
WHAT GIVES YOU THE MOST HOPE ABOUT THE FUTURE?
America is once again respected around the world.
WHAT WOULD BE YOUR ADVICE FOR FUTURE FORTY UNDER 40 HONOREES?
Don't be afraid to take a risk if you are passionate about something. However, have a written plan in place before moving forward and defined goals you are working toward. Also, surround yourself with honest people that will work with you to achieve those goals. I would not be where I am today without my wonderful supporting wife and my employees that work hard on a daily basis.
DO YOU PLAN TO BE IN THE CAPITAL REGION FIVE YEARS FROM NOW? WHY OR WHY NOT?
Yes, it's home. Having grown up in Livingston Parish, I would like to be a big part of the smart growth of the region and give back to the community that's always supported me.
IF NAMED KING FOR A DAY, WHAT IS ONE CHANGE YOU WOULD MAKE IN BATON ROUGE?
I would build another bridge across the Mississippi River in West Baton Rouge or Iberville Parish.
HOW WOULD YOU DESCRIBE THE QUALITY OF LIFE IN BATON ROUGE; WHAT WORKS AND WHAT NEEDS IMPROVEMENT?
I feel our economy is strong, but if we do not take care of the crime and transportation issues we will have trouble attracting the talent needed to keep our city a step ahead of where we need to be. We are currently more reactive than proactive and that needs to change.
DO YOU HAVE A BUCKET LIST? IF SO, WHAT ARE THE TOP 3 THINGS ON IT?
The Masters in Augusta, Georgia
Visiting all the Hawaiian Islands
Hit a hole-in-one