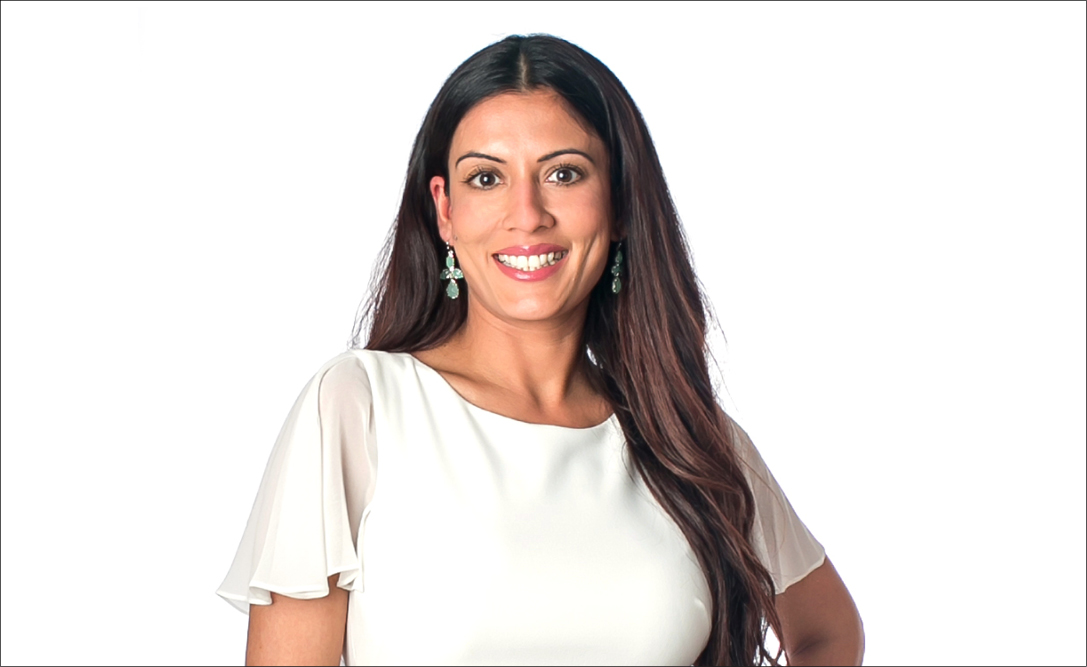 (Photos by Amy Martin)
Gunjan Raina,

38
Medical Doctor and Director, MDVIP/Heal 360
PROFESSIONAL ACHIEVEMENTS:
One of the youngest physicians ever recruited to start an MDVIP practice with and a patient conversion rate more than double many seasoned doctors.
Practices medicine in India, Canada and the United States.
Designed and built an innovative medical practice—Heal 360—to improve patient experience, earning a Caring Resident Award in 2008.
COMMUNITY:
Focuses on smaller, less well-known community projects while also cooking and providing meals for underprivileged families, providing free health screenings and taking her daughters to area nursing homes to do holiday activities with the residents.
NAME ONE BOOK THAT HAS INSPIRED YOU PROFESSIONALLY.
How Not To Die By Michael Gregor. This Book reveals the groundbreaking scientific evidence behind the only diet that can prevent and reverse many of the causes of disease-related death. It has been interesting to incorporate this in my current medical practice and see outstanding results.
WHEN YOU WERE A CHILD, WHAT DID YOU WANT TO BE WHEN YOU GREW UP?
Mother Teresa.
WHAT WAS YOUR FIRST JOB, HOW OLD WERE YOU AND WHAT DID YOU LEARN FROM IT?
Working at my dad's restaurant (age 14) back in Toronto, Canada, I learned the customer is always right, even if you know they are wrong.
WHAT IS YOUR FAVORITE PLACE FOR A BUSINESS LUNCH IN BATON ROUGE, AND WHAT IS YOUR FAVORITE DISH THERE?
Serop's Drive Thru, Lentil Soup on-the-go!
WHAT DO YOU CONSIDER YOUR GREATEST ACHIEVEMENT?
Motherhood.
HOW DO YOU GET PUMPED UP BEFORE A BIG MEETING, PRESENTATION OR PITCH?
A 12-minute run, a quick shower and showing up with wet hair.
WHAT WAS YOUR PROFESSIONAL "AHA MOMENT?"
The day HEAL 360 opened up.
WHAT IS YOUR BEST PRODUCTIVITY HACK?
Mindful meditation.
WHAT HAVE YOU LEARNED THE HARD WAY?
Always trust your gut.
HOW DO YOU TYPICALLY DRESS FOR WORK: CASUAL? PROFESSIONAL? BUSINESS CASUAL? OTHER?
"Dressing Up" changes on a day-to-day basis. The beauty of having your own practice and being your own boss is the ability to change it up on a daily basis so that I'm constantly a "surprise" for my patients.
WHY PART OF YOUR JOB DO YOU LOVE? WHAT PART DO YOU HATE?
Job=Passion. When you are passionate about what you do there is nothing to love or hate. It's a constant source of joy and fulfillment.
WHAT IS THE BEST COMPLIMENT YOU'VE EVER GOTTEN FROM A COLLEAGUE OR BOSS?
Being intense, insightful and perceptive when it comes to making clinical decisions.
MAC OR PC?
Paper and pen.
ARE YOU ACTIVE ON SOCIAL MEDIA? IF SO, ON WHICH PLATFORMS ARE YOU MOST ACTIVE?
Um … no still working at this.
HOW LOW WILL YOU ALLOW YOUR REMAINING PHONE OR COMPUTER BATTERY LIFE GET (IN %) BEFORE YOU HAVE AN ANXIETY ATTACK?
0%. There is always an alternate way to connect with people and get things done.
WHAT'S YOUR FAVORITE APP AT THE MOMENT?
Amazon Prime.
WHAT IS YOUR FAVORITE TECHNOLOGICAL ADVANCEMENT OF THE PAST DECADE?
Facetime. The ability to connect and physically interact with loved ones that are not here.
WHAT TECHNOLOGY DO YOU WISH WAS NEVER INVENTED?
Electronic medical records. It takes away from the human interaction that is key in the practice of medicine. Most doctors are being forced to spend more time staring at a screen instead of engaging and connecting with their patients.
 BREAKFAST AT HOME? BREAKFAST ON THE GO? BREAKFAST AT YOUR DESK? NO BREAKFAST AT ALL?
Breakfast in bed
WHEN DID YOU REALIZE YOU WERE "GROWN UP?"
I will let you know: still thriving on adolescence. My husband always says "He has three kids to put to bed at night."
FAVORITE GIFT YOU WERE GIVEN AS A CHILD?
A memorable childhood.
WHICH TALENT OR SUPERPOWER WOULD YOU MOST LIKE TO HAVE AND WHY?
Pixie Dust. I wish I could sprinkle Magical Pixie Dust and eliminate suffering, disease and pain for others.
WHAT'S A NICKNAME YOUR FRIENDS OR FAMILY MEMBERS HAVE FOR YOU?
Dr. G.
WHO FASCINATES YOU?
Daddy.
FAVORITE DRINK?
P.M.S: Pinot, Merlot and Sauvignon Blanc .
WHAT IS YOUR FAVORITE MOVIE?
Jerry McGuire.
WHO WOULD PLAY YOU IN A MOVIE?
Princess Jasmine in Aladdin.
IF YOU COULD GO BACK IN TIME, WHAT ADVICE WOULD YOU GIVE YOUR 18-YEAR-OLD SELF?
Live in the moment!!
 TELL US ABOUT A MOMENT THAT CHANGED YOUR LIFE.
A 12-hour labor…
WHAT'S THE NEXT BIG PERSONAL OR CAREER CHALLENGE YOU PLAN TO TAKE ON?
"Let food be thy medicine and medicine be thy food," stated by Hippocrates. To launch a cooking show: "Cooking with Dr. G"—Incorporating culinary medicine into my current practice and teaching people the power of food. I find that Hippocrates philosophy "food as medicine" has been largely neglected.
WHAT CONCERNS YOU MOST ABOUT THE FUTURE?
Nothing…one must live in the present moment.
WHAT WOULD BE YOUR ADVICE FOR FUTURE FORTY UNDER 40 HONOREES?
Be yourself.
DO YOU PLAN TO BE IN THE CAPITAL REGION FIVE YEARS FROM NOW? WHY OR WHY NOT?
Absolutely. My husband and I are both not from here but this has become home to us very quickly. Great things continue to be happening in the Capital Region and I want to be a part of strengthening our community by educating and promoting wellness so that we can decrease obesity and chronic illness in Baton Rouge. We have to get everyone on the same page and promote prevention and wellness instead of focusing on curing illness.