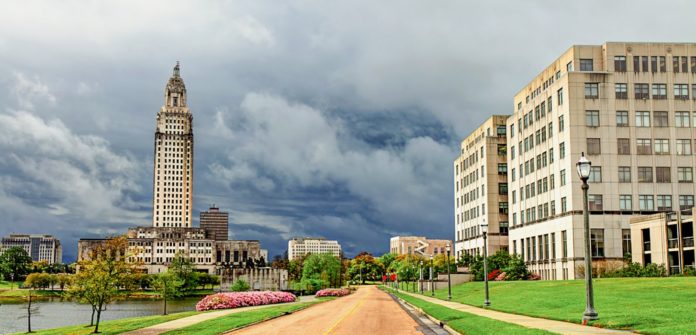 ATHLETIC TRAINING: LSU, which will soon offers a masters-level program, typically graduates 15 to 20 athletic trainers per year. Here, students learn how to deal with an on-the-field football injury. (Photo by Eddy Perez, LSU Strategic Communications)
---
In today's highly competitive world of sports, it's easy to get caught up in the excitement of the game and lose sight of the risks involved.
That is, until something happens.
A concussion suffered in a football collision. A torn ACL on the basketball court. Heat exhaustion running sprints under an oppressive summer sun. One severe sports injury can spell the end of a career for promising young athletes—or, most tragically, the end of their life, as was the case with University of Maryland offensive lineman Jordan McNair, the 19-year-old who died of heatstroke in June after a football workout.
In the wake of such high-profile tragedies, not to mention the NFL coming to terms with its concussion crisis, athlete safety has come into focus, along with calls for better treatment and prevention of sports injuries on the college, high school and even now middle-school levels.
Answering those calls are athletic trainers. The profession has seen a significant uptick in demand in recent years that isn't slowing down. Over the next 10 years, employment of trainers is expected to grow 23%, which is much faster than the average job, according to the U.S. Bureau of Labor Statistics.
In Louisiana, the trend is gradually catching on. About 66% of high schools today have athletic trainers, up at least 20% from five years ago, according to the Louisiana Athletic Trainers' Association. The Capital Region—and Ascension Parish in particular—has been considered a leader in the way of athlete safety. Ascension high schools hire multiple athletic trainers, and even some at the middle-school level. In Baton Rouge, the the public school system recently partnered with Ochsner Medical Center to provide sports medicine services for its 11 sports-playing high schools.
"With the growth of the profession, if a school does not have an athletic trainer, you have to ask, why not?" says Scott Arceneaux, a trainer at St. Amant High School and a past president of LATA. "People have an inherent responsibility to provide care to our student athletes. They're our children, people's most prized possession."
Meanwhile, the profession has raised its academic standards as well. The Commission on Accreditation of Athletic Training Education, or CAATE, recently mandated universities phase-out the bachelor's degree and transition to a master's program by 2022. LSU's athletic training master's program, approved Aug. 22 by the Board of Regents, is expected to open admissions in 2021 and will likely be the first program in the state.
"In essence, they've ramped up standards," says Amanda Benson, LSU athletic trainer assistant program director. "It's aligning athletic trainers with other allied health professionals, like physical and occupational therapists, which is ideal."
Sports medicine 101
The rising profile of athletic trainers—and their professional standards—can be attributed to a few key factors. An obvious one is the heightened awareness and concern, especially among coaches and parents, over sports injuries and the lasting effects they can have on athletes.
Also, there's a better general understanding today of what athletic trainers can do. Benson describes trainers as mid-level health care providers who care for and prevent athletic injuries. From the moment something happens, whether it's a bruise or a compound fracture, trainers determine what treatment is needed and then coordinate the ongoing care of injured athletes.
"Once coaches get used to having athletic trainers, you see the demand for them rise," says Woodlawn High School trainer Randy Gonzales. "We also see parents demanding it. That's where it has to come from."
Another driver has been efforts within the Louisiana athletic training community itself to pass legislation and school initiatives to enforce and promote sports safety. In 2011, the state Legislature passed Act 352, the Serious Sports Injury Law, which created an injury management program for high schools with athletic programs.
(Photo by Don Kadair)
"Once coaches get used to having athletic trainers, you see the demand for them rise. We also see parents demanding it. That's where it has to come from."

—RANDY GONZALES, trainer, Woodlawn High School
The program outlines what is classified as a serious sports injury, defines the signs and symptoms of such injuries and requires coaches or other officials to remove student athletes if such injuries occur. It also requires injured students be examined by a licensed health professional before returning to the sport. The legislation strongly encourages schools to rely on athletic trainers to provide athlete care.
In addition, state education officials have worked with athletic training professionals to develop a sports medicine curriculum for high schools across Louisiana. The curriculum, which introduces students to athletic training, is an attractive option for high schools because they can hire trainers to both teach the courses and care for athletes.
Gonzales teaches the sports medicine curriculum at Woodlawn, which offers three courses, along with medical terminology and emergency responder classes. He says he has about 70 students enrolled in sports medicine 1 and 2, who also assist him at sports practices and games.
"The courses give them exposure to athletic training, emergency action plans, CPR and basic procedures," Gonzales says. "It's also good to have student aids on the field because athletes might tell them when they're hurt before they tell me."
Can't afford not to
In the allied health sector, athletic training is a relatively young profession, recognized by the American Medical Association in 1991. In earlier years, people could become trainers via a curriculum program or an internship-based program. It wasn't until 2004 that students were required to complete an accredited college education program, says LATA President Cary Berthelot, an athletic trainer at Tulane University.
More recently, the upcoming transition to a master's program brings the profession closer in line with other established allied health careers and will likely raise the average salary for athletic trainers, Berthelot says. In 2017, the median salary was $46,630, according to the U.S. Bureau of Labor Statistics.  
"The recognition of athletic training has become much more important not only to state organizations but nationally," she says. "Over last two years, the big focus was information and knowledge. Our saying is that if you can afford to have an athletic program, you can't afford not to have an athletic trainer."
LATA currently has about 425 professional members in the state. College athletic training programs, like LSU's, typically graduate about 15 to 20 additional trainers each year. Class sizes are small, Benson says, in order to provide individualized clinic experience.
While the profession has evolved over the years—and even now as it moves toward the master's degree requirement—the purpose and goal of athletic trainers has remained constant, made clear by the numerous initiatives and legal efforts pushed by the professionals themselves.
"It's all about quality of care, providing better medical coverage or access to student athletes because they deserve that," Benson says. "A lot of injuries happen on the field, from concussion to heat issues. It's time to start putting an emphasis on care by licensed, trained professionals."