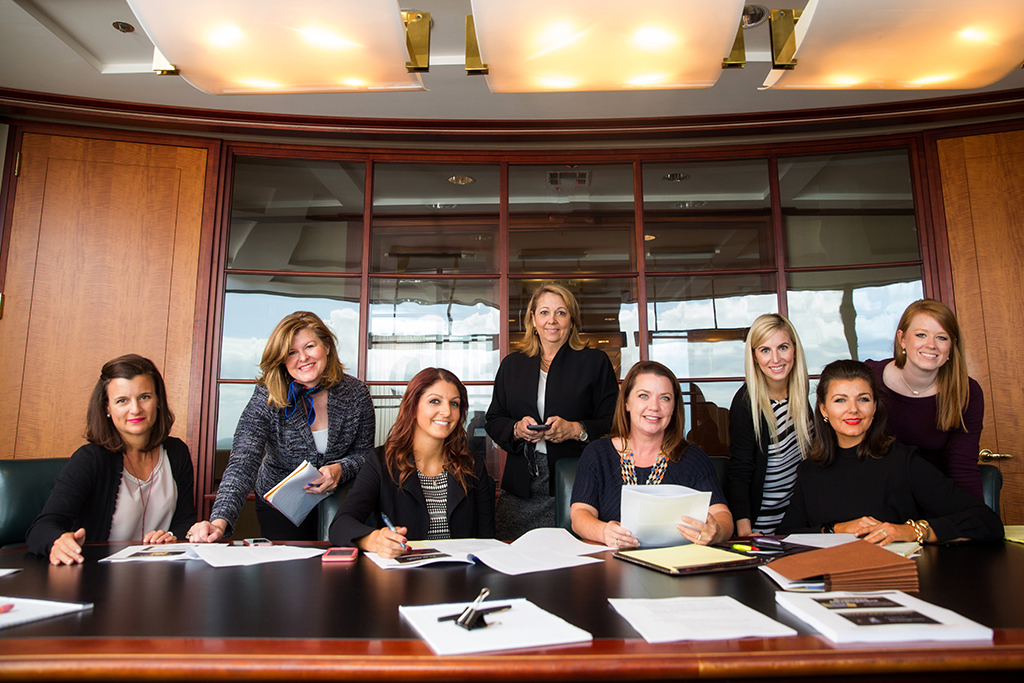 The female attorneys at Breazeale, Sachse & Wilson launched their own women's group, holding monthly meetings for training sessions and to plan social outings. Included in the group are, from left to right, Nicole Gould Frey, Judy Girolando, Alexandria Vozzella, Melissa Morse Shirley, Emily Black Grey, Catherine Breaux Moore, Sunny Mayhall West and Kelsey Clark.  (Photo by Collin Ritchie)
---
Although men have historically dominated the legal profession, they're increasingly having to make room—in law school classrooms, prestigious firms and even bar association leadership ranks—for women.
Female attorneys have been climbing in number since 1980, when just 8% of U.S. lawyers were women. Today, women have come to claim 36% of the profession, according to the American Bar Association.
Louisiana, for once, is on par with the national trend. Women represent 35% of state lawyers, a 7% increase since 2004 when the Louisiana State Bar Association began tracking data by gender. What's more, as their numbers grow, women are taking on leadership roles statewide. The LSBA is currently led by its fourth female president since 2006, when its first woman was elected.
"Those walls have dropped. It's not a good ol' boys club anymore," says Jeanne Comeaux, past president of the Baton Rouge Bar Association and partner at Breazeale, Sachse & Wilson.
It's worth noting Baton Rouge is ahead of both the national and statewide curve. Women comprise 38% of Baton Rouge area attorneys, while its bar association has had six female presidents, starting in 1995. The next two presidents elect are also women.
"Women have contributed significantly to the legal profession for years, but lately we see a rise in frequency with which women are becoming leaders," says BRBA President Karli Johnson. "Women bring a unique perspective to leadership at the bar because of their ability to juggle and balance roles."
Johnson, 43, has been practicing law in Baton Rouge for 18 years and is a partner at Kean Miller, which is one of the most diverse firms in the state. Out of the Kean Miller's 108 local attorneys, 39% are women and 31% are female partners.
"Women have contributed significantly to the legal profession for years, but lately we see a rise in frequency with which women are becoming leaders. Women bring a unique perspective to leadership at the bar because of their ability to juggle and balance roles."

—Karli Johnson, president, Baton Rouge Bar Association
The shift in gender dynamics is a result, in part, of a natural progression as more women began pursuing law degrees, joining firms and remaining in the profession. It begins in the law schools, which have higher numbers of women than the professional world.
At LSU Law School, for instance, female students made up 45% of the student body in the fall of 2016. Ten years earlier, in 2006, women accounted for 50% of students, and twenty years earlier, in 1996, women comprised 45%.
A generational breakdown of numbers may best illustrate strides toward gender parity. Of the 4,437 Louisiana lawyers born in the millennial generation—between 1981 and 2000—49% are women, according to LSBA. On the other hand, only 27% of baby boomer generation lawyers—born between 1946 and 1964—are women.
Still, other factors have contributed to the rise of women in law, or any professional field for that matter. Over time, expectations and perceptions surrounding gender roles in the workplace and at home have changed.
"Numbers are part of it," says LSBA President Dona Kay Renegar. "Another part is society's acceptance of women in positions of power."
The change in acceptance didn't happen only in the eyes of women, but society in general, says Linda Law Clark, president elect of BRBA and partner at Decuir, Clark & Adams. Clark, 67, calls herself an "old new lawyer" who earned her law degree in 1993 at age 43 after her children were grown.
Today, working women receive greater support, Clark says. Both parents are now sharing in family duties, and women can successfully balance work and personal life with the help of their spouses and flexible employers. In turn, their contributions are being realized.
"Women are masters at juggling—they've always done that, whether in the professional world or at home," Clark says. "Once they're given the opportunity, their ability to organize, juggle and complete tasks is recognized."
In addition, opening opportunities to all people regardless of gender or background can benefit a business. Amy Lambert, a partner at Taylor, Porter, Brooks & Phillips and treasurer of BRBA, says women can bring new perspectives and different ways of thinking to the table.
"Diverse perspectives matter," Lambert says. "We're a better as a profession for it."
Despite growing numbers, there are still areas where female attorneys fall behind, such as the top ranks within law firms. Consider, for example, the fact that women represent only 18% of equity partners in firms nationwide in 2017, according to the American Bar Association.
Renegar says it's true that far fewer women are in positions of power in large law firms. Once again, she says, societal attitudes are somewhat responsible. Also, while learning how to balance work and family life, female lawyers are still trying to figure out how to do all of that and remain on a path to partnership.
What helped most in her ascent to head of the LSBA, Renegar says, was having a network of peers and mentors who shaped her career. These crucial aspects of professional development—networking and mentoring—have become a greater focus among law firms today.
One of the larger firms in Baton Rouge, Breazeale, Sachse & Wilson, began a women's group about two years ago. The firm has 16 female attorneys out of 69 total, and its six most recent hires were all women. Their group meets monthly for training in areas such as business development and to plan events.
These aren't your stereotypical girls-day-out events. In fact, a favorite outing among the BSWomen—a tentative group name—was a trip to the shooting range. They've also done a scotch tasting together and formed a golf team. In effect, these women are breaking down gender expectations far beyond the workplace.
But the biggest impact the group has is on young female attorneys who are new to Breazeale, Sachse & Wilson. Alex Vozzella, 27, a new associate attorney at BSW, says starting her first job at such a large firm was intimidating, but the women's group provided her with irreplaceable female mentors that she otherwise would not have had.
"It's made young women feel valued and shows that the firm cares about our growth," says Catherine Moore, also 27 and a new associate attorney at BSW.
Comeaux, a partner at BSW, says the law firm has been welcoming and supportive of female attorneys since 1994 when she joined. Comeaux went to law school after a divorce and had a young daughter at the time, but she says BSW was flexible and allowed her to balance life as an attorney and a single mother.
"Women need that," she says, "or they'll go elsewhere."
Christine Lipsey, the first female president of the BRBA and attorney at McGlinchey Stafford, says it's an exciting and rewarding time to be a woman in the legal profession, which has come a long way since she started her career in the early 1980s when women in law firms were few and far between.
Even then, Lipsey says, she never felt held back. On the contrary, she was encouraged to get involved and become a leader, especially in the BRBA, which made her path to becoming the first female president more of a natural progression, rather than a revolutionary one.
"It speaks well of female lawyers in leadership," she says. "But it also speaks well of the Baton Rouge Bar Association."
---
(Click to enlarge graphic)