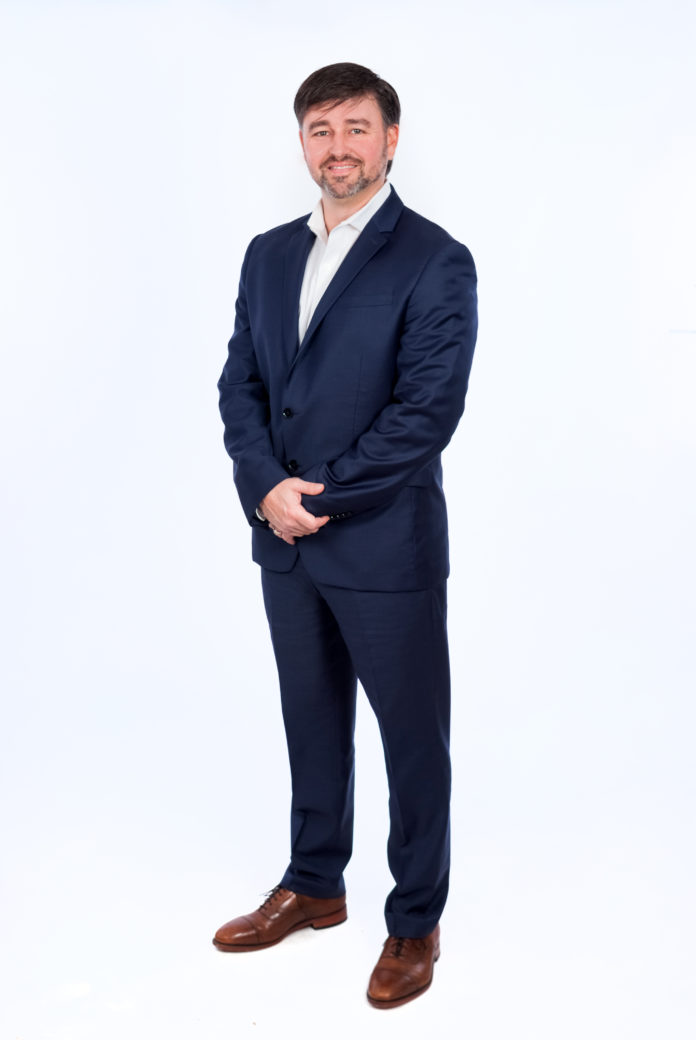 Photography by Don Kadair
---
Steven Davis Jr.
Position: Founder and CEO
Company: Facilities Maintenance Management
Age: 41
Family: Married with two boys, ages 6 years and 4 months
Hometown: Baton Rouge, Louisiana
Education: Catholic High (1996); LSU, business administration (2000)
---
What was your very first job, how old were you and what was the biggest takeaway from the experience?
My first job was at Hancock Bank as a teller when I was 18. As a teller, when we took personal or business deposits the computer showed the account balance. It was the first time I saw real wealth, both personal and business. I was amazed—and wanted to get there myself.
What's your ideal morning routine to get a workday off to a great start?
Wake up at 6 a.m., fix the boys' breakfast, and get them ready for their day with my wife, Adele. Then I hit the gym, make some calls on the treadmill, shower, have a Smoothie King breakfast and then I'm rolling for the day.
You founded Facilities Maintenance Management about seven years ago, and it was recently included on the Inc. 5000 list of the country's fastest-growing companies for the fourth year. How have you managed to see such rapid growth?
1. We hired for where we wanted to be, not for where we were—and we hired amazing people. 2. Get help from mentors, both financially and structurally. 3. Making decisions based on our core values: quality, teamwork, pride, passion and integrity.
What's the biggest challenge of owning and operating a rapidly growing business?
For our company, like many fast-growing companies, that was cash flow. You can grow yourself out of business very quickly. We figured that out the hard way and made the proper adjustments internally.
You're also the owner of Anytime Flooring. Tell us about how you got into that business and what its growth has been like.
My partner in that business, Tony Thibodeaux, was renting space in our FMM building. We started doing some work together and then became partners. Our growth since becoming partners has been 350%. That is attributed to our great team of people, just like FMM. Without great people it's nearly impossible to manage rapid growth.
How many people do your businesses employ, and what's your approach when it comes to ensuring that they're engaged with their work every day?
We currently employ 120 people. Our company's approach is that if the employee is taking care of the company, the company will take care of them. Everyone's needs are different and, if they are doing their job, the company is very accommodating on all fronts.
What's something about your job that might surprise people?
When people see the title of founder/CEO they often think that person makes tons of money and has it easy. What surprises most people when they get to know me is that I am 24/7/365 and will do whatever it takes to get the job done.
What are your best productivity hacks?
Planning out my day the night before and putting it all in my calendar. On days when my calendar is open and I don't have set to-do items, I usually waste a lot of time because there is no real "plan" in place.
What's your strategy for maintaining a healthy work-life balance?
In most rapid growth companies there really is not a healthy work-life balance for the founder/CEO unless it's part of their daily plan. This goes along with the productivity hack I mentioned. Plan your work time and family time, put it on the calendar and the likelihood of success will drastically increase, both in business and personal/family relationships.
What's a leadership skill you've learned the hard way?
Humility. When I was younger and working in another business before FMM, a mentor of mine sat me down and told me how the people we worked with didn't like me because they thought I was cocky, arrogant and acted like I knew everything. These were people I had been working with for over a year. I will never forget that day and the way it changed me at my core.
You're taking me out to a business lunch in the Capital Region. Where are we going and what do you recommend I order?
Ruth's Chris. Seared ahi tuna appetizer, power lunch with blue cheese wedge, a steak cooked medium rare and a spinach au gratin side. There's no better place to close a deal or celebrate success over lunch.
What's the best vacation you've ever taken and what's the next vacation you're planning or hoping to take?
Last summer we went to the Beaches resort in the Turks and Caicos. It was amazing, we all had a great time and will go back. Our next big trip is to France to visit our uncle Christian's family vineyard. He is a French chef that lives in New Orleans. We are going stomp grapes and make wine!
What's one of the smartest purchases you've ever made? What's one of the dumbest?
The smartest would be the four screens for my home computer. It sounds crazy but you can get a lot more done with that many screens. The dumbest would have to be a pull behind golf caddy. I bought it thinking I would get in shape by walking and playing golf—and never used it once!
What's the greatest personal or professional obstacle you've had to overcome, and how did you do it?
The recession in 2007 to 2009 was tough. The business I was in at the time was stuck with bank and vendor debt that we could not pay. My partner and I didn't hide from anyone we owed, figured out ways to work out the debt and came out on the other end. I started FMM in 2010 and those same banks and vendors do business with us today. I am very proud of that.
Can you name someone who has had a great impact on you as a leader, or someone who has been a mentor to you in your life or career? How have they changed your outlook?
Growing up, my dad, Steve Sr., was an auto mechanic who worked hard for every dime to provide a good life for our family. He constantly told me that I could do anything or be anything I wanted in life. I heard that so often I started believing it. This totally changed my outlook and ultimately my career path. In life or business, you have to believe—without a doubt—that you will accomplish what you set out to do. This type of thinking is a must for entrepreneurs to be successful. To the contrary, negative self-talk is the killer of dreams and success.