Craft alcohol industry in Baton Rouge beginning to brew

With a focus on collaboration over competition brewers like Joseph Picou and Wes Hedges, of Southern Craft Brewing Company, are finding increased success.  (Courtesy Southern Craft Brewing Company)
---
Over the past year, Baton Rouge's fledgling craft alcohol and beer industry has made great strides, with the arrival of not only a second brewery but two new distilleries, offering a variety of spirits from cane juice rum to European-style fruit brandies.
Baton Rouge Distilling, touted as the first operating distillery in the Capital City since Prohibition, was launched in May 2016. On its heels came Cane Land Distilling Co., which opened downtown in May. Meanwhile, the local craft beer industry picked up a new player when Southern Craft Brewing debuted its brews in April 2016.
"Baton Rouge is ready for this," says Ricci Hull, co-founder of Baton Rouge Distilling. "What I've seen in the past 20 years is a revolution. People are populating downtown and making it cool again. They're taking pride in Baton Rouge. They want local products. We have a population here that wants this."
William McGehee isn't sure why it took so long for the craft movement to take hold in Baton Rouge. He saw the demand years ago in 2010 when he and Charles Caldwell opened Tin Roof Brewing, the first brewery in the Capital City. Despite Tin Roof's success, it took six years for another craft beer or booze business to hit the scene.
"We're very happy to have breweries and distilleries popping up, but I have no idea why it's taken so long," McGehee says. "Once Tin Roof opened, every day we thought we'd see another brewery open up. I'm shocked it took as long as it did."
New competition in the market benefits everyone, McGehee says, because having more breweries and distilleries in the area creates awareness and breeds a "craft culture."
"It's crazy how much things have changed here," he says. "The craft scene has come a long way. People are willing to try new things."
Hull says the community has been surprisingly receptive of Baton Rouge Distilling, which produces strawberry brandy. He co-owns the business with his wife, Natacha Krzesaj, who is from France. They were inspired by their travels to craft fruit brandy, which is popular in Europe but mostly foreign to Louisiana. Baton Rouge Distilling is also producing whiskeys and bourbons, which aren't on the market yet.
In one year, their strawberry brandy has made it into 12 retail locations from Lake Charles to Hammond. In Baton Rouge, it can be found at Calandro's, Bin Q, Rouses, Olive or Twist and Whole Foods.
"It's been received a lot better than I imagined, especially for something most people here have never heard of," Hull says.
Hull and Krzesaj chose to operate their small distillery in Baton Rouge because both are long-time residents and LSU graduates. Despite having full-time jobs—Hull as an electrical engineer and Krzesaj as an online marketing manager—the couple spends nights and weekends working at their 1,000-square-foot distillery off Industriplex Boulevard. Soon, they plan to open a tasting room and offer visitor tours.
Another benefit of a growing craft movement is the opportunities for collaboration among brewers and distillers. Tin Roof has partnered with Cane Land to age beer in the distillery's barrels, while Hull is working with Southern Craft Brewing, which makes a rye beer, to distill a rye whiskey.
Joe Picou and Wes Hodges, co-founders of Southern Craft, are also engineers. They began homebrewing beer in Baton Rouge years before opening a commercial brewery. Picou says plans for Southern Craft originated in 2009 and came to fruition in 2016.
"It's crazy how much things have changed here. The craft scene has come a long way. People are willing to try new things."

—William McGehee, CEO, Tin Roof Brewing Co.
So what took so long? Louisiana is behind the curve when it comes to trends like craft beer and still has Prohibition-era laws on the books that make it difficult to operate a brewery or distillery, Picou says. But laws have been loosened in recent years, and although Louisiana is late to the craft beer scene, it has no shortage of beer drinkers.
"Louisiana ranks nearly last in breweries per capita," Picou says, "but in beer consumption we rank much higher."
Southern Craft has seen steady growth since it opened last year. From March to April, sales increased 85%. The hours at its Airline Highway tap room have also been expanded to keep up with demand. Picou says he knew Louisiana would be an ideal environment for craft beer. It was only a matter of time until the state realized it, too.
"What attracts people to Louisiana? The food, the festivals, the culture—craft beer is the perfect complement," he says.
The same goes for locally crafted spirits, as the most recent distillery to enter Baton Rouge can attest to. Cane Land Distilling held its grand opening May 20, but anticipation for the rum distillery has been building since it was announced in 2013.
Cane Land produces fresh pressed cane juice rum distilled from sugar cane at Alma Plantation & Sugar Mill in Pointe Coupee Parish. Alma is owned by the family of Cane Land creator and co-owner Walter Tharp. He chose Baton Rouge not only because of its proximity to Alma, but also its people.
"The people here and across Louisiana have been so supportive and anxious for us to open," Tharp says. "Folks in Baton Rouge have a healthy appetite for a good party, and that's why I think it's going to do well here."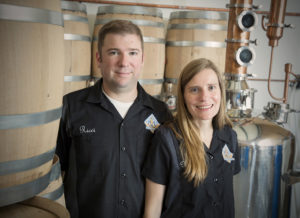 While agricultural resources and the culture make Louisiana an ideal craft booze market, the state's regulatory environment, on the other hand, does not. The alcohol business is tough to break into in the Bayou State. Tharp says opening Cane Land took four years of cutting through red tape before it became a reality.
The state still strictly adheres to the three-tier system for alcohol distribution, created after the repeal of Prohibition. The system prohibits business ownership in more than one of three tiers: producers, distributors and retailers. Producers—breweries and distilleries—must go through distributors to sell their product to retailers, bars and restaurants.
For small startups, like Baton Rouge Distilling, securing a distributor can be difficult. Hull says when they started out, their original distributor ended up dropping them, and it took a month to find another.
"The three-tier system is a nightmare," Hull says. "I had a guy visit me recently who can't get a distributor to pick him up. I'm assuming that's what's stalling other distilleries."
Picou adds that distributors and retailers make more money on his beer than he does. The key is to have a tap room, which has better profit margins, he says. But tap room sales are limited by law, because Louisiana breweries can't be both producers and retailers, which would violate the three-tier system.
Breweries can sell 10% of beer produced each month for on-site consumption. But small breweries struggled under this limit to produce enough to stock their tap rooms, so the 2015 state Legislature passed a bill allowing breweries to sell either 10% or 250 barrels a month, whichever is greater.
McGehee, a veteran brewer, says state and local agencies have shown a willingness to work with brewers and distillers, which is a good sign for the local industry and future craft businesses.
Even outside breweries are now eyeing Baton Rouge as a budding craft beer market. New Orleans-based Urban South Brewery recently signed a distribution agreement with Mockler Beverage to distribute in Baton Rouge. Jacob Landry, the owner of Urban South, says he sees a lot of opportunity here.
"Louisiana in general is late to the craft beer game, but we've seen New Orleans wake up to it, and I think Baton Rouge will have its moment, too, pretty soon," Landry says. "I graduated from LSU in 2006. In the last 10 years, seeing how much has changed between downtown development and all the new great restaurants—not just cookie-cutter chain restaurants—all those forces are related. Craft beer comes under that same dynamic."