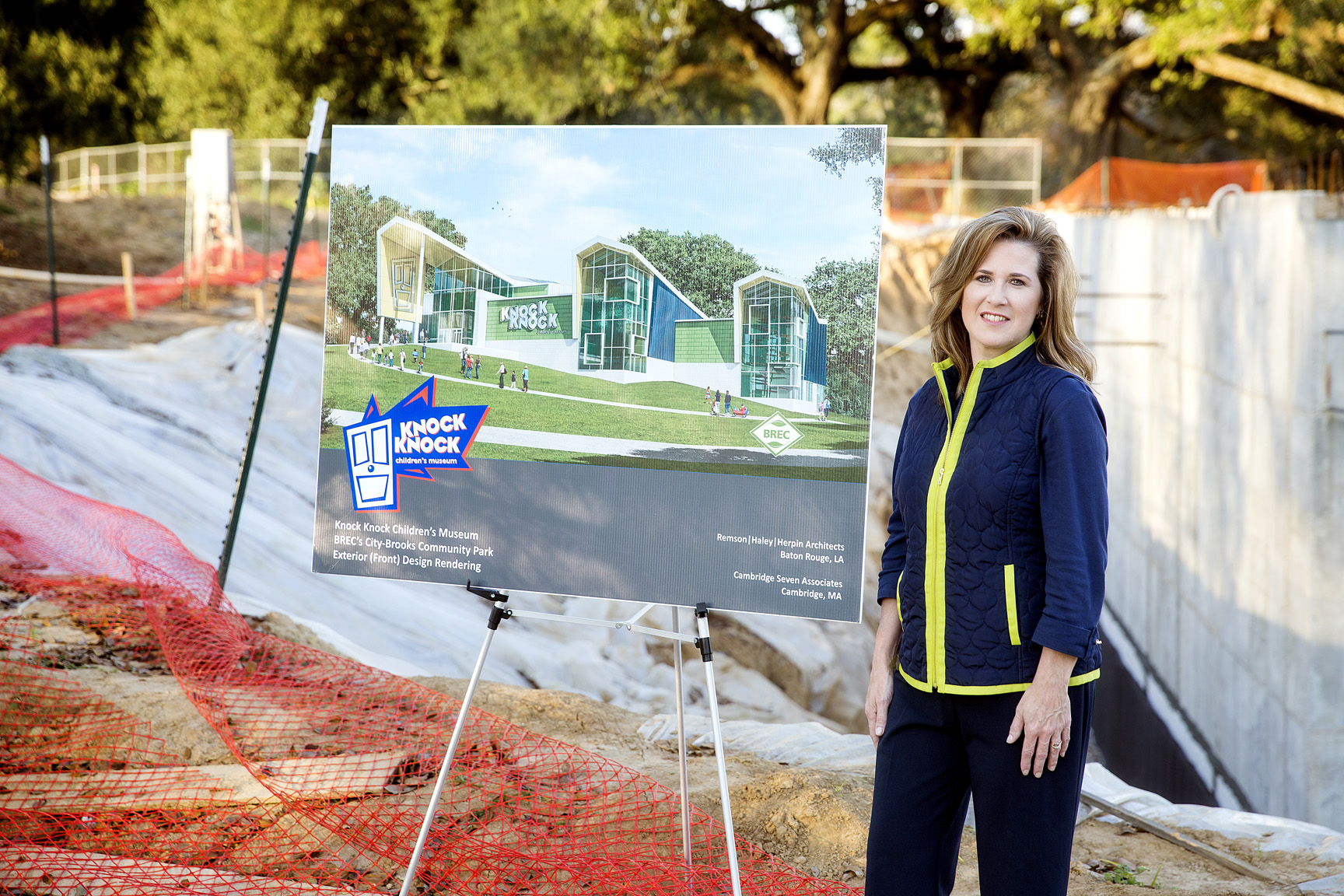 (Photography by Collin Richie: Melissa Bell)
After a decade of planning for a children's museum in the Capital City, the $6 million Knock Knock Children's Museum finally broke ground last April and is under construction on BREC property off Dalrymple Drive near City Park. It is expected to open late next year and provide children—age birth through eight—with a place to play and learn. Melissa Bell, 47, and mom of two, is the museum's project director. With a background in nonprofit management and marketing, she is smoothly navigating the uncharted territory of designing and constructing the city's first free-standing children's museum.
Congratulations on breaking ground on the Knock Knock Children's Museum. What have been some of the challenges you have faced up to this point?
We are a local startup nonprofit. Our mission is at the heart of what we bring to early childhood education, and we are continually challenged to educate and inform the community about our mission and the need to support the advancement of early childhood education as well as fundraising to sustain the museum's operations. This has been an enormous undertaking bringing together national and local leadership to tackle the effort. We have a core team of more than 40 educators working as volunteers to shape the programming and hands-on learning that families will explore.
Why did it take 10 years to break ground?
There has been a lot happening since this idea began, but things started to really get rolling in 2010. We hired a national consultant and our board really did its due diligence. It takes time to perfect a project that started from scratch like this one. And during that time, our state has gone through two major hurricanes, a financial downfall and an oil spill and this project continued to make headway. If you take time to look back and see all the milestones met and due diligence, I am in awe of this project. It's incredible.
How have you raised funds for the museum?
We looked first to donors—many of whom already visited children's museums in other cities with their children or grandchildren—and already understood the critical need for more robust early educational opportunities in our community. With that philanthropic investment in hand, we were able to motivate others to make Knock Knock Children's Museum become a reality. We've raised $10.6 million for the project—$6 million for the building and $4.5 million for the learning zones.
What has been your biggest success with raising corporate funds and backing?
It's impossible to point to a single biggest success because every gift has been critical to our efforts to open the museum. We first approached the Irene W. and C.B. Pennington Family Foundation to ask for a lead gift to help motivate others. In turn, they challenged Knock Knock to find $1.5 million in community funding first. This lead to the launch of the Founding Members Campaign resulting in more than 30 gifts of $50,000 from a diverse donor group of individuals, companies and families who firmly believed in our vision for this project.
New Orleans, Lafayette, Hammond and Shreveport all have children's museums. What have you learned from these neighboring cities and other cities across the country to incorporate into Knock Knock?
We have learned that the true success of a children's museum begins with understanding educational needs of each unique community and designing learning zone exhibits to support those needs. We have a wealth of supporting partners and organizational networks and community resources through the Association of Children's Museums, the American Alliance of Museums and the Children's Museum Professional Network and we have ongoing collaborations with many other Louisiana museums. Working together, we will strengthen our educational efforts to provide valuable resources and learning experiences for all of our children and the next generation.
What will Knock Knock bring to Baton Rouge?
Our mission and tagline: "Educating Children through Play." We look forward to being that creative spark for people. We are going to focus on literacy development here in Baton Rouge. Literacy ties back to every area of a child's life.
Related stories