Companies are increasingly turning to 'radical candor' to resolve conflicts in the workplace, but it might not be for everyone

Robin Schooling, Hollywood Casino vice president of human resources and former president of the Greater Baton Rouge Society for Human Resource Management, says radical candor may be beneficial for some companies, but warns "a cutthroat, pressure-cooker work environment that emphasizes competition above all else would not be the best place to launch this approach." Photography by Don Kadair
---
They say honesty is the best policy, but can that theory really translate into the workplace? Despite the potential pitfalls, many businesses are giving it a shot with a relatively new management approach called "radical candor."
Radical candor encourages business professionals to directly confront issues with colleagues in a completely honest—yet respectful and compassionate—way. Kim Scott, a former Google director and consultant to firms such as Twitter, outlines the concept in her bestselling book Radical Candor: Be a Kick-Ass Boss Without Losing Your Humanity.
While it has mostly been adopted at big corporations in major markets, smaller companies in cities such as Baton Rouge are starting to incorporate it as well. One of them is injury law firm Dudley DeBosier, which began using radical candor about a year ago. Director of Operations Erin Farrell says it has been a "game changer" for the firm.
"It has really helped make issue resolution happen quicker," she says. "With radical candor, instead of having backdoor conversations or taking problems to people who really can't solve them, you're going to the person whose performance or professionalism needs to be addressed and you're doing it directly."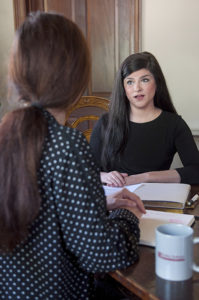 "The concept is not a license to be negative or overly rude to other people. It's just about coaching with compassion and being able to really be direct with your peers and your direct reports in a way that isn't beating around the bush. On the spectrum—it isn't passive and it isn't aggressive. It's compassionate." —Erin Farrell, director of operations, Dudley DeBosier
Farrell says the firm introduced the concept at a time when it was doing a lot of hiring, and needed to rebuild its team and organizational structure. Managing Partner Chad Dudley brought the idea to the management team after reading about it.
"He basically outlined it for us in a document and said, 'This is a method for you guys to communicate with each other by being very open and very honest,'" she recalls. "The concept is not a license to be negative or overly rude to other people. It's just about coaching with compassion and being able to really be direct with your peers and your direct reports in a way that isn't beating around the bush. On the spectrum, it isn't passive and it isn't aggressive. It's compassionate."
When introducing the concept, Dudley explained what the standards for the management team were going to be and how the concept could get them there.
"Bad teams have no standards of performance. Good teams have leader-driven standards. Great teams have team driven standards," explains Dudley. "Everyone on the team holds one another accountable to a high standard in a way that balances radical candor and compassion. It is founded on trust among team members that we are all working towards a common goal—doing the best job we can for the client. That is where we want to be as an organization each and every day."
One thing that needs to be taken into consideration if you're thinking about implementing radical candor is the organizational culture of your business.
"In order for organizations to make a switch to a radical candor environment, they first must do the hard work of ensuring their organizational culture can sustain a style of working that requires employees to directly challenge each other, while ensuring those forthright conversations emanate from a place of truth and personal caring," explains Robin Schooling, Hollywood Casino vice president of human resources and former president of the Greater Baton Rouge Society for Human Resource Management. "A cutthroat, pressure-cooker work environment that emphasizes competition above all else would not be the best place to launch this approach."
Farrell agrees.
"Culture is a big deal here at Dudley DeBosier. Yes, we have standards. Yes, we have an employee manual. Yes, we have all these things that are set and in place to help the organization run, but we're very family oriented and relaxed all at the same time," says Farrell. "With the introduction of radical candor, we didn't want to mess with our culture and then suddenly have people just going into people's faces and saying, 'You really messed this up.' But at the same time, we wanted people to understand that it's OK to be honest."
The firm worked to ease culture shock by implementing the concept into the business in stages, starting at the top.
"Just like with any process or procedure, you want buy in and you want feedback and that all starts at the executive level," Farrell says. "For us, it started with our partners and then it went to our management team. Our management team kind of tested it out and refined it, and now we're working it into other departments. I would say about 80 percent to 90 percent of our team is now practicing radical candor."
Incorporating radical candor isn't going to happen overnight. Farrell says it has taken months to work through the kinks and reach a point where the process flows smoothly.
"Overall, I have not seen a negative side to it yet. I'd say at first, in the very beginning, especially higher up, you're dealing with some serious topics and some serious issues and it's almost like you don't want to step on anyone's toes or get anyone upset, especially at that level. But once we just started doing it, it became so easy," Farrell says. "Not only did it help with our culture and issue resolution, but the projects and the things that we were able to move forward here just happened so much quicker. There was no feelings and emotions. It was just, 'OK, what's the bottom line? What are we trying to get to?'"
While businesses like Dudley DeBosier have seen positive effects from radical candor, the concept has the potential to make some employees uncomfortable and could lead to some hurt feelings, Schooling warns. She says the concept is an extension of a trend that has emerged in recent years, whereby annual performance reviews are being replaced by ongoing performance feedback.
"The radical candor concept moves us a bit further on the continuum with a goal of providing frank, immediate and face-to-face feedback, whether it be boss to subordinate, peer to peer, or even employee to manager," she says. "That's quite revolutionary and, more than likely, an idea that makes numerous people quite uncomfortable. As much as many workers today say they crave transparency and authenticity, radical candor might take things a bit to the extreme."
Farrell believes the success or failure of the radical candor approach depends largely on whether everyone in the organization buys into the idea.
"If the business is open and willing, I think it's something everyone should try, both personally and professionally," says Farrell. "I think being up front and being compassionately honest is the best approach. But you must be willing. Especially with smaller organizations. They often have a bigger hesitation to rock the boat or step on people's toes, but at the same time, that's how you're going to improve. If you're not going to make any changes, nothing's going to change."