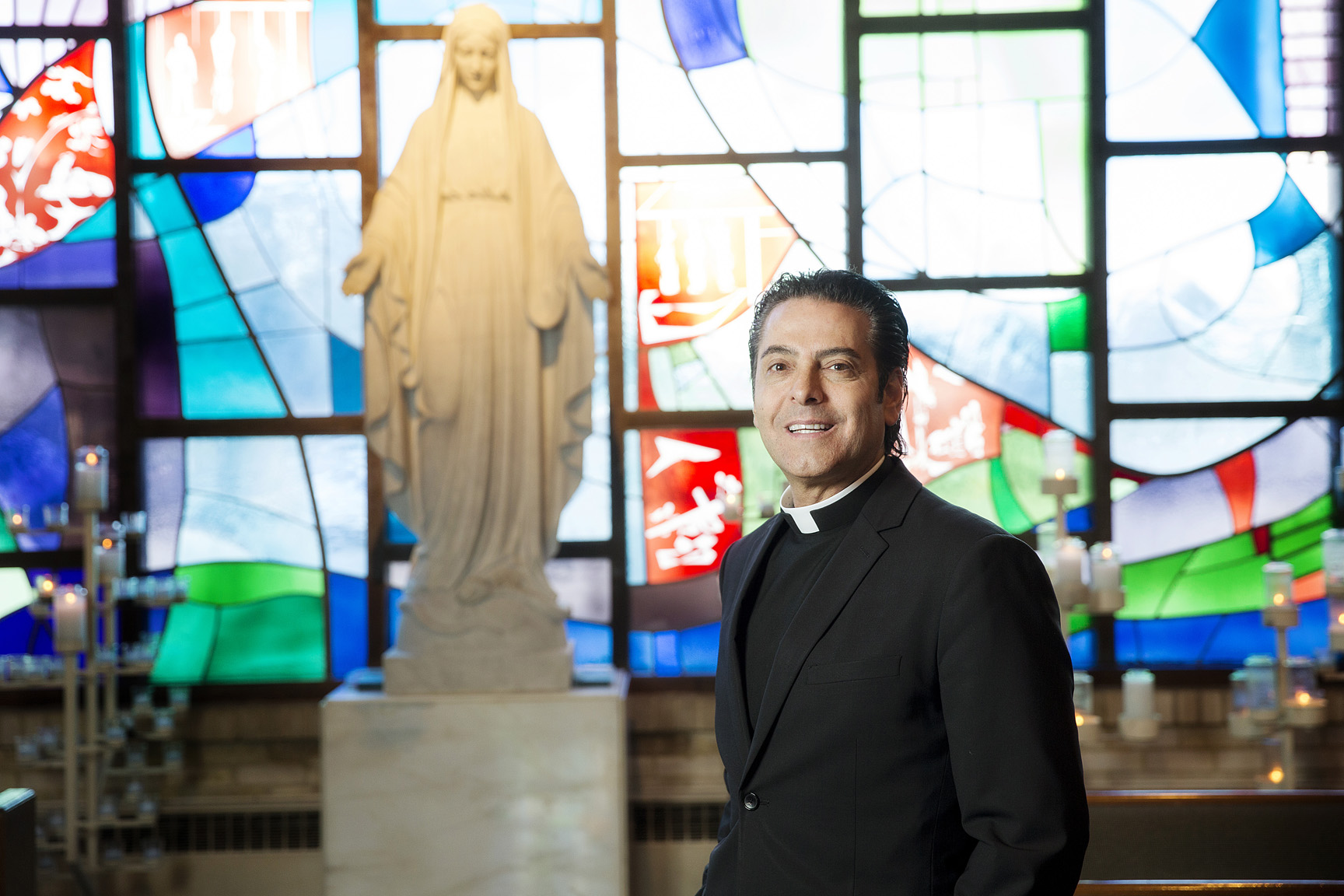 (Photography by Collin Richie: The Rev. Cleo Milano)

With Old Goodwood and Mid City experiencing a resurgence of economic development, Our Lady of Mercy Catholic Church and Our Lady of Mercy School are preparing their own redevelopment, having worked with the Center for Planning Excellence on a 20-year master plan to accommodate all of the impending growth. The primary goal of the church and school is to remain an anchor for the community, bridging the gap between traditions and new periods of transition. Father Cleo Milano is entering into this third year as pastor of Our Lady of Mercy, leading the parish into the future while remaining grounded in the Catholic tradition that has sustained the campus and surrounding community for almost half a century.
What are your thoughts about the redevelopment taking place in Old Goodwood?
I'm very very excited and happy about the Goodwood Plantation development. That is an exciting proposal for that kind of development, and places like E'tage Gardens are awesome additions to this part of town.
What do you see as the biggest challenges to redevelopment in Mid City?
Just the whole revitalization taking place here makes it much more of a desirable place to live, and therefore the cost to live here increases. That is not necessarily a bad thing. But as a result it is becoming more desirable and therefore more expensive. At the same time, what is very exciting is just all the new families that are moving into the Goodwood area, to Tara. Revitalizing brings a whole new life and spirit to the area.
In what ways would you like to see the neighborhood evolve?
Anything that makes a place more livable, like walking paths. For example we have what we call the moving bus every morning, which is several hundred kids that come from the neighborhoods walking to school every morning, which is awesome to see. So obviously, things that make that [journey] safer, more convenient for the kids who are crossing the street to come to school in the morning. All of those things like bike trails that just make a place more livable are great assets. With the master plan, those are the very simple principles we are going to apply to our own campus, making it more safe, accessible and more people friendly.
How does the tremendous growth of business and development affect your church and school?
I think the church and school have been a draw for many people to come to this part of town. Our master plan is certainly positioning Mercy for the good things that I think are happening in this part of town—to continue to be a source of stability and light and a beacon for this area.
What solutions do you recommend for addressing some of the social issues you see play out in urban Baton Rouge?
You don't have to go very far to find all of those things. Baton Rouge certainly has its share of homeless people. You see them on the corners. I think it is an issue everywhere, but it is something we cannot turn our back towards. I think that is thing about the great work of St. Vincent De Paul in this part of town, but also look at the great work the Salvation Army is doing on Airline. We are not alone in reaching out. All of us have to work together.
What role does Our Lady of Mercy play in the Baton Rouge community?
There is no doubt Our Lady of Mercy is an anchor for this whole part of town. I think we are a light, a beacon. We bring a tremendous sense of stability to the area through our school. We have a dynamic principal and our school is growing, so I feel really good about that. That stability is one more area where our church and school combo make this a wonderful place to live, raise your kids and worship.
How will Our Lady of Mercy's 20-year master plan impact the surrounding community?
Mercy is uniquely poised to do a beautiful thing as far as the physical plan, bringing this church and school together. We worked with the Center for Planning and Excellence, which was the first time they've ever worked with a church. They were very excited about working with us because, I think, Mercy is such an anchor for this part of town. We are bringing this campus together in line with the idea of "One Mercy, One Church, One School," maximizing what we have here—not only to make it more beautiful but also more functional. We have had a whole series of town hall meetings for the parish discussing what our needs are and where we see ourselves 20 years down the road. It is not necessarily that we wanted to grow our school, but we wanted to maximize the potential that is already here. Sometimes people mistake the fact that we don't want to be bigger. It is not about being bigger. We just want to be better. It takes patience, but you at least have to have a vision to know where you are going.
Related stories