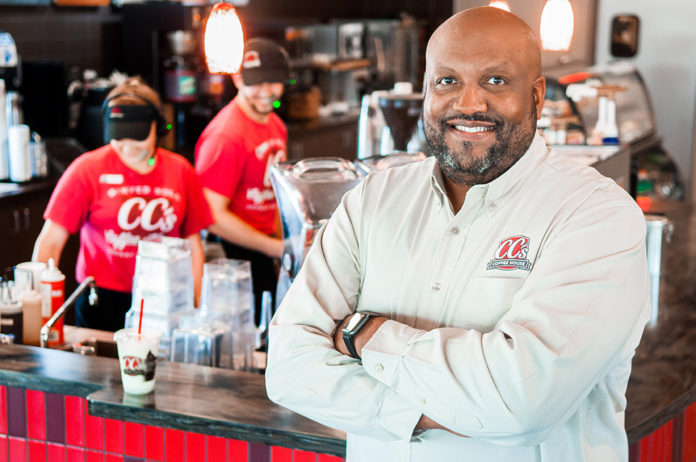 BIG PLANS: CEO Celton Hayden Jr. says the rapidly expanding company plans to triple the number CC's Coffee House locations by 2020. (Photo by Don Kadair)
---
During a phone interview last year with an Acadiana radio station, a CC's Coffee House executive claimed the company planned to triple its number of stores by 2020.
"Some crazy dude put his foot in his mouth and said that," recalls company CEO Celton Hayden Jr. with a laugh. "Now I gotta live up to that."
By "some crazy dude," he means himself. But while his pronouncement was based on hasty, back-of-the-envelope math, he stands behind the sentiment, and the company's expansion strategy is more deliberate and measured than his self-deprecation suggests.
While sitting in one of the newest CC's locations in Denham Springs, Hayden taps on the small, shiny round table to represent the company's Lafayette/Baton Rouge/New Orleans base, then draws concentric circles with his hands to indicate bands of growth radiating out from that base.
"Our goal is to seed those markets, build the brand awareness, turn them solid, and keep building out from there," he explains.
He expects to end the year with about 50 stores, almost 35% more than last year. There's plenty of opportunity left in Louisiana, he says, but state lines likely will be crossed as CC's orbit widens "neighborhood by neighborhood."
"We long ago gave up on, 'If it glitters, it's gold,'" Hayden says. "There's great value in growing a brand through a 'pull,' rather than 'push' mentality. These communities that embrace the stores that we build generally have been clamoring for one for a long time."
Pulling back, spinning off
Community Coffee launched the CC's Coffee House concept in 1995. Hayden left Kroger to join the company in 2001 as a store manager in Carrolton, Texas. One day, while picking up littler, he bumped into the late Norman Saurage III, third-generation owner of Community Coffee, who was making an unannounced visit.
"I remember the handshake," Hayden says. "I didn't know at the time if he had ever run into a manager who was committed to going out and getting up the bubble gum and the loose pennies, but he really seemed pleased that I cared about that attention to detail."
When Community closed its 17 Texas CC's locations in 2003, Hayden helped oversee the transition. He says the process was "pretty matter-of-fact" from a business standpoint, but saying goodbye to his colleagues was tough.
"The market wasn't ready for CC's," Hayden says.
While he didn't participate in the decision, he says Community wasn't well known in much of Texas, so some of those markets may not have been primed for a coffeehouse extension of the brand. After 9/11, some people were wary of public spaces, he adds.
"We did not fully appreciate the nuances of the restaurant business," says Matt Saurage, Norman's son and Community Coffee president and CEO. "Texas was a failure of planning, and entering a marketplace that was heavily saturated, with a concept that wasn't fully mature." The company also had expanded into Alabama in 1999, only to close those three stores in 2001.
After the Texas drawback, Hayden moved to Louisiana and worked his way up the Community/CC's corporate ladder. When the Saurage family decided in 2013 to spin off CC's into a separate company, they chose Hayden to be president and CEO.
"We learned a lot," Hayden says of the Texas experience. "We were able to memorialize and archive a ton of information about what it would take to be successful."
The restaurant/hospitality business is very different from vertically integrated manufacturing and distribution, Saurage says. For CC's to grow and prosper, the family realized, it needed its own leaders, systems and culture.
CC's now has an entirely separate management structure, though it remains family owned and operated. Hayden says he reports to Matt and Hank Saurage.
"It's a restaurant company, not a sales division [of Community]," Hayden says. "It didn't need to be challenged for, or challenging for, resources."
Deliberate growth
CC's can't match the marketing muscle of the recently troubled but still-formidable Starbucks behemoth. But smaller chains can use high-quality products and service to create a more localized experience, says Andrew Hetzel, a Hawaii-based coffee business consultant.
"I think there are lots of opportunities for a company like CC's to grow," he says. "It's a good place to be right now in the coffee industry."
Splitting from Community might help CC's react more quickly to local consumer demand, Hetzel reasons. It also allows the family to more easily sell the business if a larger company comes calling, he adds, noting the sector's recent consolidation craze.
"We are not for sale," Matt Saurage says, adding he's open to acquiring smaller operators but isn't actively looking for targets.
There are currently 21 corporate-owned CC's locations, with four more expected to open by year's end, along with 21 licensed franchises and four more in the pipeline. Saurage anticipates rapid growth on the franchise side.
All stores are in Louisiana except for one in Jackson, Mississippi. Saurage says the growth will be concentrated in Louisiana and adjacent states.
Hayden says CC's has been "wildly successful" in small markets like Alexandria, Carencro and Pineville. They've streamlined the menu while still adding new options like sparkling espresso.
He says his biggest competitors are Starbucks, PJ's Coffee, and the neighborhood coffee shops that, as a group, are "more formidable than Starbucks." He suggests there could be opportunities for strategic partnerships with independent stores, where CC's shares its business acumen while the indie shops help his company stay abreast of the latest trends.
CC's now has the technology and talent to better determine where it can succeed, he says. Once they crunch the numbers and find a demographically promising market, it's time to hit the streets and ask consumers and local leaders, "Will it work here?"
"Then it comes down to courage and gut," Hayden says. "It's never a perfect science."