2015 Best Places to Work in Baton Rouge: No. 1 Large Company

YP
5757 Corporate Blvd., Ste. 400 Baton Rouge | corporate.yp.com
PRODUCTS & SERVICES
Marketing solutions provider.
TOTAL EMPLOYEES
5,808
STANDOUT BONUS OR BENEFIT
Annual Winner's Circle recognition trip for top performers. Next year's destination? Hawaii.
WHAT EMPLOYEES LOVE
YP Culture Club, through which employee volunteers help execute corporate engagement and community service initiatives, like a pet adoption fundraiser and the adoption of several students from the Baton Rouge Youth Coalition for Christmas.
Annual Rock Band contest
An Annual Bonus Program based on company financial performance that provides bonuses to team members if performance reaches or exceeds a threshold of financial targets.
Top-performing new employees are selected to speak to future training classes in Los Angeles and/or have dinner with top executives in New York.
Subsidized memberships to 24 Hour Fitness and LA Fitness
Free or discounted tickets to local family entertainment or sporting events.
YP staffers enjoy all the resources of a major corporation—but the autonomy of a local operation.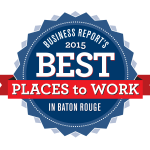 Its roots might be the voluminous, onion skin Yellow Pages, but rebranded YP has evolved into the fifth-largest company in mobile search revenue, behind Google, Microsoft, Twitter and Yahoo, giving its sales teams plenty of credibility with clients.
YP's Baton Rouge-based team, led by General Manager Dennis Dube, supports clients in the Capital Region, Lafayette and Lake Charles. Dube says YP has worked hard across the country to build strength and collaboration within local offices. One of YP's biggest growth areas is search engine marketing and ensuring that clients, many of which are local business, pop up in search feeds.
"There is a real sense of community, although we are part of a larger organization," he says. "We have an incredible amount of autonomy that allows us to empower people locally. We can be nimble like a local agency, but we have this huge scale of operation behind us."
Employee retention in Baton Rouge is high. In addition to generous compensation, employees receive top-notch training from the time they're brought on board.
New hires attend a two-week boot camp at YP's southern California tech headquarters, where they hobnob with the corporate brass, learn about company products and see new platforms and technologies being developed. There was a time when the company held a similar seven-week training course, but decided to minimize the amount of time offsite to make it easier for working families.
Once they're trained and back home, new sales reps take advantage of a 90-day follow up program and YP Academy, a detailed online resource for additional employee development. Accessible through mobile devices, the YP Academy presents training in a video-based format. Employees hone their leadership and sales skills through a robust library of materials, says Dube.
"It's really an opportunity to grow and develop," Dube says. "We've got some great resources."
He adds that the local Baton Rouge team is encouraged to spend time developing relationships through professional organizations such as Business and Networking International, or BNI, as well as nonprofit boards. Nationally, YP supports breast cancer charities, the American Red Cross, Habitat for Humanity and Keep America Beautiful.
Dube himself is active with the Baton Rouge Youth Coalition, a charitable organization that encourages high-achieving low-income teens to apply to colleges. Dube has served as a mentor to some of BRYC's participants, and the Baton Rouge YP office has sponsored seven BRYC families during the holidays.
While many new hires happen by word of mouth at YP, the organization holds regular "come for a cocktail, stay for a career" events. Dube says the gatherings are casual and informal ways that prospective employees can meet current staff and see inside the organization.
"It allows someone to pull back the curtain and see what we do and ask, 'Is this going to be a good fit for me?'" he says.
Each week at YP, employees get together for rally meetings during which they highlight top sales performers. They also learn about advancements or changes in products, changes in the marketplace and key initiatives within the national organization. Meetings can also feature TED talks and other inspirational and innovation material.
"We want to give our team anything they need to make them more successful both in their professional and personal lives," Dube says.
YP offers all new employees 27 paid vacation days. Its incentive programs range from winning gift cards and technology equipment to coveted annual Winners' Circle trips for the organization's top 5% of performers.
Dube says local staff definitely likes to have fun—there are plenty of games around the office for blowing off steam, and the group sponsors a float in Baton Rouge's annual St. Patrick's Day parade.
Related story