Bernhard company rebranding its energy business while shooting for Fortune 500 status

POWER PLAY: With a vision of building a Fortune 500 company in Baton Rouge, Bernhard Energy Solutions CEO Steve Nathanson is rebranding the company and focusing its mission on high efficiency energy systems. (Photo by Don Kadair)
---
Our Lady of the Lake Regional Medical Center recently inked a multimillion-dollar, long term deal with Bernhard LLC to design, build, operate and manage a new high efficiency energy system that will heat, cool and monitor energy usage on the hospital's 1.2-million-square-foot campus.
Though a nondisclosure agreement prevents Bernhard from saying much about the deal specifically, Bernhard Energy Solutions CEO Steve Nathanson describes it as "one of the biggest contracts in the state that would rival anything on a national scale." For its part, OLOL estimates the deal will enable the hospital to save $2 million a year on its utility bill.
Perhaps more significantly, the mini power plant will generate enough excess capacity—steam and chilled water—that it could eventually supply other nearby buildings and facilities in the health district for their heating and cooling systems, though that's still only a theoretical possibility at this point.
Bernhard's deal with OLOL, though impressive, is not unique. Increasingly, the three-year-old company is taking on ever-more ambitious projects in the field of energy services and solutions for a growing list of well-known institutions and commercial clients that includes St. Jude Hospital in Memphis, the new $1 billion terminal at Louis Armstrong International Airport in New Orleans, and Disney World, where the company does projects for both the theme park's hotels and exhibits.
This month, the company is rebranding, rolling out a new website and a new name, Bernhard Energy Solutions, to better reflect what it does and where it wants to focus its growth.
"This is what we always have done," says Nathanson, who joined the company in May 2016, bringing with him more than 40 years of experience as an energy executive. "Now it's time to describe ourselves, clearly, in terms of what we do."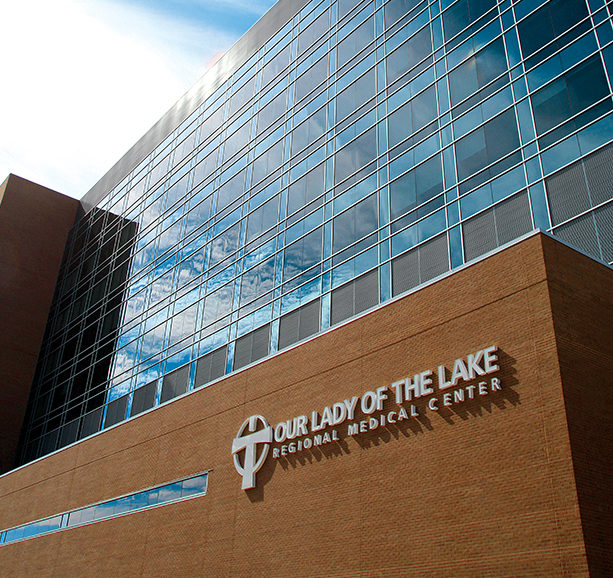 To understand what, exactly, Bernhard Energy Solutions does you have to understand a little about its history. The company is one of four portfolio companies created in 2015 by Bernhard Capital Partners, or BCP, the private equity firm founded by Jim Bernhard and three of his top executives from The Shaw Group after that company's acquisition by CB&I.
BCP formed Bernhard Energy Solutions by acquiring and combining four existing companies: TME, now Bernhard TME, of Little Rock; EP Breaux Electrical, of Lafayette; Metairie-based MCC; and Lafayette-based Bernhard Mechanical, which was founded in 1919 in Baton Rouge by Jim Bernhard's grandfather.
Each of those existing companies had decades of expertise in a particular area. Together, as a single entity, they were able to provide a comprehensive array of electrical, mechanical, plumbing, engineering and energy-related services to commercial clients like hotel chains and theme parks, and institutions like universities and hospitals.
Many of those clients were existing customers when the company was put together, but over the past three years there has been significant new growth, too. Today, the company has more than 2,000 employees in 27 offices across the country, and revenues have increased more than 17% annually. By the end of 2018, Nathanson expects revenues to be "well over $500 million," though not yet $1 billion, and the company's backlog to be nearly $2 billion.
"My vision is to bring another Fortune 500 company to Baton Rouge," he says. "Number 500 on that list last year did around $5 billion, so I don't think it will take us too long to get there."
Key to hitting that ambitious benchmark is the company's focus on the energy solutions side of its business. Though Bernhard Energy Solutions still does plenty of the commercial mechanical, electrical and plumbing work that, for decades, was the meat-and-potatoes business of companies like MCC and EP Breaux, company executives believe the real growth opportunities lie in the energy solutions side of the business.
"When BCP created this company, the business thesis was to focus on energy optimization," Nathanson says. "There is a huge market out there for that."
Particularly in the health care arena, for instance, where the cost of heating and cooling a massive campus with climate controlled labs and operating rooms runs well into the six figures every month. Bernhard Energy Solutions comes in, assesses the facility and then designs, builds and installs newer, more sophisticated energy-efficient systems.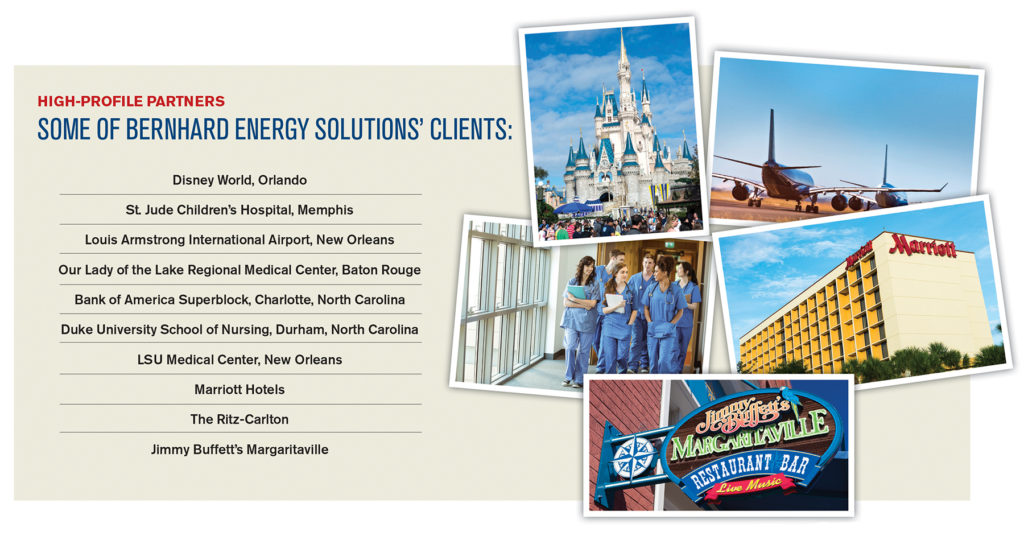 Key to making the deal work—the optimization part—is to allow Bernhard to not only design and build the heating and cooling plant, but to provide management and monitoring services, literally taking over a client's energy assets. Currently, it monitors 550 clients a month and another 250 on a daily basis. With that data, a hospital client, for instance, knows which operating room or portal or system in its facility is eating the most power and costing the most money.
"We can tell them if they have a window open or a fixture that needs to be switched out," Nathanson says. "The idea is then they can deploy their capital to their core business—things like a NICU or a cardiac care unit."
One thing that makes Bernhard unique is its ability to help finance the costly deals, which run into the tens of millions of dollars, by taking an equity stake in the project—or even owning it outright.
Another is the company's long-term plan to monetize the systems it designs and installs by selling the steam and chilled water they generate to other customers in the area through a network of underground pipes.
The system at OLOL, for instance, could eventually help power the heating and cooling systems of other clinics and medical offices in the health district. Such district energy systems, as they're called, have several advantages for the end user, including greater efficiency, lower operating and maintenance costs, and a reduced carbon footprint.
Though the Trump administration is not as focused on environmental issues like green buildings and carbon footprints as was the Obama administration, which was in office when BCP formed Bernhard Energy Solutions, Nathanson believes there is still plenty of demand for the services his company provides.
"The market is culturally demanding change," he says. "Besides, everybody has a need for cost savings."
As a portfolio company owned by BCP, there has to be an exit strategy somewhere in the business plan. That's how private equity firms make money. But Nathanson says it's too soon to talk about divesting or going public. For now, he's focused on growth, which he believes will be strong and steady for the foreseeable future.
"Our goal is to provide energy value to owners everywhere in North America," he says.