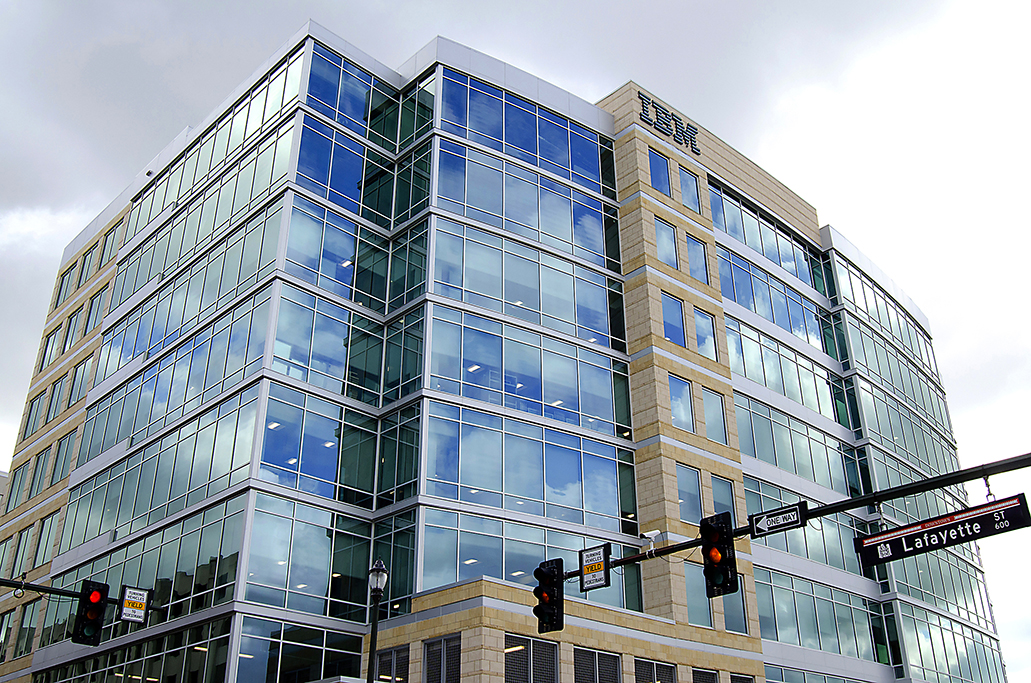 BLUE BAYOU: 

The arrival of IBM in 2013 was hailed as a tech sector "game changer," but the company has failed to meet its jobs quota and local technology executives say Big Blue's arrival hasn't had the anticipated ripple effect.  (Photo by Allie Appel)
---
When Gov. John Bel Edwards announced in late September the state had renegotiated its incentive deal with IBM because the company failed to meet its employment quota of 800 jobs at Baton Rouge's Client Innovation Center, he nonetheless had words of praise for Big Blue, noting "the presence of IBM in Louisiana has been a transformative boon for economic growth and investment in our state."
The governor isn't alone in his professed admiration for the company, which came to Baton Rouge in 2013 after receiving a generous incentive package from the state that included a new $55 million mixed-use building overlooking the Mississippi River downtown.
Louisiana Economic Development Secretary Don Pierson also describes IBM's presence in Louisiana over the past four years as "transformative," and Baton Rouge Area Chamber President and CEO Adam Knapp says IBM has, indeed, proven itself to be the "game changer" everyone predicted it would be.
"Just because they didn't hit the initial target doesn't mean they are not continuing to have a tremendous impact on the economy and the software sector in Baton Rouge," Knapp says. "I think transformative is the right word."
"Just because they didn't hit the initial target doesn't mean they are not continuing to have a tremendous impact on the economy and the software sector in Baton Rouge. I think transformative is the right word."

—Adam Knapp, president and CEO, Baton Rouge Area Chamber
Though elected officials and economic development leaders are still drinking the Big Blue Kool Aid, few in the local tech sector are having any of it. Multiple software firm executives and employees tell Business Report they don't see IBM having much of an impact on the local market, and certainly not one that is transformative. IBM did not respond to requests for comment on this story.
While applauding the state's investment in LSU's computer science program—a component of the deal that has increased the number of badly needed graduates in the field—they say starting salaries offered by the local IBM facility to those graduates is less than other IT firms, even in Baton Rouge. As a result, the facility hasn't been able to attract or retain the hundreds of workers that were promised, and the tech ecosystem many were hoping would develop because of IBM's presence in the market has yet to germinate.
"IBM is not really hiring and fostering the type of people that would go out and start their own companies," says Dustin Puryear, owner of software firm Puryear IT. "So they are providing some jobs but they're not providing a multiplier effect."
Pay to play
State officials say such criticism is unfounded and fails to account for the role IBM's Baton Rouge presence has played in attracting IT companies to other cities in Louisiana. As examples, Pierson points specifically to CSRA in Shreveport, CGI in Lafayette, and IBM's Application and Development Center in Monroe, all of which came to fruition after the Baton Rouge facility.
"You really need to step outside of Baton Rouge to see what they've yielded statewide," he says. "This isn't just about growing the smaller tech sector in Baton Rouge. It's been about giving confidence to tech companies that now see Louisiana in a different light."
Perhaps, but much has been made of IBM's role in making the Baton Rouge tech sector more competitive and attractive to outsiders. While acknowledging the IBM brand and downtown headquarters have been positive, local tech executives say they're not seeing evidence that much else has changed.
"It's always positive to have a big name like IBM in the market," says Dave Baxter, director of strategic alliances at local software firm Sparkhound. "But has it been a game changer? No. It hasn't had the necessary impact that I think everybody thought it would."
---
---
Part of the problem is that IBM's salaries are low, according to former employees at the facility and those who have applied for positions there. They say IBM offers recent college graduates salaries in the mid-$40,000 range. Job postings for the company on websites like glassdoor.com also list entry-level salaries in that range.
 That's below what other companies in the market pay, according to Ralph Melian, president of the software firm Antares, whose company starts its programmers out at $50,000 and quickly raises them. Sparkhound also pays its programmers well above $40,000, according to Baxter, though he points out that Sparkhound hires few entry-level employees.
IBM's local salaries also lag behind what other nearby markets like Houston or Austin pay. In fact, according to LSU's self-reported data from recent alumni, the starting salary for computer science graduates averages $70,000.
"Computer science is such a high demand major the students have a lot of opportunities, of which we hope Louisiana is a part," says LSU Executive Vice President and Provost Rick Koubek, who was dean of the College of Engineering when the IBM deal was inked.
Alex Clavelle is one of those recent graduates. He finished with a computer science degree in 2015, and remembers the hopes he and many of his fellow undergraduates in the program had when IBM came to campus to recruit.
"We were all really excited at first," Clavelle says. "Then, when the salary offers came in they were offering people $35,000 to $40,000 and you can make that anywhere. I had much, much better offers from companies in state that were offering 50 percent more than IBM."
Clavelle ended up working for Envoc, a 20-year-old local company that develops custom software and mobile apps. He says the only classmates he knows who went to work for IBM "were people who either started looking for a job too late or just settled."
Several former IBM employees say the company came into the market, as it had done a few years earlier in Missouri and Iowa, expecting to find relatively cheap labor. But the labor in the computer science field wasn't as inexpensive as the company had planned. Consequently, it has had trouble in all three states meeting hiring quotas.
"You can't come into a market like Baton Rouge and offer those kinds of salaries and expect to meet your targets," says one local tech company employee who interviewed with IBM.
Because of IBM's local hiring challenges, tech executives say they haven't seen much growth in the software sector overall. They had hoped IBM would attract and train young software developers who would eventually break out and start their own firms, which would, in turn, attract other tech companies to the market in a positive snowball effect.
"I don't think there's anything negative about having them here," says Logan Leger, CEO of New Aperio, which develops and markets smartphone apps. "But I don't think they've delivered on the promise that we as a tech community had imagined."
Others are more blunt in their assessment of the company's performance.
"I think IBM has done a poor job of being a partner in the tech eco system," one local software firm CEO says, speaking on the condition of anonymity. "The jobs they are providing are very low quality and their salaries are below market rate."
Silver lining
Despite their criticisms, tech sector executives say the $14 million investment in LSU's computer science program—part of the state's incentive package to attract IBM—has been a boon for the local market. The idea behind the investment was to update the department's curriculum and hire additional faculty in an effort to attract more students to the program and produce more graduates in the field.
So far, it's working. Since 2013, LSU has more than doubled the number of students enrolled in computer science from 221 to 471, and it has tripled the number of graduates from 32 at the end of the 2013-14 academic year to 91 last year.
"The state's investment in LSU has had a measurable impact on our business. My question is, why did we need to deal to get that investment? Shouldn't they have been doing that anyway?"

—Logan Leger, CEO, New Aperio
It's still not enough given the demand for qualified software developers in the local market and the fact that many leave for more fertile tech communities like Austin or Houston after graduation.
"The tech sector has an 85 (percent)-to-90 percent defection rate among its employees," says Envoc President Calvin Fabre, adding LSU could graduate three times as many computer science graduates and it still wouldn't be enough. "Our colleges aren't cranking out enough viable candidates, and the techies who come from the outside don't stay because we don't do a good enough job assimilating them."
Others agree.
"The state's investment in LSU has had a measurable impact on our business," Leger, at New Aperio, says. "My question is, why did we need to deal to get that investment? Shouldn't they have been doing that anyway?"
State and local economic development officials say it's still too soon to expect a tech ecosystem to have developed around IBM, and point to the growth of LSU's computer science program as an indication the sector will continue to mature. They also note the impact the company's presence has had on downtown development.
"Since the project and facility were announced everything downtown has sped up," Knapp says. "A lot of projects that contribute to the livability and walkability of downtown have happened since IBM."
No one in the tech sector disputes that. Their beef is that the IBM deal was—and continues to be—portrayed as a project that would revolutionize the local industry. So far, they say, that hasn't happened.
"I was hoping IBM would kind of legitimize Louisiana as a technology center," Clavelle says. "They haven't done that."