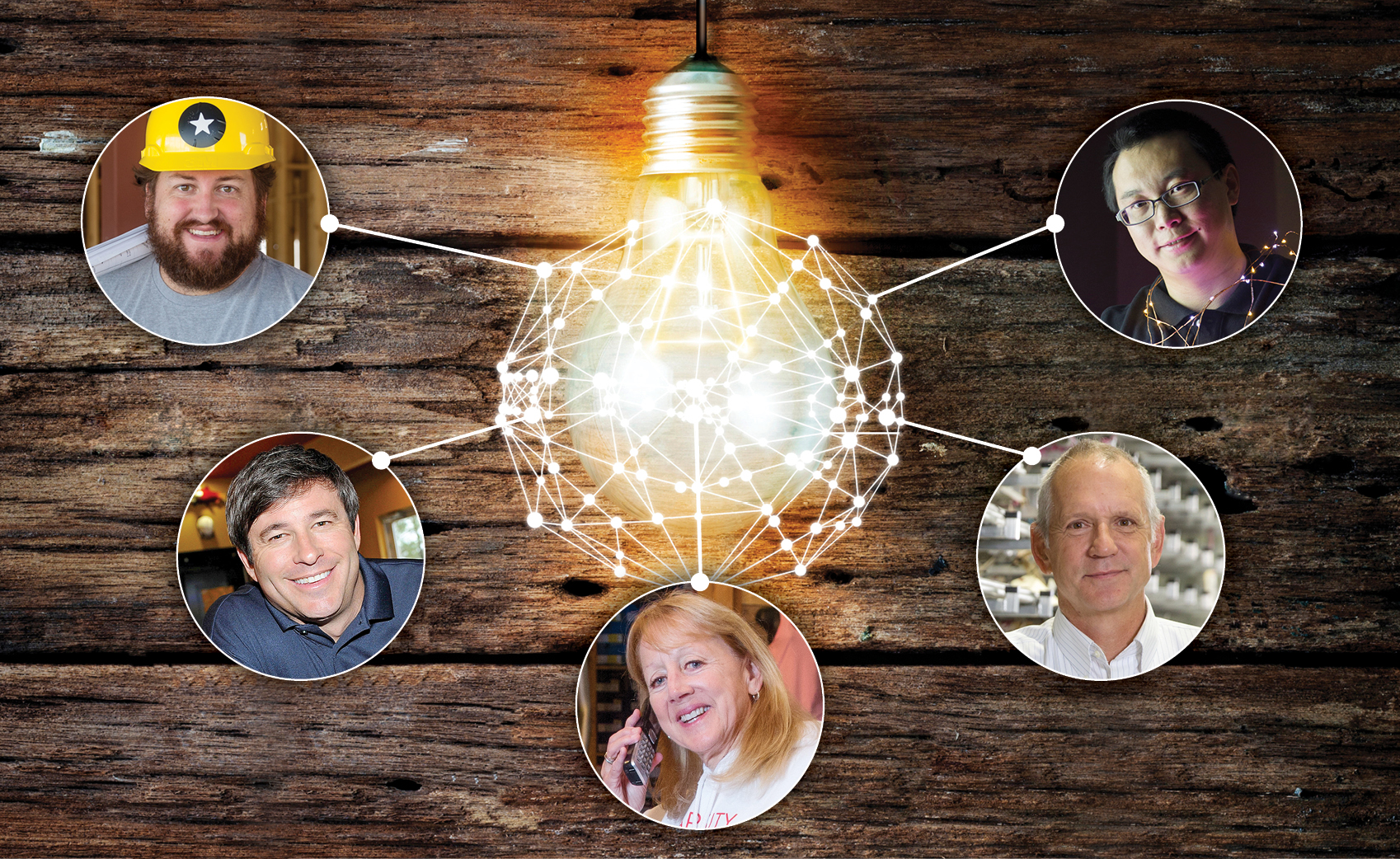 Entrepreneurs: (from left) Jay Ducote, Todd Graves, Jenni Peters, Kevin Kelly and Bin Yu.
---
Baton Rouge strives to be a hub of entrepreneurial enterprise—fertile ground where startups flourish—comparable to the likes of Austin or Atlanta. And in some ways, the city is well on its way. It boasts a host of resources, from business incubators to technology parks, and a number of established entrepreneurs. Still, a disconnect remains within the Baton Rouge entrepreneurial ecosystem. Gaps in awareness, outreach and talent are conspiring to keep us from becoming the next Austin or whatever is the next hot city for entrepreneurs. In an effort to understand what Baton Rouge can do better—as well as learn what it does right—Business Report asked a panel of local entrepreneurs to weigh in on the local state of entrepreneurship by sharing their experiences, insights and solutions.
WHAT BATON ROUGE GETS RIGHT…
HOME TO STATE GOVERNMENT AND LSU: The founders of Marsh Dog, Hansel and Veni Harlan, had to work with state agencies and LSU's AgCenter Food Incubator to help with production of their wild nutria dog treats. To their convenience, those agencies are all located in their hometown of Baton Rouge.
NICE PEOPLE, WHO ARE RESOURCEFUL AND HARDWORKING: "In our case, Baton Rouge has been a place to draw good people who are smart, hardworking and interested in the company's success," says Kevin Kelly, co-founder and president of Mezzo Technologies. "What more should you expect the community to offer?"
LOW COST OF DOING BUSINESS: The cost of living and the cost of doing business is low, says both Bin Yu, founder of HitLights, and John Pojman, founder of Pojman Polymer Products. "Baton Rouge is a reasonable place," Pojman says. "You can afford to rent facilities. It's cheaper than New Orleans. Everything is doable."
"We have

a

lot of good things going for Baton Rouge. We have a strong arts community for a city our size and are in close proximity to New Orleans. We do a good job with green spaces and our park system."

—Jay Ducote, local chef, food blogger and owner of Gov't Taco

(Photo by Collin Richie)
OTHER ENTREPRENEURS AGREED: "Some don't realize it until they leave, but it's special here," says Craig Gehring, founder of MasteryPrep. "We have talent on our team we don't deserve because they want to be here in Baton Rouge."
RESOURCES AND SERVICES LOCAL ENTREPRENEURS SWEAR BY…
THE VALUE OF BUSINESS INCUBATORS: A number of Baton Rouge companies got their start or a leg up at business incubators, including Padma Vatsavia's tech company Vinformatix, which began in the LBTC Student Incubator at LSU. "Incubators are a huge help," she says. "They help entrepreneurs take their businesses to the next level."
SPEAKING OF INCUBATORS: Gehring's ACT preparation company, MasteryPrep, excelled at the Louisiana Technology Park business incubator, which he says helped take his local company to the regional stage.
DON'T MISS THE PITCH: Pitch competitions, such as PitchBR during Baton Rouge Entrepreneur Week, are also opportunities to propel startup ventures. At the 2016 PitchBR event, Boyce Clark's hair product company Lubricity Labs took home first place and $250,000 in early-stage capital from Innovation Catalyst, a nonprofit venture capital organization in the Louisiana Technology Park.
"With educational, hands-on resources at the LSU Business and Technology Center, LSU AgCenter Food Incubator and Southern University Small Business Development Center, as well as organizations like SCORE and events like BREW, the entrepreneurial climate here is moving in the right direction. If you're local and work hard, Baton Rouge will support you." 

—Todd Graves, founder and CEO, Raising Cane's

(Photo courtesy Raising Cane's)
WHAT BATON ROUGE NEEDS…
An overarching theme stood out and was voiced by nearly half of the entrepreneur panel: The city needs to ramp up outreach, increase awareness and bridge the gaps between entrepreneur networks and resources.
MORE OUTREACH: "There are a lot of resources available in the city, but I don't know if there's enough outreach," Vatsavai says. "Having an outreach initiative would help expose services." Even being in an incubator, Vatsavai says, she didn't know about other available platforms to grow her business. "I had to find them the hard way."
RESOURCE DISCONNECT: "It's confusing," adds Veni Harlan. Available information and resources are disconnected, she says, when it should be streamlined. For unique startups that have never been done before, like nutria dog treats, it's particularly hard to find help in Baton Rouge.
THE GREAT UNKNOWN: One of the biggest obstacles for new tech companies is "not knowing a whole lot about what's out there," says Craig Billings, owner of 3D-XSTREAM, specializing in 3D printing.
BRIDGING THE GAP: "The key is bridging the gap among different networks and entrepreneurs in the city," adds Hydra-Guard founder Joseph Tucker.
FINANCING: "The hardest part of any start-up is finding financing," Graves says.
ACCESS TO CAPITAL: Kenny Nguyen, CEO of ThreeSixtyEight, says it's both an issue of access and awareness: "Access to capital is an obstacle. We have Innovation Catalyst. But do people in Baton Rouge and north Baton Rouge know where access to capital is? I don't know if they're aware of resources."
TALENT WANTED: "We need to learn how to fight the brain drain and keep our best talent here," Nguyen says. "As long as we have people who are super smart and talented, we need to keep them here."
RETAIN THE TALENT: "Baton Rouge does a good job with the universities we have, getting good talent, and smart people who grew up here," Ducote says. "We need ways to keep that talent here."
PARTNERSHIPS NEEDED: For companies like Lubricity Labs, moving up to the national level is a whole other ballgame in Baton Rouge. "In my experience, there's a very good network of local and regional support for business owners," Clark says. "However, finding the right resources and partners for national and even international business aspirations have been more challenging to identify."
"My advice to women is to make connections and look for every opportunity. If it's not there, you have to create it."

—Jenni Peters, owner, Varsity Sports

(Photo by Collin Richie)
HOW ABOUT SOME SOLUTIONS…
BRIDGING THE GAPS: "I would love to see leadership from the mayor and the city to create a task force or committee for entrepreneurship," says Veni Harlan. She suggests polling entrepreneurs, doing an assessment and creating a website catering to entrepreneurs based on their type of business.
ACCESSING CAPITAL: "More robust tax incentives for angel investors and more businesses that qualify would be a great motivation to help risky start-ups find the capital they need," Graves says. "Entrepreneurs need to know there are local resources to help start and grow their business. Many organizations here can assist with business planning, financing and legal and more."
INCREASE PITCH PRIZES: "Increase cash prizes for pitch competitions and get businesses to donate money to startups that are struggling with funds," Vatsavai says. Billings suggests more pitch events in general, and Bin Yu says we need more business owners giving back and more angel investors to support startups.
ATTRACTING AND RETAINING TALENT: Quality of life in Baton Rouge must improve if the city hopes to keep residents happy and here. That will take long-term fixes when it comes to major issues like traffic, infrastructure and the education system, says Hansel Harlan. Nguyen adds that the city needs enough quality jobs to satisfy local talent.
GOTTA' BELIEVE: For Gehring, the answer lies in two parts: belief and success. "On one side, the community and everyone part of building a great company has to believe it can happen here in Baton Rouge. Or else we won't have investors invest money here. And success—we need companies here to do well. A lot of people say you can't have success without belief, but you also can't have belief without success."
TEAMWORK MAKES THE DREAM WORK: The onus is on companies like his own to live up to their potential. "MasteryPrep is a regional brand. We have to prove a national brand can be started here," Gehring says. "Not necessarily with policies or guidelines. At end of day, it comes down to teams of local entrepreneurs all with their heads down doing hard work."
"LSU needs to

start hiring professors with significant industrial experience. It will take 10 to 20 years to weed out—or at least bring into balance—the preponderance of professors who have never worked outside an academic setting, who have no interest or passion for business and no way to share with students the joy that comes with business success. Maybe more professors who have great respect for the private sector would spawn more engineers interested in starting companies."

—Kevin Kelly, co-founder and president, Mezzo Technologies

(Photo by Collin Richie)
OTHER STORIES: