A Baton Rouge company is steadily growing by cleaning up the city's biggest messes

Larry and Amber Douglas, owners of Prairieville-based Xtreme Cleaners, have carved out a niche business by being willing to take on any mess that needs cleaning, from meth labs to crime scenes. Photography by Allie Appel
---
On a cool Friday morning in February, four Xtreme Cleaners employees dressed in white Tyvek suits, rubber boots, latex gloves and face masks are ready to work. Their job begins in the driveway of an elderly woman's south Baton Rouge home. She is a hoarder and this is the team's second trip to her home. On their first visit, they spent 16 hours cleaning and removed 44 bags of trash. This time will be quicker. Four more hours and they should be finished.
They grab white rags, large black trash bags and disinfectant spray from a white trailer parked in the driveway.
A cousin of the homeowner, who prefers not to be named, hired the company after she discovered the filthy home and her relative's declining health.
"I knew it was going to be bad, but I never thought it would be this bad," she says. "When I got here, I didn't know where to start. There were piles of dishes with bugs everywhere. And there was old gravy caked inside the console of her car. It was nasty."
She called Xtreme Cleaners, a Prairieville-based company that specializes in all things nasty. They clean up what they deem "unfortunate situations." Homicides, suicides, meth labs and hoarding homes are their specialties.
While the outside of this one-story brick home appears tidy and well-kept, inside is a different story. It's dark and dingy. Thick dust covers the furniture. Brown liquid drips from old cans of food lined in the pantry, and there is a strong smell of urine and feces. Stains cover the carpet in the living room and bedroom. Today, the crew will spray disinfectant and remove the soiled carpet in the bedroom, deemed the "hot zone" because it contains biohazardous or "bio" material.
"Bio is short for biohazard and includes blood, brain matter, feces, urine, anything that comes from a body," says Larry Douglas, the 51-year-old president and CEO of Xtreme Cleaners. "We clean all of that up, and we make sure we do a thorough job. We don't ever want a family to return to their home and move a piece of furniture or a carpet and find bio material or a body fragment."
When asked on a scale of one to 10 how tough this job is, crew member Jami Haws, 23, of Denham Springs quips, "Oh, this is a one."
Cynthia Penny, 56, of Walker, has worked for Xtreme Cleaners for seven years and is the crew leader on the hoarding job. She says these types of jobs don't pose a challenge anywhere near homicides or suicides, especially those involving high-powered rifles.
"This is easy," she says. "Fast paced, there are always cool things to look at and no one got hurt."
ON THE SCENE
Xtreme Cleaners has cleaned up many high profile crime scenes, including the vehicles involved in last summer's police ambush that claimed the lives of three officers on Airline Highway, local television personality Scott Rogers' 2014 murder/suicide, and the 2015 shooting of a deputy U.S. marshal at a Baton Rouge motel, among others.
"If you go back and look at every major news story that has happened over the past few years," Douglas says, "we've probably had a hand in cleaning it up."
They also cleaned the Raising Cane's River Center after it housed thousands of flood evacuees for more than a month last summer. And the company routinely handles scenes that don't get a lot of media attention but are no less tragic. One such job included cleaning up a local hotel room after a man drank himself to death inside. Another required retrieving and disposing of a bloated dead dog from a pond in an apartment complex. But it's the jobs involving children that are the hardest, says Douglas.
"We were at a job one time where a 2-year old was murdered," he recalls. "While we were cleaning, the boy's aunt called us. I put her on speaker phone so the team could hear her. She asked if we could please find his Woody boots, the ones from the movie Toy Story that he wore all the time. She wanted him to be buried in those boots. That hit the team hard. There was not a dry eye in the room."
Douglas and his wife, Amber, 41, run Xtreme Cleaners. They employ about 25 part-time workers who get paid between $15 and $30 per hour, depending on the job. They answer an average of eight to 10 suicides per month as well as 12 to 15 crime scenes. They gross about $750,000 annually, depending on the year. But their overhead costs are steep. Insurance costs $15,000 year, equipment is about $20,000 and chemicals and supplies are between $30,000 and $40,000 per year, Douglas says.
Douglas began the company while living in New Hampshire. The New England native still has hints of his northern roots, pronouncing shop like "shawp" and hoarder like "hawdah." He had been a police officer for 14 years when he answered a call that would eventually lead to his company's birth.
"It was the early '90s and I was standing with a mom whose 16-year-old son just shot himself in their house," he recalls. "It was an absolute mess and she didn't know what to do or who to call, and she just said, 'Who's going to clean this up?'"
While Douglas eventually left law enforcement for a job in construction, he never forgot that moment or the woman's emotional and physical trauma. It would be a decade before he started his business.
"I always remembered that moment," says Douglas, noting many people falsely assume police and fire departments, funeral homes and coroners clean up accidents and crime scenes. "Even though I had left law enforcement, that mom was still in the back of my mind."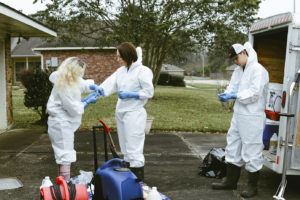 GROWING XTREME
He started the company in New Hampshire in 2003 with his brother and a friend, and eventually expanded it into a family business. The combination of extreme cleaning and family humor was the perfect mix for Hollywood. Their family business was documented in a two-part reality TV show that aired on TLC in 2011 called Ultimate Cleaners.
The show featured Larry, his aunt Becky, brother Matt, nephew Josh and friend Patrick. A film crew documented the family as they cleaned a New Orleans home damaged by Hurricane Katrina and a hoarder home in Midland, Michigan. They joked around and appropriately picked on each other on the job sites. But there was also a genuine humanity to the show. At the end of each cleaning, the Douglas family felt a connection with the families who had hired them.
"There's a lot of satisfaction when you help a family," says Douglas. "During the time of loss, people are very sensitive, and we are the ones who tend to be there to talk with them."
In 2006, Douglas, his first wife and two daughters moved to Louisiana for a construction job following Katrina. He became a certified Occupational Safety and Health Administration instructor and in 2009 expanded his business to Louisiana. His experience in law enforcement, OSHA training, construction and his consulting work for National Forensic Consultants helped his company land steady jobs. He eventually made Prairieville the company's headquarters and relocated to Louisiana.
"This type of cleanup helps law enforcement and gives dignity to the family," says Zachary Police Chief David McDavid, who regularly calls on Xtreme Cleaners to handle crime scenes. "They don't have to see the crime that was committed there, and they can have a certified company come in and clean up their homes safely."
While Douglas has worked hard to build his company, he's worked even harder to market it. He seems to have a natural place in front of the camera, and maybe that comes from his family ties. His first cousin is Hollywood actress and comedian Amy Poehler, best known as playing Leslie Knope on Parks and Recreation and for her seven-year run on Saturday Night Live.
Douglas also has a wicked sense of humor and an ability to understand what producers want to film, leading TLC to film another pilot about Xtreme Cleaners. Dead Clean followed his younger female employees as they cleaned up a three-person homicide/suicide in Mall City and a hoarding trailer in Prairieville, but it never aired.
"It didn't get picked up because they said it was too edgy," Douglas says, adding he's optimistic about his future in reality TV and is currently in talks with a production company to film a family-based show around he and his wife.
MADE FOR TV
Douglas and Amber met on a dating website in 2010. The connection was instant and after a few months of dating, they married. While Larry runs Xtreme Cleaners, Amber is the vice president of operations but also runs their other company, Xtreme Promotions, a promotional product distributor.  They are the perfect couple. While he is soft spoken and measured with his words, she is outspoken with a contagious smile. Both have an incredibly dry sense of humor.
They are a blended family—he has two daughters from his first marriage, ages 21 and 19, and she has one, 16, whom he adopted—and if you didn't know how they earned a living, you would think they lived an average suburban lifestyle. They work side-by-side at desks in the second-floor home office of their Acadian-style home in Prairieville. A canvas photo of their family hangs at the foot of the stairway.
They honeymooned in Disney World and love playing golf, poker and spending time with their granddaughters, a newborn and a 4-year-old. A mesh Mardi Gras wreath hangs from the front door, a soccer ball lays on the manicured lawn and a Volkswagen Beetle Power Wheels is parked in the two-car garage. But there are also little hints of their business among the ordinary, such as the box of latex gloves that sits a few feet from the Power Wheels. It's also hard to miss the Xtreme Cleaners logos plastered all over Larry's black Ram 1500 that's parked in the driveway.
The photos on Larry's iPhone are a juxtaposition of life and death. Swipe right and there's a cherubic picture of his newborn granddaughter. Swipe left and there are gruesome crime scene photos with bullet holes and blood covered carpets.
"If anyone ever found our phones, they would think we are serial killers," he jokes.
It takes a special person to work for a company like Xtreme Cleaners. They tend to recruit people in their 20s, mainly nurses, construction workers and students. They look for people who are dependable and compassionate, but they also must have a strong stomach and curiosity for the unknown.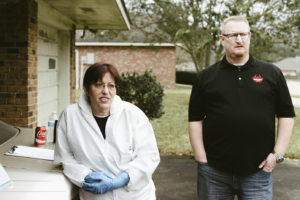 "The work is interesting," says Penny. "It's always something different, and the blood doesn't bother me. I just don't want to know about the person I'm cleaning up after until after I'm done cleaning up and the job is done."
They keep their supplies in a warehouse about three miles from their Prairieville home. A freezer with cool vests and replaceable ice packs sits against one of the walls. Saws, mops, brooms, fans, air scrubbers, disinfectants, red biohazard bins, bags and boxes fill the floors and shelves of the warehouse. A company from Lake Charles comes when needed to pick up the filled biohazard bags to dispose of the waste. According to OSHA standards, biohazardous material must be placed in closed and labeled containers and properly discarded. And doctors say while most diseases die within a couple of days, these types of cleaning companies can ultimately help families.
"Once the coroner comes to remove the body, the remains of whatever is there becomes the responsibility of the family," says Dr. Beau Clark, East Baton Rouge Parish coroner. "Most diseases die within 36 hours of the host being removed. But there are two reasons to have a scene cleaned. These companies have the tools to clean the odor and get rid of the hazards, but there is also the emotional piece. What you see at one of those scenes can imprint in your mind and stay with you forever."
While the cost of a job varies, depending on the amount of cleanup involved, it's rare that a homeowner pays for it. Xtreme Cleaners typically bills the homeowner's insurance company, allowing the family respite from cleaning and hopefully expediting the healing process, police officials say.
"These people are experts in their field, and they know what to do and how it needs to be done," says Fabian Blache, executive director of the Louisiana Association of Chiefs of Police. "Just because it looks clean, doesn't mean it is clean. They take care of the proper cleaning, and while doing that they save family from more emotional heartbreak. It's a lot easier to heal when you don't have to deal with the physical mess after."