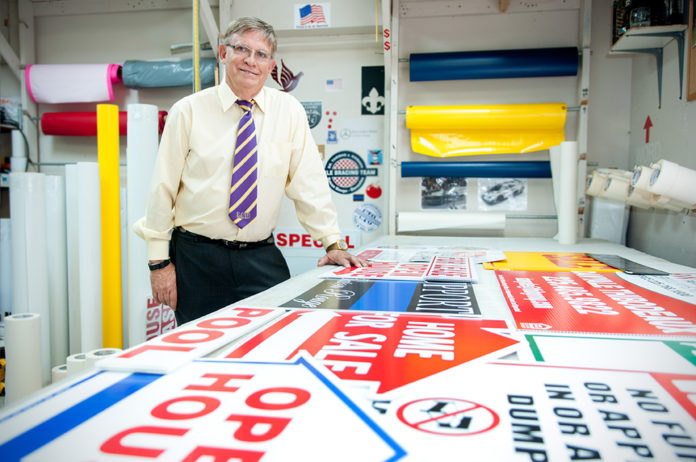 SIGN OF THE TIMES: Motivated by a childhood of poverty, Larry Fontenot constantly adapts to changing market conditions to keep his sign, banner and flag business a 40-year success. (Photo by Don Kadair)
---
For nearly 40 years, Larry Fontenot has led Action Advertising & Flags from a business offering hand-painted signs to one that carries signs, banners and thousands of different flags and other promotional products.
At the urging of a friend who manufactured light-up arrow signs, Fontenot founded his company in 1981. At the time, there were eight businesses doing similar work in the area. From the eight, none remain, but competition has grown and Fontenot estimates he now competes against dozens of shops that service the Capital Region.
Though many people may only know of his shop for its flag poles or for printing postcards, Fontenot says when it comes to his products, having a diversity of items to offer his customers is a priority.
"Everybody's just going to be a little bit different (in what they want)," he says. "We're kind of a one-stop shop."
Growing up on a farm in Grand Prairie, Fontenot never imagined he would one day be a small business owner.
Like other sharecropping families in St. Landry Parish, the Fontenots didn't rely on a single crop to support them and instead grew a variety of sweet potatoes, corn and cotton.
In lieu of tractors, a luxury of wealthier families of the region, the family relied on horses and mules for their farming. Instead of making payments with cash, the French-speaking family would settle debts with crops harvested. Each year, they'd pay the landowner with a share of the crops and they would also give a portion to the grocery store, to settle a line of credit for items the family needed but couldn't produce themselves.
It was a lifestyle Fontenot was determined to strike from, and he wasn't the only one from the small farming community who wanted to carve his own path.
He joined a group of about 20 young men from Grand Prairie who all spoke French and waited tables downstairs at Brennan's, the famous Creole eatery on Royal Street in the French Quarter.
"We had such a good work ethic, the (general manager) said when we got there 'I don't need to interview you. They've done told me that everyone I've hired from there has been fantastic and has a great work ethic,'" Fontenot recalls with a laugh.
While the Crescent City offered a temporary escape for Fontenot from the Cajun farmlands of Acadiana, it wasn't a permanent one. After three years of slinging bananas fosters and Bloody Bull cocktails in the oldest neighborhood of New Orleans, he moved back to Grand Prairie and began working at a National Food Store located in the parish seat, Opelousas.
It was this opportunity that proved itself to be Fontenot's golden ticket out of St. Landry Parish when he transferred from the company's Opelousas location to one off Florida Boulevard in Baton Rouge. He didn't stay with the store for long and instead became a shoe salesman, starting his career in business.
Good business decision
Fontenot's store has been located on Airline Highway across from the Jefferson Highway split since the turn of the century. It was the third move for the store, and with each move, Fontenot has taken the opportunity to expand its offerings and services.
After leaving his job as a shoe salesman, the entrepreneur first opened his shop on Cloverland Avenue off Siegen Lane in three leased suites. Everything was hand painted at the time, and armed with three other painters, he began selling and renting portable signs in a 75-mile radius of Baton Rouge.
As they grew in popularity, Fontenot began offering banners, and when the city-parish tried to outlaw portable signs, he added a promotional advertising division to the company.
"I was very motivated because I grew up in poverty," Fontenot says. "I was not going to do any farming and I was going to make the best of it."
He's gone from selling arrow signs to offering thousands of flags, promotional products for businesses, personalized gifts and flag poles, which he also installs and maintains. He boasts the largest selection of flags in the state, including 40 different LSU flags for Tigers fans.
Though he wasn't trained in the art of entrepreneurship, Fontenot has taken calculated risks and pushed the company to appeal to different needs of the Capital Region.
As a businessman, Fontenot says he really "went on the edge" following the terrorist attacks on the World Trade Center on Sept. 11, 2001.
"When the second plane hit the tower, I knew it was serious," Fontenot remembers. "Within an hour, I spent $150,000 on any kind of flags or red-white-and-blue stuff we could get our hands on."
Because of the attacks, delivery was suspended from the supplier and Fontenot sent a few of his employees in a motorhome to pick up the flags from Tennessee. By the time they got back to Baton Rouge on Friday, there were 500 people in the parking lot waiting to buy American flags. The store didn't close until 2:30 a.m., and when it reopened there was more than 60 people in line, Fontenot remembers.
"We were the only people who had flags anywhere around here because I was the only one who was insane enough to do what I did," Fontenot says.
Overwhelmed by patriotic demand, Fontenot had to shut the other parts of his business down for nearly three weeks, dealing exclusively in red, white and blue products, and American flags.
"You just have to foresee what's going to happen and make a good business decision," Fontenot says.