2018 HALL OF FAME: Newton Thomas … Earning respect

(Photo by Marie Constantin)
---
A strong belief in himself made Newton Thomas a success, but his legacy is the faith he has in those around him.
When Newton Thomas, 73, graduated from LSU in the late 1960s with an engineering degree, he interviewed with Southern Instruments—a small Baton Rouge construction firm—received a job offer and left.
"I didn't take the job," recalls Thomas. "I asked them to wait two weeks for me to decide so I could finish my other interviews. I told them, 'If you have to make a decision and hire someone else, fine, but I want you to wait.'"
After he finished interviewing at other companies, he called Southern Instruments to accept the job he thought was his for the taking.
"They didn't wait," he says, laughing. "They hired another guy and he was someone I knew from college, so I called the president of the company and asked him if I could come in and talk to him. He agreed. When I got there, the guy I knew from college asked what I was doing there. I told him, 'I'm trying to get your job.'"
During his meeting with the president, he pitched himself with the confidence and tenacity Thomas is known for. He told him he worked hard, was willing to travel anywhere at any time, and was focused and determined on his career.
"I said, 'I interviewed with you and you hired someone else and you screwed up. I know that guy out there. I went to college with him. My grades were better than his. He studied, and I had fun,'" Thomas says. "I told him, 'I'm not here because I need this job, I'm here because I want this job.' He called me two days later and I got the job."
At the end of his first week of employment, the president of the company called him back in his office.
"He said to me, 'This is totally embarrassing. We never discussed what I was going to pay you.' And I told him, 'I don't care. Just pay me whatever you want to pay me. I just finished telling you how I was the best thing since sliced bread and the salary should reflect that. But I told you I didn't care.' So he asked me again, and I named half over my highest offer I had received from other job offers. And he paid me that."
For more than six years, Thomas worked his way up the ladder of Southern Instruments, eventually being promoted to president. But he left in 1973 to start The Newtron Group, an industrial electric and instrumentation provider company.
He never looked back.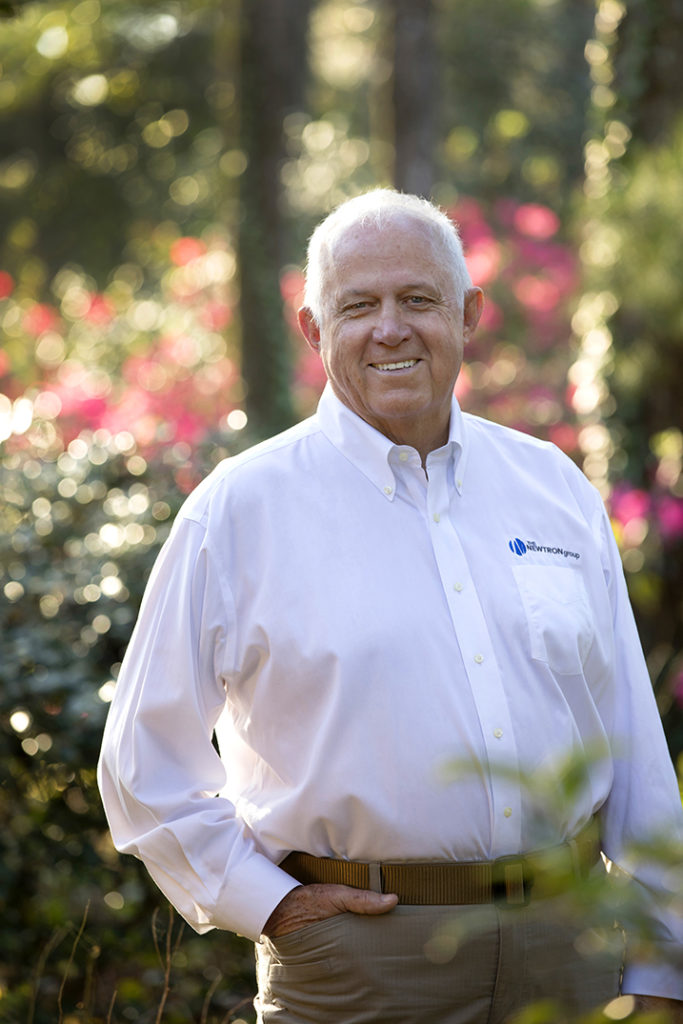 ---
Thomas shares this story from the kitchen of his south Baton Rouge home while his Australian Shepherd dog, Tiger, nudges his cold nose under Thomas' hand to be pet. Sitting at the head of the kitchen table, wearing a royal blue Nike golf shirt featuring the company's "Live It" slogan, a grin spreads across his face and his slate blue eyes sparkle as starts to tell another story. He has a thousand stories and often begins each one with "That's a fun story!" or "This is an ironic one!" He chuckles at jokes before delivering the punch line. And more often than not, he is the punch line. It's a sense of humor that allows Thomas to be confident, but not arrogant—an unusual combination for a man responsible for creating a $450 million company.
"He is very confident and very bright but his personality is so self-deprecating that he is not intimidating in any way," says John Schempf, 48, president of The Newtron Group. "I always say he is the most uncommon, common man I have ever known."
Thomas grew up in a working family in Baton Rouge, the youngest of two boys. His mom was an LSU professor who taught library sciences while his father worked at a plant, though dreamed of being a cattleman. He remembers hearing his dad talk about being called into human resources at his job and complaining about the process and the impersonal feeling he felt working for such a large company.
"I knew from a very early age that I wanted to be in business for myself," he says. "I saw these big organizations and I didn't think they were doing it right."
Thomas graduated from the LSU Lab School and later LSU with degrees in electrical engineering and business administration. Because he studied electrical engineering, friends nicknamed him "Newtron"—"Tron" for short.
"A neutron has mass but no energy," says a laughing Thomas. "I didn't get much respect in college."
At LSU, he joined a fraternity, the cheer squad and was catcher for the LSU baseball team. While he received a full baseball scholarship, ask him if he was any good and he quips, "Nah. My brother was way better than me."
Thomas sailed through college, academically successfully but admitting that he often played harder than he worked. While self-assured and secure in who he is, Thomas has never been a rule follower and credits his mother for helping him and his older brother, John, develop their free-thinking and decision-making abilities.
"She never told us 'Don't do that because I said so,'" Thomas says. "She talked to us about it. If you weren't supposed to do something, she would explain to us why."
It's a trait his wife of nearly 40 years understands.
"You never tell this one what to do," says Betsy. "But he doesn't tell you what to do either."
The Newtron Group's core values reflect this. Thomas believes in motivating employees, not micromanaging them. Using his college nickname "Newtron", he created a company where the employees have the most say and the largest financial stake. The nearly 3,500 employees across Louisiana, Texas and California receive 60% of the company's annual earnings.
"The brilliance in Newton is that what he does is not done for personal gain," Schempf says. "He is so insistent on giving the biggest chunk of his profits back to the employees. This not only empowers our employees, but it drives the success of the company."
Schempf is a second-generation employee of The Newtron Group. His father worked there until he retired. Schempf says from the time he was a young boy attending company crawfish boils, he always knew he wanted to work with Thomas.
"He is like a Pied Piper," Schempf says. "We have more than 3,000 employees so there's no way he can know who everyone is, but he goes to an event and he has this way about him that is so welcoming and sincere."
While Thomas is confident and affable, he is also humble and enjoys his anonymity. He had the opportunity to run for local and state politics but decided not to. Instead, he focused on his company.
"I feel like I have a higher calling and I am fulfilling it," Thomas says. "I am providing for people, not workers, not employees. They are family."
His company is so unique in its commitment to its employees that when he attended Harvard Business School's Executive Education Program nearly two decades ago, the professors wanted to study it. He said thanks, but no thanks.
"It shows you the difference of the drummer I hear. Life is fickle. You never know what is going to happen, so you may as well enjoy it as you go along," Thomas says with a grin. "Hey, I bought a sailboat before I could sail, and I bought an airplane before I could fly."
---
---
Thomas is a man who sees conclusions before challenges and spent the past 15 years planning for the succession of his company. When he dies, his company will be left to the Baton Rouge Area Foundation, which will oversee a board tasked with maintaining the company's core values and culture as well as its employee bonuses.
"He is so visionary," says Edmund J. Giering IV, general counsel for BRAF. "It's not a unique idea, but it is unusual that he has been working on this for so long. He has been thinking about it for decades and has put a lot of thought and effort into this and his company. He has put a good plan in place and his able to sit back and observe how it develops. He has the luxury of time."
These days, Thomas is less involved in the daily routine of the company and more involved with his family. He and Betsy travel often, spending time at their Florida Keys home, on their sailboat in the Gulf of Mexico and skiing in Big Sky, Montana.
They fish and hunt, and share a love of the outdoors. For their first Christmas as a married couple, he even bought her a wet suit and a shotgun.
When he is not traveling and spending time with Betsy, his two daughters, their husbands and six grandchildren, he works with AMIkids, a Tampa, Florida-based nonprofit that helps troubled children, mostly in the juvenile justice system. Thomas has been involved in AMIkids for more than 30 years.
"He is a brilliant strategic thinker and an effective communicator," says O.B. Stander, who recently retired as CEO of AMIkids. "And he is always willing to roll up his sleeves and do the tough work. There is no one in the 50-year history of the organization who has helped us impact troubled youth as much as Newton has."
Thomas is a motivator, a communicator and a natural born leader. But more importantly, he is a visionary. He understood from a very early age that employees were the key to a successful company.
"His values are and have always been that employees are rewarded for their efforts," says Giering. "He is committed to improving people lives, and he is a very special person to understand that commitment. There is no one quite like Newton Thomas."