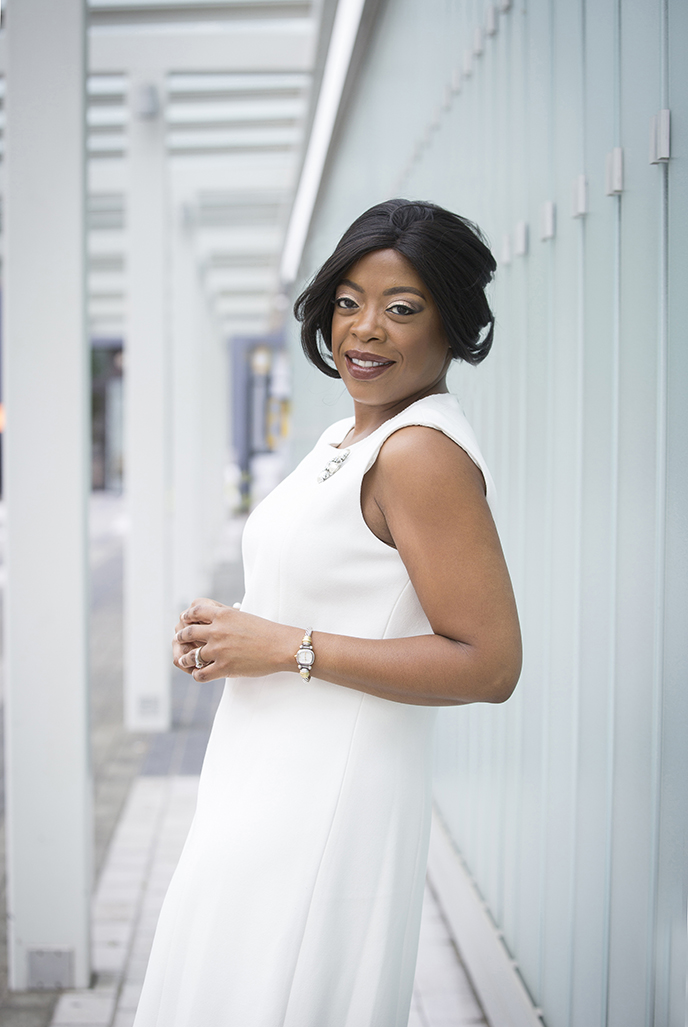 Photography by Marie Constantin
---
Hometown: Baton Rouge, Louisiana
Family: Widow of Michael John Spaulding, three sisters and godmother of 12
Years with company: 19
One of Monique Scott-Spaulding's greatest passions, both as a businesswoman and community leader, has been helping others achieve their dreams.
As the franchise owner of Jani-King of Baton Rouge, Spaulding has been able to pursue her passion. Since 1998, she has grown her business into one of the top Jani-King franchises in the region, winning multiple sales and Franchise of the Year awards. But Scott-Spaulding says she's most proud of the hundreds of employees she has hired and trained through the years, several of whom have since started their own businesses.
"My business afforded me the opportunity to support a climate of entrepreneurship in this community," she says. "My most important accomplishment has been hiring staff and helping them see they can do this, too, and being able to empower others—especially women—to stand on their own and achieve their best self."
Spaulding's commercial cleaning franchise specializes in educational, health care and industrial facilities. She manages administrative tasks, sales and training for more than 85 current employees. Before Jani-King, Spaulding was the resource pool manager at General Health Systems, where she provided staff for hospitals, school districts and medical practices, and picked up business and management skills.
At 25 years old, Spaulding faced one of her biggest life challenges—and the impetus to start her business—when her mother died and her 13-year-old sister came to live with her. To support the two, Spaulding opened her own business to maximize her earning potential.
Jani-King offered the best opportunity, Spaulding says, because it was a limited investment for unlimited growth potential. And Spaulding was able to use her management skills to run a more efficient business. For example, she says, she swapped upright vacuums for backpack vacuums, which are less restrictive, have more suction power and distribute weight evenly to put less stress on employees' backs.
"I taught them to work smarter, not harder, and to look for ways to do things more efficiently," Spaulding says.
Although her original plan was to eventually sell the franchise, Spaulding never did. She enjoyed the relationships she created with clients, employees and the community. In her position, she has assisted 15 former employees in starting their own businesses. Becoming a business leader also gave Spaulding the opportunity to serve on several boards and organizations to give back to the community and encourage entrepreneurship on a wider scale.
As the daughter of a teacher, Spaulding has become a staunch advocate for education, children and the arts. Her parents were instrumental in her own success, and she learned early on from her mother that education and hard work are key.
"My mom always told me, 'It doesn't matter where you come from—what matters are your goals, dreams and determination to succeed. Failure is not an option,'" Spaulding says.
One of her personal proudest moments in life was meeting and marrying the love of her life, Michael John Spaulding, who passed away four years ago. Spaulding and her husband started a family foundation in 2006 called Spaulding Charities, with the mission to eradicate poverty through education. Today, Spaulding is in the process of reviving the foundation.
"I want to help people understand poverty doesn't have to be a lifetime circumstance," she says. "I want kids to know there's an entire world out there and nothing limits who you are and what you want to be."
Q&A
PROUDEST ACHIEVEMENT | Creating a culture of entrepreneurship is of great importance to me as entrepreneurs are the driving force of our economy. I have assisted 15 former employees to begin businesses during my career and have mentored numerous others to build their business. Becoming a serial entrepreneur, which has allowed me to coach and mentor many female entrepreneurs, is of utmost importance. I am proud that my journey includes building two successful companies employing over 300 people prior to my 30th birthday.
AN EXPERIENCE THAT CHANGED HER LIFE | The death of my mom and assuming the role of guardian of my teenage sister at 25—four years into my first business venture—taught me to remain determined with laser focus on my goals while always carving out time for family. Deciding to become an entrepreneur instead of my journey as an employee was an exponential change in the trajectory of my career. The flexibility of my time, latitude in management, earning potential, and capacity to help others were gifts to allow me to travel, to serve the community, and to help my staff achieve their goals.
HOW SHE RELAXES | My favorite way to relax is to travel. There is a sigh of relief when I can board a plane to explore a new destination. Daily opportunities to relax include a hearty meal with a glass of a full bodied Cabernet and a deep tissue massage.
MILESTONES
1998 • Named Rookie of the Year Jani-King franchisee
1999 • Receives the Jani-King Franchise of the Year Award for the first time (she also wins the award in 2006 and 2013)
2000 • Named Team Player of the Year by Jani-King
2009 • Graduates from the Baton Rouge Area Leadership Program, and is included in the Business Report Forty Under 40 class
2013 • Receives the Jani-King International First Place in Sales Award
2016 • Graduates from the Council for a Better Louisiana's Leadership Louisiana program