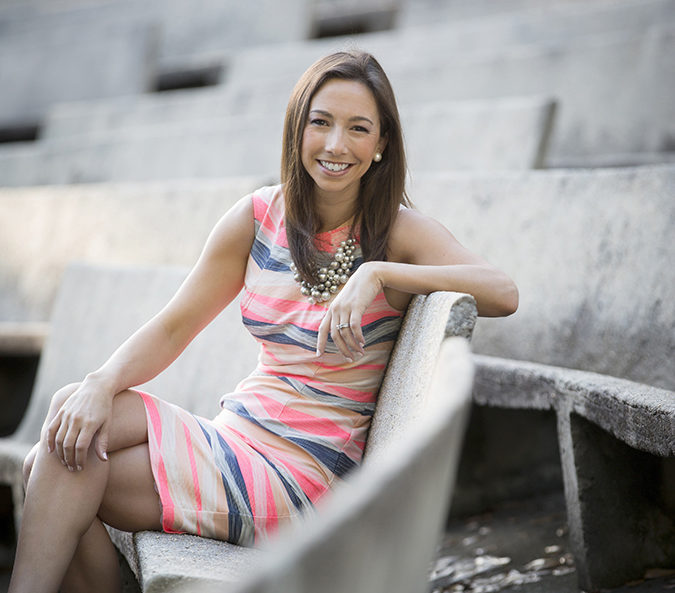 Photography by Marie Constantin
---
Hometown: Jennings, Louisiana
Age: 35
Family: Married for nearly 10 years to husband, Paul, with four daughters: Annie Grace, 7; Peyton, 5; Beckett, 4; and Gentry, 2
Years with company: 2 (Also founded Screaming Peacock in 2008)
Julie Laperouse recently shared some of her best advice with her four daughters: "Look people in the eye and ask for what you want."
Laperouse has followed that advice in her own life to land jobs throughout her career, beginning at the age of 15 when she applied at a radio station in her hometown of Jennings. Laperouse went to the station and met face-to-face with a manager to ask for a job as a DJ. She got it. Her segment, called "Julie B Up All Night," aired from midnight to 6 a.m.
"Every big thing that has happened in my life has happened because I've gone in-person and asked for want I wanted," she says.
Laperouse, training director at Emergent Method in Baton Rouge, has built her career using straightforward initiative, communication and an ability to make connections. She honed those skills as the former talent development director at the Baton Rouge Area Chamber and as the founder of Screaming Peacock, her motivational speaking firm.
At Emergent Method, a management consulting firm Laperouse joined in 2015, she leads a team that offers training to businesses that need help with leadership development, networking, presentations and other professional skills.
Laperouse has also been chief promoter and salesperson for Baton Rouge and its business community. At BRAC, she was in charge of attracting and retaining talent for area businesses. She recruited, led tours and helped accommodate new hires.
"My coworkers used to call me everyone's first friend," she says. "I had the best job at BRAC. It was fun to see Baton Rouge over and over again through the eyes of someone new."
Laperouse also gained experience as a business owner when she and her husband bought a janitorial supply business in Jackson, Mississippi, in 2007. In four years, they were able to turn the failing business around and sell it in 2011 before moving to Baton Rouge.
While in Jackson, Laperouse founded Screaming Peacock in 2008 and later wrote her book, Are you a Screaming Peacock?, which complements her motivational speaking events. Professional women are her target audience. They often discuss innate barriers women face in the workplace, some of which they place on themselves. The main obstacle Laperouse has faced as a woman in business has been maternity leave and childcare issues, she says, especially having four kids in five years.
"I'm fortunate to work for places that allow flexibility. What makes my heart hurt is for women who don't have that," she says. "But I've always asked for it. You have to. No one's going to say, 'You look stressed. Take some time off.' Don't hold your breath, sister."
Laperouse is also quick to add she is fortunate to have an "awesome" husband who also has a busy career and splits childcare duties with her. And they have a "village" of sitters and neighbors—even baristas at Magpie Café—who help out. They even joined the Laperouse family in their Christmas card photo last year.
Inspirational women in her own life also encourage Laperouse. She recalls sitting at Magpie with a group of women after having just had her fourth child and asking them, "How do you do it?" The simple answer: You can't be everything all at once.
"It helps hearing women you admire tell you you are not a failure because you can't handle all of this right now," Laperouse says. "One thing we need is to be more supportive of women getting back into workforce after having children."
Q&A
FIRST EXPERIENCE AS A LEADER | I remember running for president of student council in eighth grade and winning. I immediately realized that as a leader, you can dream up all manner of big ideas, but if you don't have a solid plan or support on the front end, ideas is all they will ever be. This is a concept I still struggle with as a post-eighth grader.
PROUDEST ACHIEVEMENT | Being a working mom of four daughters. I make no bones about it being very hard. I struggle with working mom guilt and time management on a daily basis. The only way it remotely works for our family is because my husband is the best co-parent you could ask for, and we have a tribe of people near and far who surround us with support. Our family Christmas card last year was of our "Laperouse Village," with babysitters, baristas and bartenders in the picture with us. It truly is the only way to make it work with a dual working household in this crazy time we live in.
BEST ADVICE | "You have to know what you do do and what you don't do." It's an inside joke at Emergent Method, but an actual quote from Nick Speyrer to a client once. Although we use it jokingly, it has taken me a long time to realize that I can only be really good at things that involve my strengths. The earlier you can identify your strengths and direct your career down that path, the more fun your work will be.
MILESTONES
1997 • Gets first job as the overnight DJ at Cajun Country 92.9-FM in Jennings
2003 • After being overlooked for the only job she applies for during her senior year of college, she moves back in with her parents and takes a job driving a beer cart at a Lake Charles golf course. She ends up getting her first professional job after driving to Dallas to personally deliver her application to the fundraising office of St. Jude
2007 • Buys a janitorial supply business in Jackson, Mississippi, with her husband. She immediately realizes they have "no idea what we were doing and it would probably fail"
2008 • Founds Screaming Peacock, "because someone told me the trainings and retreats I was facilitating for free were things people get paid to do"
2011 • Sells the janitorial supply business with her husband after "painstakingly dragging it back into the black," and the couple has their second child and moves back to Louisiana
2012 • Goes to work with the Baton Rouge Area Chamber as director of talent development
2015 • Joins Emergent Method