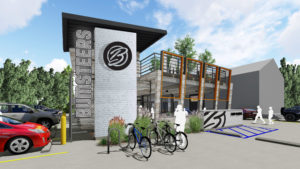 Local restaurateurs Chad Hughes and Eric Carnegie are bringing a new rooftop restaurant and bar concept called Bumsteers to the Perkins Road overpass area in late January.
Located in the former Crispy Catch building, the full-service restaurant and bar will span the first and second floors, with an outdoor rooftop space, Hughes says in a press release this morning.
The menu will include "unique burger creations using house ground beef," hand-cut fries, fresh salads, brisket and tacos, as well as other sandwiches and appetizers. The main bar and the rooftop bar will feature 24 beers on tap, wine on tap and fresh-squeezed juice cocktails.
"Fresh is the key word," says chef Phill Beard in a prepared statement. "We're making everything in-house."
The Crispy Catch building has been vacant since March, when Tyler Pizzolato closed his fast-casual restaurant after three years in business. The iconic 1950s-era structure, originally built as a gas station, was a Kean's Fine Dry Cleaning location for many years.
Hughes and Carnegie, who own several bars and restaurants downtown and in the Perkins Road overpass area, signed a lease to open a new restaurant in the building earlier this year. They are currently renovating and expanding the restaurant, adding a second floor with indoor and outdoor dining. When complete, the restaurant will double in size, totaling more than 5,300 square feet.  
"We wanted to bring something to the Perkins Road overpass area that has a casual and fun vibe but still family friendly," says Hughes. "While taking a look at the roof of the old Kean's Cleaners, we realized it was a perfect opportunity for a rooftop space and we loved the idea."
The new restaurant will be the latest in the growing portfolio of establishments owned in part by Hughes and Carnegie. Hughes has ownership stakes in Ivar's, The River Room, Kalurah Street Grill, Bengal Tap Room and Cecelia Creole Bistro. Carnegie is general manager of Jolie Pearl Oyster Bar and is a partner in Bengal Tap Room and Cecelia.