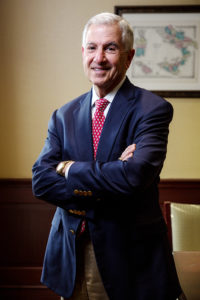 Gov. John Bel Edwards has drawn his first Republican challenger in next year's governor's race. Baton Rouge businessman Eddie Rispone filed state paperwork today declaring his candidacy for the 2019 election.

Rispone—who has hinted at making a run and whose friend Chef John Folse told a crowd in August that he was running—now says "I am definitely running. This is it."
Rispone, founder of industrial contracting company ISC Constructors, is a longtime donor to GOP and conservative campaigns and causes. The businessman says he plans to invest his own money in what will be an expensive governor's race.

Edwards, a Democrat seeking his second term, reported $5 million in his campaign account earlier this year. Rispone says he's setting aside a similar amount of his own money "to get started" and will start fundraising immediately.
Rispone says he'll make an official campaign announcement later this year. Rispone was Business Report's 2016 Businessperson of the Year.