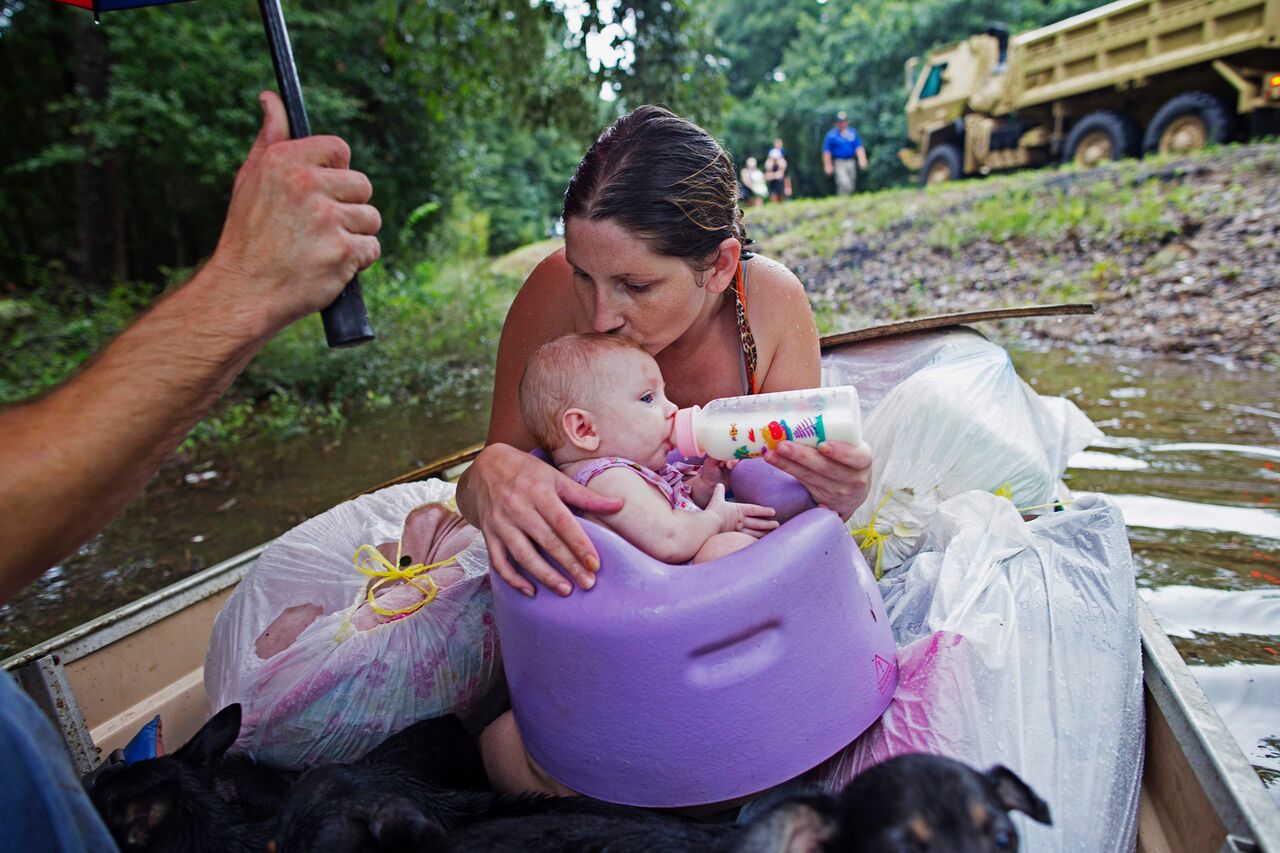 Criticism is growing of the national media for the relative lack of attention it is paying to the catastrophic flooding in south Louisiana.
Though network news and major daily papers have given some coverage to the devastation, the story hasn't dominated media outlets in the way that Superstorm Sandy or Hurricane Katrina did. Nor have cable news anchors flocked to the area as they did last month to cover the protests over Alton Sterling's death and the ambush killing of three law enforcement officers.
Locals have been expressing their frustration over the lack of coverage on social media for two days now. At least two national opinion writers are now joining the chorus.
"This is a sprawling human tragedy," writes Salon political writer Sean Illing. "And it's happening right now, just beyond the view of a media more interested in Justin Bieber's Instagram status than in the sufferings of flyover country."
Dallas Morning News columnist Jacquielynn Floyd, meanwhile, writes, "There's a danger in our fast-moving culture that this tragedy will fall between the cracks, that having neglected the story a little at the outset, we'll move on to the Next Big Thing without paying much attention."
Turner Industries CEO Roland Toups is among those who are frustrated. He reached out this morning to the U.S. Chamber of Commerce in an effort to generate more national attention to the tragedy. He doesn't think the rest of the country yet realizes the gravity of the situation and the implications it has for the national economy.
"Louisiana is the energy capital of the world, and the rest of the country should be a little more concerned about this," Toups says. "I don't think they are totally aware of what's really going on. They need to be."
Among the reasons the nation should be paying attention to Louisiana is because of the help the state is going to need from the federal government in the months to come, says Louisiana Association of Business and Industry President Stephen Waguespack.
"If national attention is focused here then our congressional delegation can be more effective in helping us through the long, difficult recovery," he says.
Public relations executive and Baton Rouge expat Brad Grantham, who relocated earlier this summer to North Carolina, says there are likely several reasons the national media were slow to pick up on the Louisiana tragedy. Among them: the flood occurred on a weekend, and, once crews were on the ground here, getting around was made difficult by a flooded highway system.
Still, Grantham helped generate some attention on the plight of flood victims by reaching out to CBS News reporter Jamie Wax, who did a story on rescue efforts.
"I think for a variety of logistical reasons it took the media a while to grasp this story," Grantham says. "But as more and more pictures come out I think everyone is beginning to realize the extent of the damage."
—Stephanie Riegel