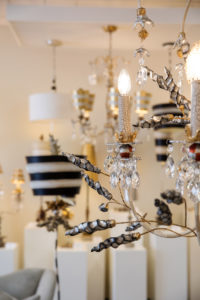 At first glance, Lucas+McKearn looks like nothing more than a small, stylish lighting store tucked obscurely between an Ethan Allen gallery and a Habitat for Humanity ReStore at the corner of Bluebonnet Boulevard and Perkins Road.

In reality, as Business Report details in a new feature, the 3,000-square-foot storefront is but a small part of a much larger and more complex business—a Baton Rouge-based lighting manufacturer and distributor, formerly called Flambeau Lighting, that merged with a British company in early 2017, rebranded itself and is now selling its signature products worldwide.

In the nearly two years since, the company has grown to include new products, new price points, a local warehouse and shipping facility, and the Perkins storefront, which serves as both a retail outlet and a showroom for wholesale customers.
McKearn didn't set out to launch a company that manufactures and distributes posh light fixtures and lamps around the world.
He started his career in the 1980s as a maritime attorney with an old line New Orleans law firm. But interesting opportunities kept presenting themselves and McKearn followed the leads where they would take them.
Read the full story to see how Lucas + McKearn is adapting and growing since the merger, and check out Business Report's related cover package about The Royal Standard, which has transformed their retail business over the decades to match consumer tastes.  
Send comments to editor@businessreport.com.