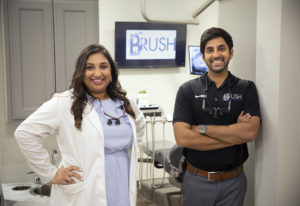 Swati Patel and Sumit Patel are glad to be back on their old stomping grounds.
Earlier this year, the LSU School of Dentistry graduates teamed up to open Brush Dental near the LSU campus, aiming to provide affordable dental care to fellow Tigers. But their professional partnership isn't just beginning, as Business Report details in its new Entrepreneur feature.
The friends began drawing up plans for their ideal dental practice while still undergrads, as members of the same "dental family"—a close mentor-mentee relationship established among students at the LSU dental school.
"In a dental family, you share patients, and you learn a lot about the other person's dental philosophies," Sumit explains. "Swati and I were always on the same page."
While in undergrad, Sumit's entrepreneurial spirit initially led him to pursue a business degree before switching to biology. Urged on by Swati, they decided to pursue the ultimate goal of a dentistry degree: opening an independent practice.
After graduation, Sumit completed a residency at UAB University Hospital in Birmingham while Swati worked in private practice, perfecting her use of advanced techniques. Sumit's refined surgical skills combined with Swati's commitment to incorporating cutting edge dental technology allows Brush Dental to offer a wide range of advanced services like restorative procedures and complex extractions.
The biggest challenge though, according to Sumit: "Dental school didn't really teach us the business aspect of dentistry."
But with the help of Swati's husband, Karan, and Sumit's wife, Niraja, they developed a comprehensive business plan for Brush Dental, knowing early on that location was key. Demographic research and real estate development trends led them to a location at Burbank Drive and Ben Hur Road.
"Baton Rouge is pretty saturated with dentists, but we knew the proximity to LSU students and young families would allow Brush Dental to thrive," Swati says.
To set themselves apart from competitors, they are emphasizing a patient-centered approach, giving the office a contemporary and comfortable feel, complete with relaxing amenities like sound proof headphones, TV screens in patient rooms, and plush pillows and blankets.
Read the full feature. Send comments to editor@businessreport.com