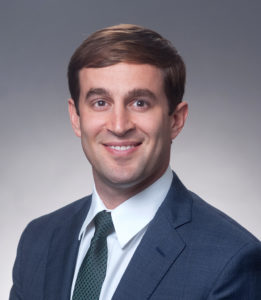 Since taking the reins of the Associated Builders and Contractors-Pelican Chapter last November, David Helveston has been focused on meeting with association members to understand their needs and concerns.
"Each month in our conference room, you'll find the owners or top executives from about half of Business Report's top 10 largest private companies," he says, adding the members regularly discuss the association's education programs, among other issues. "It's amazing."
At the same time, he's also focused on improving the association's online presence and communication through social media.
"I'm certainly not a social media guy, so hiring a talented communications director to tell our story across multiple platforms has been a huge first step. If you look for @abcpelican, you'll find us on LinkedIn, Facebook, Twitter and Instagram."
While he enjoys traveling and playing sports, much of Helveston's free time is spent with his young family, as he and his wife had their first child about seven months ago.
Read the full Executive Spotlight Q&A with Helveston: Here's a sample of what you'll find:
Tell us about some of the ways the association is working to address the skilled workforce shortage in the Capital Region.
"We have about 1,200 students enrolled at our Baton Rouge Training Center right now. Every evening, hundreds of students who just finished their day jobs fill our classrooms and labs. In addition to our own training programs, we work closely with area high schools to enhance their construction Jump Start Pathways and to let students know about opportunities in our industry. In October, we will host over 50 high schools at the Lamar Dixon Expo Center for Build Your Future Day where students can explore different construction-related career pathways."