Chase South Tower undergoing extensive renovation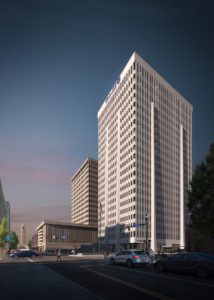 One of the downtown skyline's most iconic buildings is getting a new look.
The Chase South Tower at 451 Florida St. will undergo an exterior renovation this summer—a mineral stain that will give the 21-story, mud-brown high-rise a sleek, new, whitewashed appearance.
The facelift is part of a larger investment in the building that its New York-based owners, Florida Street Holdings LLC, are making in an effort to more aggressively market the 49-year-old property. At 76%, the 300,000-square-foot tower has the lowest occupancy rate of all class A office buildings downtown.
The owners are spending more than $3 million on the mineral rinse and on renovations to the 10th and 21st floors, which are among the vacancies in the building. Both floors have been completely gutted and will be redeveloped into "loft spaces" with exposed brick walls and polished concrete floors.
The 21ts floor was home to the Camelot Club, which closed unexpectedly in early 2016. Other floors in the building also will eventually be updated in what will be a $7 million renovation in total.
Florida Street Holdings also has retained a new local real estate firm to market the property, Saurage Rotenberg Commercial Real Estate. Michelle Casi, who handled marketing and leasing of the building in-house for several years, has joined Saurage Rotenberg. The firm plans to open a new leasing office on the ground floor of the building next week.
The investment in the building comes in the wake of a foreclosure lawsuit between the owners and their lender, which was settled last August, and is long overdue, according to local real estate experts. The downtown office market is increasingly competitive, and new office space along the river—the IBM complex and the Water Campus buildings—have poached some downtown tenants from their longtime digs.
But Casi says Chase South Tower will remain competitively priced at around $20 per square foot, and that renderings of the upgrades are already helping to generate interest.
"We've had a lot of inquiries," she says. "We have a lot of deals in the works."
—Stephanie Riegel