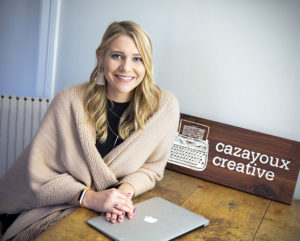 Chavanne Cazayoux Debataz has always had a way with words, which led her to major in advertising with a focus in copywriting at the Savannah College of Art and Design.
From there, she went on to work in Dallas and later for Lamar Advertising Company in Baton Rouge.
As Business Report details in its latest Entrepreneur feature, when two of her freelance clients needed more than Debetaz could manage along with her full-time job, she decided to try her hand at writing a business plan and opened Cazayoux Creative in 2016.
Relieved to leave the grind of agency life behind, Debetaz seized the opportunity to establish a business model and culture that inspires creativity. Forgoing a centralized office space for a remote work model gives her full-time employees and contractors around the country the freedom to write "wherever their wellspring of inspiration resides."
And without the confines of an office, Debetaz says she's able to attract and retain what she feels are the best copywriters in the country.
From a lifelong writer to a small business owner, Debetaz says she is still learning how to wear the many hats of an entrepreneur.
"I have to be HR, accounting and sales all at the same time. It was a big learning curve, but when I look back at where we started, I can confidently say that we've grown in a smart way."