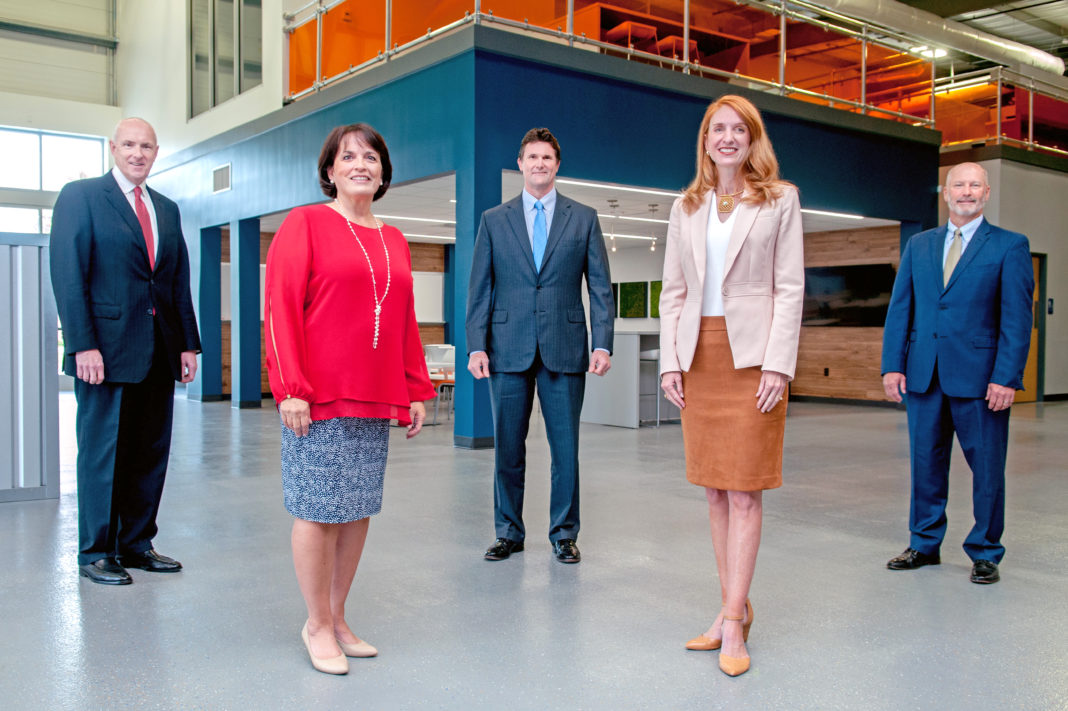 What's the most pressing issue for South Louisiana and Baton Rouge in 2021? What will be a major business focus for some Capital Region companies in the coming year? What talent demand trends are we likely to see? And how will Baton Rouge and South Louisiana communities and economy be forever impacted by the pandemic?
Those are some of the questions tackled by five thought leaders in Business Report's Trends for 2021 Roundtable, sponsored by Alliance Safety Council, ExxonMobil, LaPorte CPAs & Business Advisors, Neighbors Federal Credit Union and Ochsner Health.
Participants were Ochsner Health President and CEO Warner Thomas, Alliance Safety Council President and CEO Kathy Trahan, LaPorte CPAs & Business Advisors President- and CEO-Elect Eric Bosch, ExxonMobil Public Affairs Manager Stephanie Cargile and Neighbors Federal Credit Union President and CEO Steve Webb.
Much of the conversation centered on how technology will change the way Capital Region companies do business—from banking to industry to health care.
Prior to the pandemic, Neighbors Federal Credit Union was already experimenting with remote tellers—and the technology put the financial institution ahead of the game.
"We have installed a number of devices called integrated teller machines," he explains. "So today, I actually have tellers working from home that can do a cash transaction all across our area while they are sitting in their office at home. I think we will see more of that. Not necessarily out of fear or concern for COVID. But if it is just the better way to do something, why not do that and stop fighting the urge to get back to the way things used to be?"
A major business focus in 2021 for Ochsner Health, Thomas noted, will be deployment of a home monitoring system for aging adults that the medical system developed and is currently in beta testing.
"It monitors how many bathroom trips. How long are they in bed? Are they eating? Are they going in the refrigerator? Do they leave the stove on? Are they sitting in their chair? Just looking at activity," Thomas says. "It will be coupled with digital tools we have for hypertension and diabetes which are also done virtually. With a wireless blood pressure cuff, we can track your blood pressure remotely. I think you are going to see remote monitoring being big. … All those types of things which will help us avoid emergency room visits, help us avoid hospitalizations and keep people healthy. So that's absolutely a big focus for 2021."
ExxonMobil, along with other industry, is participating in the Govenor's new Climate Task Force via its trade associations, such as the Louisiana Chemical Association and Louisiana Mid-Continent Oil and Gas Association. Through technology, ExxonMobil plans to continue prioritizing emission reduction.
"Our refinery and chemical plant facilities are ahead of the curve in some of the flaring efficiency investments we have made over the past few years," Cargile says, "and our newly announced, potential refinery investment would further reduce our site's volatile organic compound (VOC) emissions."
In mid-December, ExxonMobil proposed a more than $240 million investment at its north Baton Rouge refinery that will include upgrades and installation of new technology and equipment designed to make the facility more competitive and efficient.
Like the nation itself, Louisiana and the Baton Rouge community have been indelibly impacted by the pandemic, roundtable participants agreed.
Bosch believes working in the office will likely be preferred by many businesses, but the value of learning how to effectively work remotely will be a plus. "Also, as we continue to talk with our clients about lessons learned what we hear over and again is that many of those that fared well did so through innovation and being nimble," he says. "They understood their mission and figured out how to deliver even in challenging times."
But several expressed concern about the permanent effects of increased isolation, particularly on younger generations.
"I see my grandchildren and you know, parents are warning their children and the children are getting fearful about the aspects of social distancing," Trahan says. "I think that there is going to be an impact on how they socialize, the trust issues that they have. We are huggers down here in Louisiana and they are being held back and discouraged from that social intimacy—for their own good, of course, but I am just really concerned about that aspect of it. We have a great culture and a great community down here and I hate to see that break down because of everything that has happened to us. I am hoping that people will go and make that extra effort to help people feel connected."