Sponsored by EBR Magnet Programs
As children grow and develop, a continuity of learning is essential to ensure academic success and a consistent educational experience. Students learn best in programs that support their development and are responsive to their individual progress. Communication, planning, and the strategic coordination of curricula builds upon activities and provides educators an opportunity to share and maximize their resources.
Recently there has been considerable interest and emphasis on developing programs for improving continuity along the entire range of educational development. Magnet programs in East Baton Rouge Parish provide students with a thematic focus, instructional continuity, and flexible hands-on learning experiences. With a theme-based approach, these schools promote exploration in learning environments, allowing students an opportunity to consider their own personal interests, ultimately fostering invaluable life skills.
---
What good looks like: Woodlawn Middle Magnet School
Students enrolled at Woodlawn Middle Academic Magnet take all accelerated core subjects and learn through a rigorous high school preparatory curriculum with the opportunity to enroll in pre-Advanced Placement (AP) courses in English and math. Students are also offered a variety of enrichment activities and magnet electives including, but not limited to: forensics, robotics, engineering design, computer science, STEM pathways, and project-based learning.
---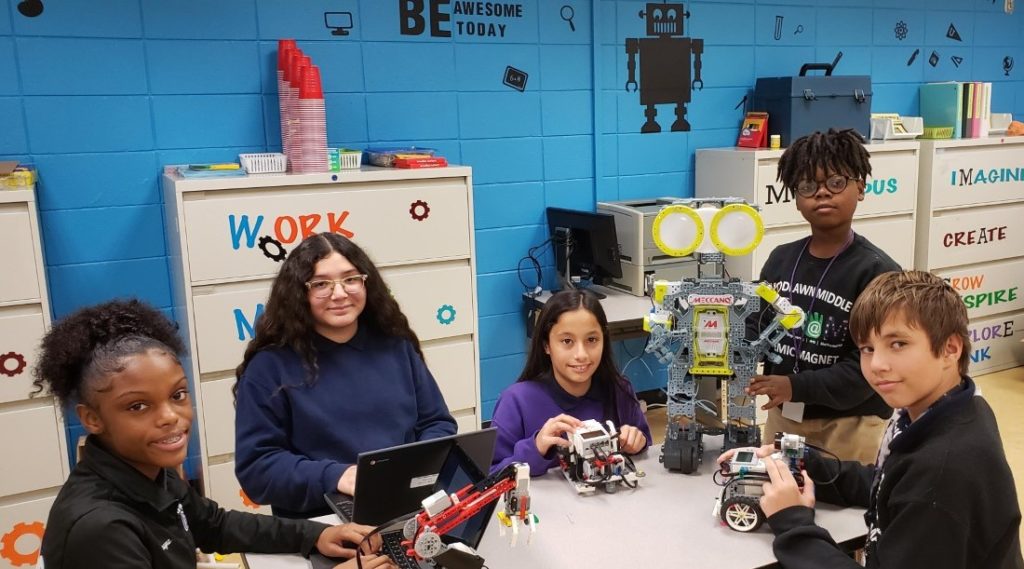 ---
The students learn by doing, and Woodlawn's magnet program goes well beyond what's in textbooks with its positive learning environment and accelerated programs that give students the advantage of earning high school credit while still in middle school.
Even with the challenges of the pandemic, STEM learning is not hindered by remote access. Virtual students receive the same hands-on learning experience through our take home magnet STEM boxes and through monthly STEM field trips, now even being taken virtually.
---
Enhanced education: Woodlawn High Academic Magnet program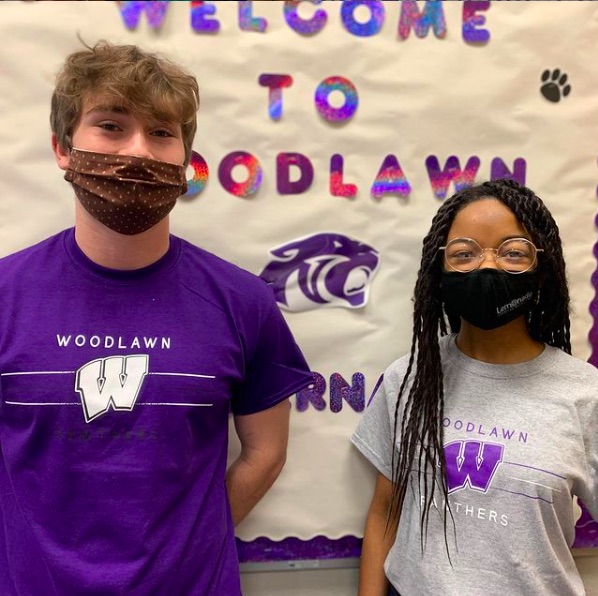 Woodlawn High Academic Magnet is an accelerated college preparatory magnet school dedicated to providing stellar academic opportunities. Building on a record of students achieving National Merit status and thriving in advanced placement courses, Woodlawn High Academic Magnet has even won the World Champion Robotics competition twice.
The magnet program is designed to challenge and encourage students to rise to their full academic potential through elective offerings in agriculture, art, health sciences, computer science, engineering,  entrepreneurship, visual arts, theater, and a wide variety of music options including voice, orchestra, marching band and jazz ensemble. Advanced Placement (AP) courses are offered in math, the sciences, English, social studies and computer science principles. In addition, Woodlawn's rigorous college preparatory curriculum equips students to better prepare for college and make smoother transitions into postsecondary academic environments.
Dual enrollment courses through a partnership with Louisiana State University (LSU) are offered in English, College Algebra, and Trigonometry.  In addition, the partnership at Southeastern University (SLU) will include courses for college credit in French, Spanish and two levels of Western Civilization.
In addition to its academics, Woodlawn is proud of its athletic legacy in basketball, football, track, baseball, soccer, swimming, volleyball and other competitive sports. In addition, extracurricular activities will expand to also include distinctive options, such as lacrosse, golf, and cycling.
---
Specialized programs like these allow families to choose the school that will ignite passion in their child and lead them to a bright future. By allowing students to pursue what motivates them, East Baton Rouge Parish Magnet programs benefit individual participants as well as the entire community. To learn more, visit ebrmagnet.org.