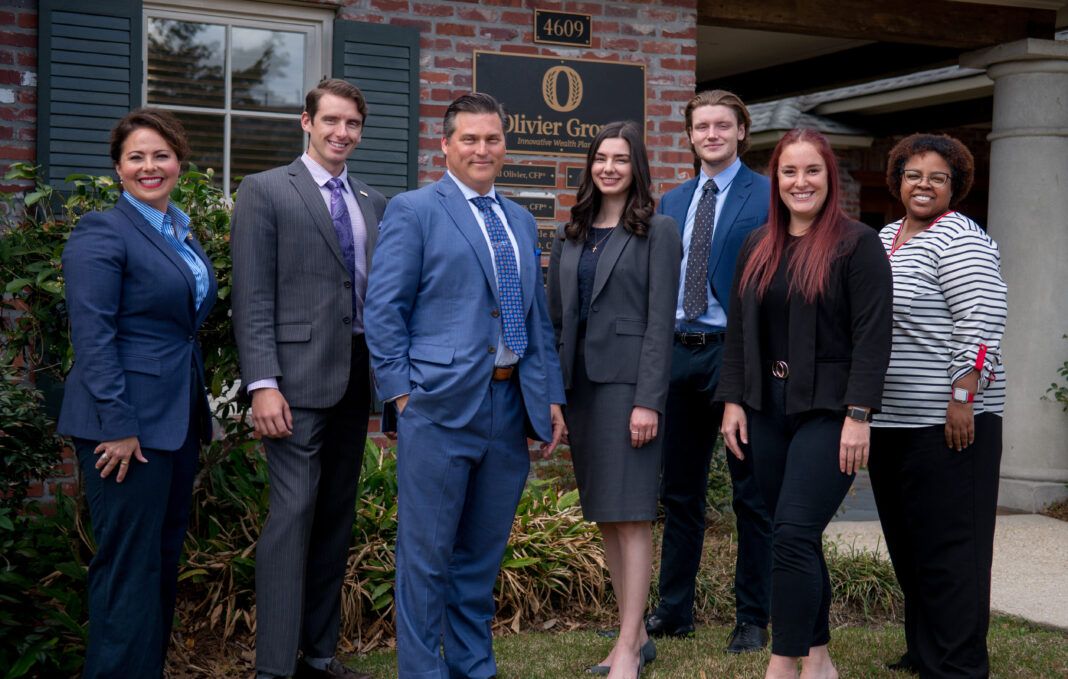 It's all about teamwork at Olivier Group. As a client, you don't work with just one advisor, but get the experience of an entire staff.
Olivier Group was founded 20 years ago and has transformed itself over the years into a proactive, holistic financial advisory firm. In an increasingly complex world, a knowledgeable advisor who can see "the big picture" is more important than ever.
AT A GLANCE

Top executive: Chad Olivier, CFP, CEO and Founder; Austin Delery, CFP, Wealth Advisor, Partner; Chris Adams, Wealth Advisor, Partner

Phone: [225] 757-9484 or [888] 465-2112

Website: oliviergroup.com
The company currently manages $360 million in client assets. "As innovative wealth planners, we use a team approach to helping clients pursue their financial goals," says Chad Olivier, CEO and Certified Financial Planner. "Everyone on the team has the goal of serving that client. With many firms, you're working with one advisor and maybe an assistant. With us, the entire team works for you." 
They've also joined forces with Carson Partners, a registered investment advisor in Omaha, Nebraska, through which they can access estate tax attorneys, CPAs and portfolio strategists. That comes with enormous benefits, as Olivier Group can tap into their expertise whenever, and however it's needed.
The passion of Olivier Group's financial advisors is to help people from all walks of life find their own vision of true wealth. That means helping them define what true wealth looks like, putting a plan in place to pursue that vision, then helping them maintain it once it's achieved. "It's total asset management," Olivier says. "It's not a strategy where you just sit and let it go. It's consistent, active management. We develop strategies that go along with your financial plan."
They also perform "advanced tax planning"using Holistaplan tax software. "We look at a client's tax returns and from there we do advanced planning," Olivier says. "We're very forward-thinking on the tax side of things. We handle everything, including talking to a client's CPA, tax attorney, etc."
The Olivier Group specializes in family business planning and retirement planning. Olivier holds a certificate in Family Business Advising from the Family Firm Institute and has also written two books—What Medical School Did Not Teach You about Financial Planning and The Resourceful Dentist: A Guide to Financial Planning. He is also the host of Money Talks which can be seen on the news segment every Thursday night on Fox44 and Friday mornings on NBC33. 
"We handle everything with a dollar sign, including retirement, investments, taxes, estate, and insurance planning … everything," he adds.