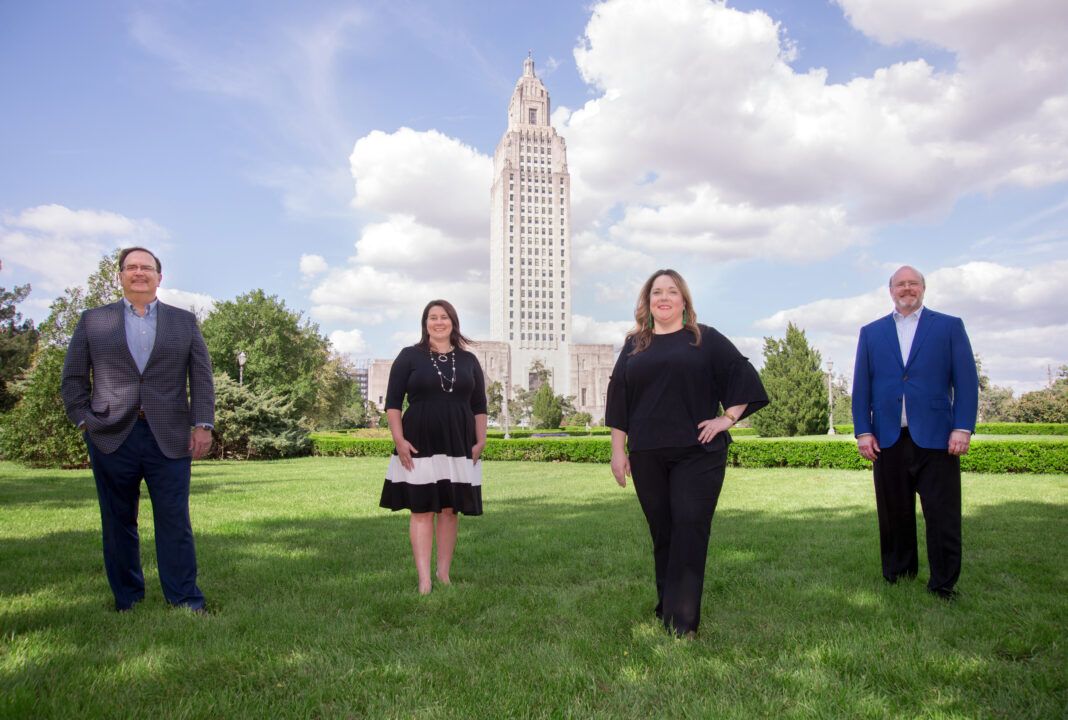 McGlinchey Stafford may have offices around the country, but its commitment to Baton Rouge is strong. Along with local service, McGlinchey's Baton Rouge clients also gain access to the law firm's national network of expertise.
Founded in New Orleans in 1974, McGlinchey opened its Baton Rouge office in 1993. Today, the firm has 15 offices across the United States and 150 attorneys licensed to practice in 29 states, districts, and territories. 
"We have deep roots in Baton Rouge," says Managing Member Michael Ferachi. "Yet, because we have people with different levels of experience and different backgrounds around the country, we're able to bring a team approach to solving clients' problems whether those problems are in Baton Rouge or elsewhere in the U.S." 
AT A GLANCE

Primary product/service: Full-service business/institution law firm

Top executives: Michael Ferachi, Managing Member; Drew Patty, Baton Rouge Office Managing Member; Eliska Plunkett, Chief Diversity Officer; Christine Lipsey, General Counsel

Year founded: 1974
Phone: 225.383.9000
Website: mcglinchey.com
The firm's second-largest office, the Baton Rouge office has a diverse set of practices, including litigation, intellectual property, real estate, corporate, mergers and acquisitions, wills and trusts, according to Office Managing Member Drew Patty. "It's a practice that has a national set of resources at its fingertips for clients who have complex or geographically diverse needs," he adds.
The office's breadth of experience and expertise reflects McGlinchey's commitment to Baton Rouge.
"We're not one of those firms with a satellite office of three people in Baton Rouge. We have a substantial practice here. We're entrenched in this community," says Partner Kristi Richard. 
McGlinchey's leadership has long been based in Baton Rouge. Ferachi became Managing Member in January, replacing Rudy Aguilar, who led the firm from Baton Rouge for 18 years and has returned to his private practice full time.

"That tells Baton Rouge businesses this office continues to lead and the firm is invested in Baton Rouge," Patty says. Patty notes McGlinchey's general counsel is also based in Baton Rouge. This contributes to strong, trusting relationships with Louisiana-based clients.
"Our motto is 'we give you more,' and for us, that means good work is the minimum, not the goal. We start with good work and tailor our guidance to meet each client's needs," says Partner Zelma Frederick. "We maintain that homegrown feel, but can handle the most sophisticated issues."
Further, McGlinchey's rates distinguish it from larger law firms. "We have the same breadth of experience as many 'Big Law' firms, but we're not competing with them on rates," Ferachi says. "Our moderate size allows us to remain flexible and cost-effective, so clients get the expertise to handle their case without encountering costs associated with larger firms."
The firm maintains an entrepreneurial spirit and overall has experience in more than 40 practice areas. Clients include global and national corporations, local and regional businesses, government agencies, universities and other institutions.
Recently, Ferachi launched the #McGlincheyForward initiative focused on change, culture, empowerment, gratitude and continued strategic growth. "We grow where our clients need us to grow. That's part of being problem solvers for them," Ferachi says. "If that's ports, energy corridors or banking centers, that's where we'll go."
McGlinchey also is strengthening its inclusiveness, diversity and equity, and recently appointed its first chief diversity officer. Integral to its inclusive culture is prioritizing life beyond the office.
"Everyone knows their deadlines and gets their work done, but they also understand that family comes first. We don't just read that in a policy, we see it in action across the firm," Frederick says.
Indeed, Richard notes, "We don't want work to be something to dread, like going to the dentist. We're invested in each other as people, not just as colleagues."